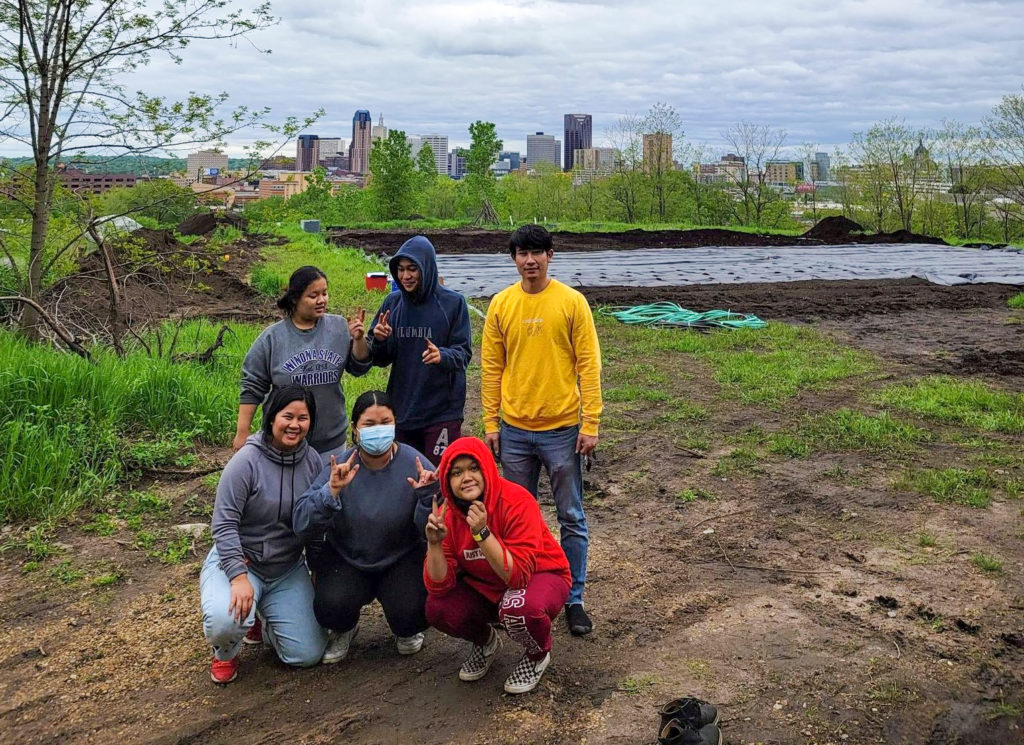 This past month, our youth volunteered with Urban Roots in Saint Paul, helping give back to our environment and our community. They also attended the Knyaw Camp, which provided youth with an opportunity to connect with their cultural identity and each other.
What's Next Trip to Urban Roots
On May 28th, a group of youth from our What's Next program volunteered with Urban Roots!
The What's Next program caters to youth ages 14-24, providing one on one coaching and class workshops. It is a way for our youth to learn more about future careers and education opportunities. 
Urban Roots is a Saint Paul organization whose mission is to cultivate and empower youth through nature, healthy food, and community. They have operated their food and environmental programs on the East Side of Saint Paul since 1996. Our youth joined Urban Roots, gardening fresh produce while learning these valuable skills they can take with them into future experiences.  
Ku Gay Nahpay, KOM's Youth Career Development Counselor, shares this after attending the trip with the Youth, "It's great to reconnect with the youth in person and engaging hands-on activity. It's also great to learn more about the Urban Roots who are in the frontline of the gardening. I personally enjoyed gardening and it was fun connecting with an organization that cares for earth and harvesting while doing it with youth who also have the same interest."  
The youth who attended the Urban Roots trip had a few things to share with us after their experience. One youth shares, "My highlight about the urban roots and seeing the people from What's Next again was fun. I feel like we have gotten so much closer, and we should do this more."   
We are so proud of our youth for volunteering with such a great organization and giving back to their community! 
Knyaw Camp
This June, The Urban Village put together a camp called "Knyaw Camp" at St. Croix State Park. This camp's purpose was to create a space for Karen youth to reconnect with their cultural identity. The organizers wanted our youth to know their own history, to understand their identity and be proud of the fact that they are Knyaw. "Knyaw" is the name for Karen people in the Karen language. 
KOM youth, and other youth from the local community and across the U.S. came together to join in traditional Karen games, food, and fun. The campers were prompted to interact with the following questions:  
MY HISTORY – "What is my history? How can I learn more?"
MY EXPERIENCES – "What is my story in this history? Have I been wounded by my experiences? What can I do to heal?"
MY IDENTITY – "Am I proud of my identity? What am I proud of and why?
MY RESPONSIBILITY – "What is currently happening in Myanmar/Kawthoolei? What can I do about it? What is my responsibility to my community here and there? What is my responsibility to the next generation?" 
A few quotes to note from this trip are provided by our youth!
Paw Tha Hsee shares "I get to meet new people and learn about our Knyaw history." 
Htee Wah Moo says "What I appreciate about the Knyaw camp was the Urban Village for making the first ever Knyaw Camp happen. I feel like for the first time Karen people from different states and countries came together and are learning about their own culture that some have kept it away and kept hidden. The camp was a way for them to reveal themselves and the pain that they went through in keeping their identity hidden. The camp was a moment of relief to them and to myself also that I can express myself." 
Lastly, Shem Paw shares "I appreciate Knyaw camp because it helped not only me but many others in understanding who they are as a Knyaw Poe and It also showed me many things I missed when I was younger, such as games and traditional foods. This camp was very much needed for me because as a refugee coming to America and leaving my home, I did not have a lot of knowledge of my people and our culture but now I have a better and more understanding of who I am." 
The Summer Fun Continues!
We have some exciting upcoming events for youth this summer! First is the What's Next program, which prepares youth for their future careers and education opportunities. We also have Summer Fun Group activities. Lastly, we offer Fun Fridays, where our youth can develop soft and hard skills, network, and of course, have FUN!
To learn more about our summer youth programming, please contact Ku Gay Nahpay, Kyaw Kyaw Htwe, or Mular Lerpwel.