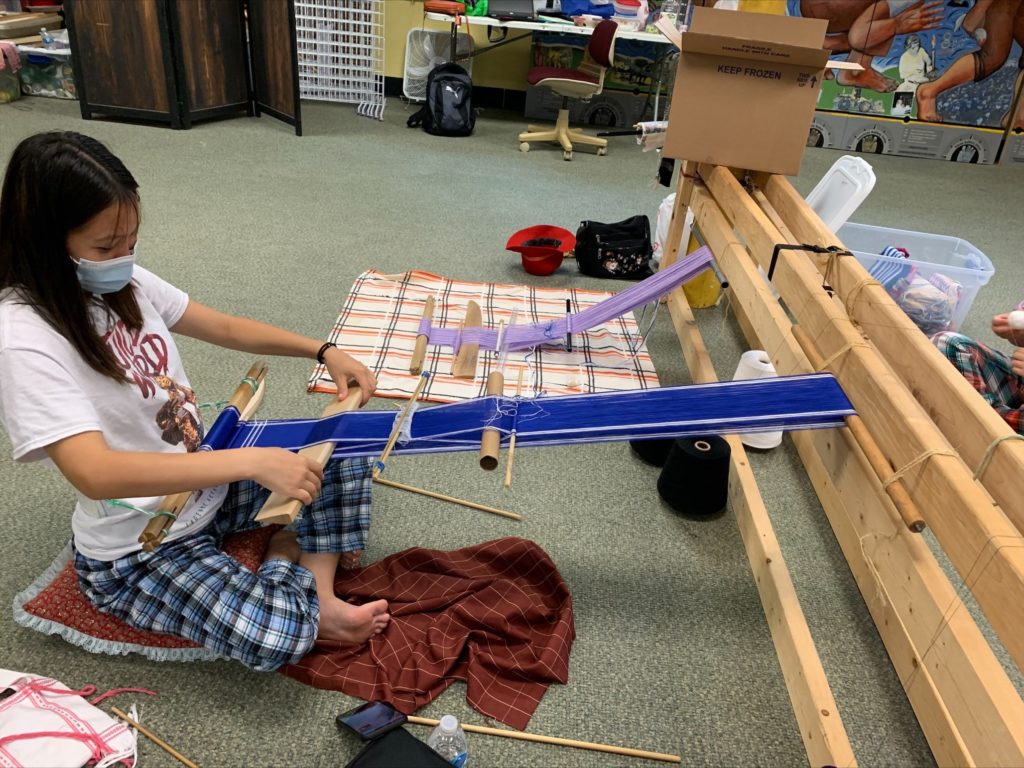 KOM's summer weaving program returned this year, connecting youth with experienced weavers to explore this traditional Karen art form together. This month, program staff and participants share why they got involved and what weaving means to them.  
Weaving with KOM
Weaving is an important folk art in Karen culture, and is the method used to create Karen clothing. In Minnesota, it has also become a way for many women to preserve Karen traditions in a new place for new generations. KOM's summer weaving program helps young people learn more about this unique art form. This year, during meetings at St. Paul's East Side Freedom Library twice a week, program participants gathered to weave, wind yarn, learn new patterns, and share meals together.  
Here are a few examples of weaving projects in progress during this summer's programming: 
Connecting Generations and Preserving Traditions
This summer's participants shared many reasons for deciding to join the weaving program. Most wanted to learn more about Karen weaving traditions, improve their weaving skill, or learn how to make their own clothing. According to one participant, "I wanted to make something for myself with my own hand[s], something to feel proud of and it's unique to my specific background." 
Though learning to weave was challenging at first for some, students agreed it was a rewarding experience. One participant shared, "I have fantastic memories with this group. I really like it because the people who teach us are nice, kind, and supportive. They are always there for us whenever I need help or others. We spend time eating together and share food. These are the best memories ever." Other students also valued the chance to connect across generations, and recognized their own role in preserving Karen weaving traditions for the future: "I think if I improve and excel at weaving, I will help the next generation."  
"Weaving is part of my people."
When asked what Karen weaving means to them, many program participants pointed to the importance of weaving as a cultural tradition. In addition to being a fun activity for many students, it is also a key point of connection to their cultural identity. One student said, "Weaving is important to me because it helps me not forget my tradition." Another participant agreed–"It is a beautiful part of my culture that I want to preserve"–and added that having a woven bag or shirt in public can help members of the Karen community identify each other.  
Preserving this unique and beautiful tradition was also what motivated weaving instructors to participate in this summer's youth program. In the words of one instructor, "I decided to get involved with the program because it is part of keeping my culture alive. I also want to help and pass my skills to friends and young people who are interested in learning how to weave." Through this summer's weaving program, youth participants learned a new skill and gained a deeper understanding of one aspect of Karen culture, while weaving instructors were able to pass their knowledge on to the next generation. 
Meet Us In-Person
Want to learn more about Karen weaving, or buy pieces of woven clothing for yourself? Members of KOM's weaving circle will be displaying and selling their woven items at the Solidarity Street Gallery from September 23rd to 25th. This arts and culture festival will take place along Payne Avenue, and will also feature performances, installations, and other food and craft vendors. For more information, visit the Solidarity Street Gallery 2021 webpage.  
This activity is made possible by the voters of Minnesota through a grant from the Minnesota State Arts Board, thanks to a legislative appropriation from the arts and cultural heritage fund.