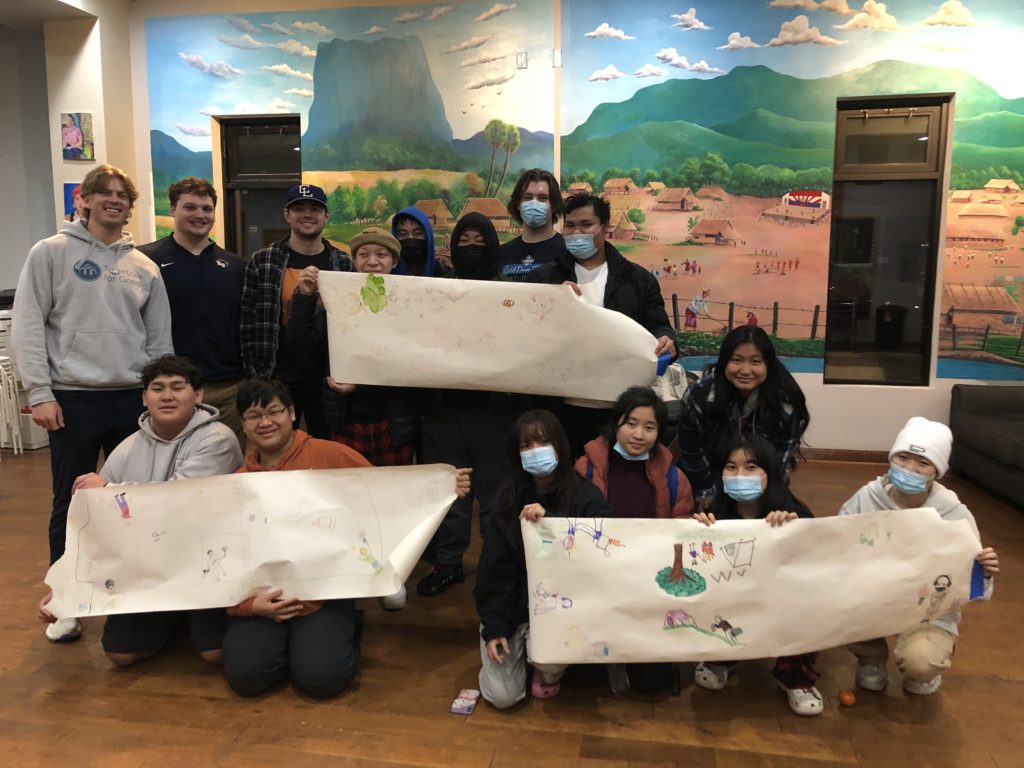 April marks volunteer appreciation month! So, we want to take the time to thank our volunteers who make an impact at KOM. This year, we have had virtual tutors support refugee youth who arrived to the US within the last 5 years. We've had helpers come afterschool to work with students on homework and activities. In the fall, volunteers encouraged community members to get out the vote, and more!
Pictured above: KOM mentors and youth mentees at their mentorship kick-off event this past February. In the Spring, KOM partners with students from Bethel University to provide mentorship as part of their intercultural communications course.
Compassionate Tutors
Volunteers spent approximately 100 hours from mid-October 2022 through March 2023 tutoring refugee youth online and in-person through our Youth & Family Coach Program. This program is a partnership between KOM and four other local organizations serving newly arrived refugee youth and their families. Tutors helped students from KOM, GAP School, Afghan Cultural Society of Minnesota, and the Confederation of Somali Communities of Minnesota.
"I am grateful to all of our volunteer tutors for giving up their free time to assist our newly arrived students. Working with students whose English language ability is very limited is difficult, but I appreciate everyone's compassion and understanding of our students' struggles." – Lah Tha Pwee, KOM Youth Programs and Partnerships Manager
Other tutors have been helping at local high schools and supporting young adults in our career trainings programs. Afterschool tutors visit Harding High School, and Washington Middle and High School. Mular Lerpwel, one of our staff leading afterschool programming shares,
"Justin, Anna, and April were very helpful with homework help and bonding with the youths. The kids enjoyed being around them. It wasn't all about helping the students in the academic area, but also the social part. They connected with the students, participated in group activities and were attentive in workshops presentation. I am very grateful for their help. Thank you for all the work that you do Justin, Anna, and April!"
Interns Bring New Energy to our Programs
At the beginning of summer last year we started offering paid internships at KOM. Although, they may not fall under the textbook definition of a volunteer, our interns bring so much to this organization. We are so grateful to host such talented and hard-working interns. Each of them comes to the organization with their unique skills and passions and bring new energy to our programs. "I'm so thankful to our leadership team for supporting this step toward providing more equitable opportunities for young adults" shares Suzanne Olive, KOM's Volunteer Coordinator.
Some of the projects our interns have worked on include facilitating workshops, creating social media campaigns, serving walk-in clients, assisting our elders program activities, and finding resources for our community members.
Interested in volunteering to make an impact?
Check out our volunteer opportunities! Right now, we especially need helpers to support young adults in our career training programs during the week.
We are also recruiting for summer paid internships! Join us in communications or human services.
For more information about our volunteer and internship opportunities, contact Suzanne Olive, KOM Volunteer Coordinator.
တၢ်​ဘျုး​ဒိၣ်​မး​ (Thank you very much)