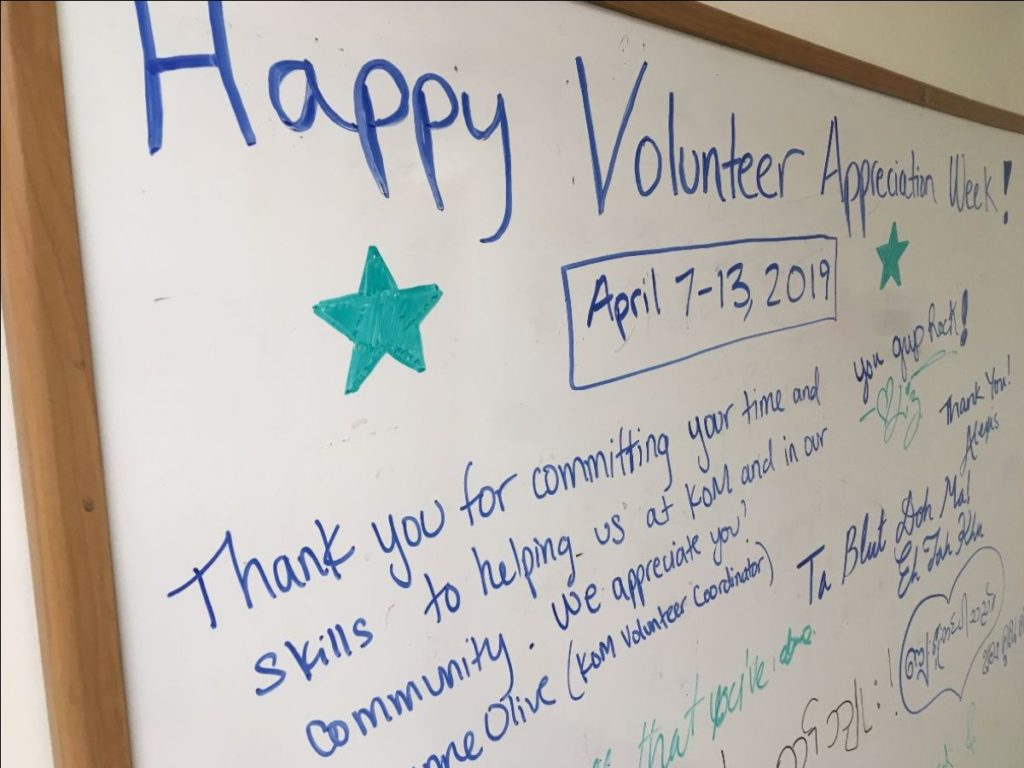 KOM, like many nonprofits, relies on volunteers for so much of what we do. Volunteers at KOM help do almost everything: they write newsletters, staff events, tutor Karen high school students, and even help our staff with walk ins. To honor our amazing volunteers, we held Volunteer Appreciation Week from April 7th-13th.
We sat down with Suzanne Olive, KOM's Volunteer Coordinator, to talk about the impact volunteers have on KOM's day to day operations:
How many people volunteer regularly at KOM?
Olive: For the calendar year of 2018, we had about 80 volunteers and interns; combined they volunteered a total of 2,700 hours. Probably the biggest waves of volunteers we have are our youth mentors in the spring, and then our civic engagement volunteers in the fall. An average of about 30 volunteers is pretty regular for any one season.
How long/how frequently do people usually volunteer?
Olive: A lot of our volunteers tend to be college students who are volunteering for their class; most of those are here for a semester, so 3-4 months. However, some are longer term. For example, our ESL class has some volunteers who have been around for years.
What are some duties fulfilled by volunteers at KOM? What are some volunteer positions that KOM offers?
Olive: Human service volunteers, for example, will help walk-in clients after they go through a training period; some volunteers can then help clients on their own so staff can focus on various other programs while volunteers cover their walk-in times. Another example is that some longer-term ESL tutors sometimes lead lessons or class for a day while the course instructor is busy planning, or working with a smaller group. Youth mentors, to give a third example, work with mentees/students in smaller groups outside school, offer homework help, and help with navigating a new culture. And, of course, we have our communications interns who write our newsletters and social media posts.
Any other volunteer positions that KOM offers?
Olive: We also offer community health internships, and social work internships. In the fall around election time, we have some civic engagement volunteers to help with voter outreach too. And, as our newest volunteer role, we've started to have more event support volunteers.
What impact do volunteers have on KOM's daily operations and on the Karen community served by KOM?
Olive: For KOM, they do a lot. Volunteers definitely provide a lot of extra support to the staff. The staff usually have a lot of things they're juggling, so it's helpful for volunteers to come in and help staff with things they wish they had more time to focus on. They bring in fresh ideas and perspectives, both from inside and outside the Karen community. In turn, volunteers  can learn more about the culture and how a culturally based organization works.
What role does the volunteer program play for Minnesota's Karen community?
Olive: Personally, I kind of like to think of the volunteer program as a way KOM can help support Karen college students. We have a lot of programs helping adults find employment, but we don't have a lot of programs helping college students. I feel like our volunteer program reaches another area of the community that KOM's other programs don't, which is helping Karen college students develop professionally. And others too, of course.
Why should someone volunteer at KOM?
Olive: It's a good opportunity to work with an org that is community based, and is doing the work to serve its own community. It's a very grassroots organizational model, which is cool. You're also able to do a lot of networking: KOM has a lot of connections with different agencies and organizations. Also, you can learn how to build social services skills, communication skills, teaching skills, and more.
For all they do to help KOM and the greater community of refugees from Burma in Minnesota, we want to thank our volunteers! Ta blut doh ma!
Interested in volunteering or interning at KOM? Visit our Volunteer page to see what positions are open and fill out an application!