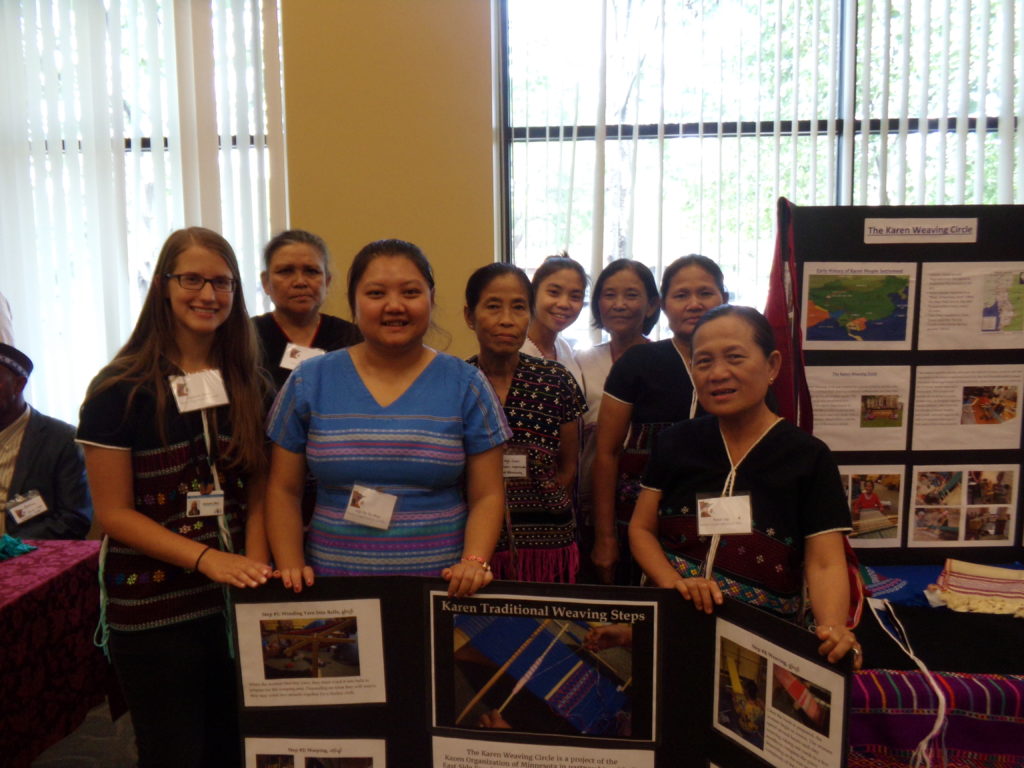 All summer long KOM's Karen Weaving Circle has been involved in event after event. From selling their pieces at the Little Mekong Night Market to passing down traditions to the next generation, the Weaving Circle has easily been one of the most active KOM programs this summer.
The Karen Weaving Circle is a group made up of Karen women who want to continue practicing their traditional back-strap weaving. Once a week, the weavers get together at the East Side Freedom Library to work on their weaving projects and socialize.
For the past of couple months, the Weaving Circle has been extra busy. The weavers recently took part in the Little Mekong Night Market and Twin Cities World Refugee Day, which allowed them to sell their pieces and share a small part of the Karen culture with others. The women also took part in a Cultural Connections Event put on by the University of Minnesota Urban Research and Outreach-Engagement Center. The Weavers enjoyed trying the variety of foods the other groups were serving and teaching anyone who was curious about the Karen culture.
In addition to everything else they have been up to, the Weaving Circle also teaches a summer class as part of KOM's Summer Youth Programs. Twice a week for five weeks, the weavers teach Karen youth the art of Karen weaving. Once the class is over at the end of August, the students will take part in an art exhibition where they will show off the projects they made and share why learning to weave is important to them. Please mark your calendars to join us on August 22 at the East Side Freedom Library for this special event!
The future continues to look eventful for the Karen Weaving Circle. Moving forward, they will continue to pass down their art to the next generation of youth, and the weavers will continue to participate in events where they can sell their work while spreading awareness of the Karen community.