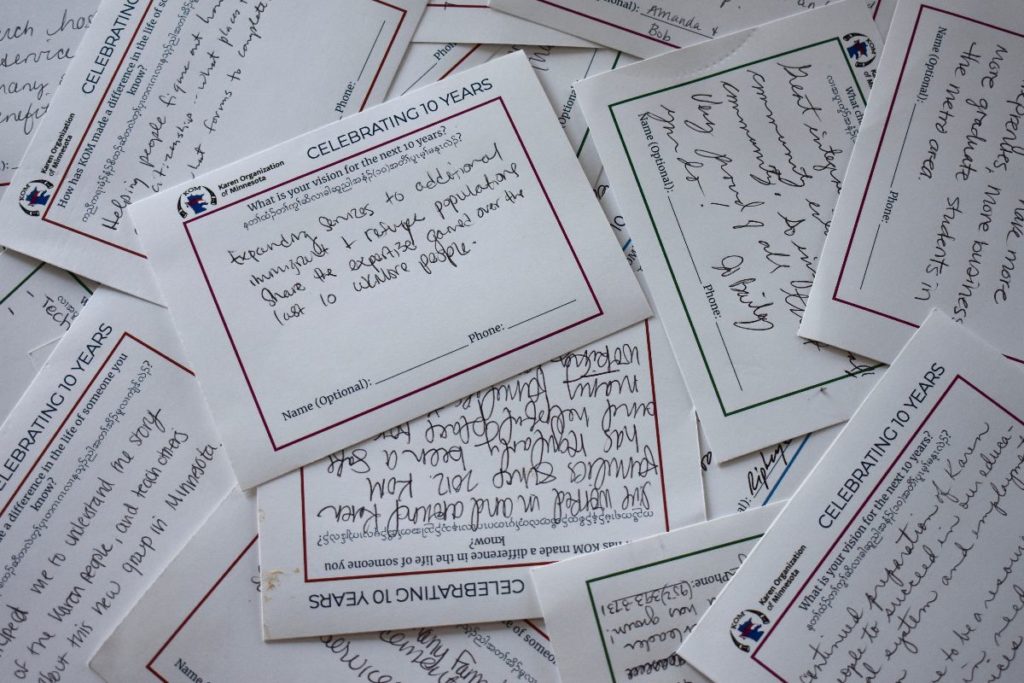 If you've been following our "KOM's 10 Year Journey" series, you've seen how much KOM has changed in the past few years. As Minnesota's Karen community has grown from 3,000 to over 17,000 in the past 10 years, KOM has also expanded from a tiny 4-person operation to a staff of over 24, providing an entire ecosystem of services and programs.
At out annual KOM gala this past October, we asked attendants to reflect on these past 10 years of KOM's service to the refugee community from Burma in Minnesota. We asked them to respond to one of four questions:
What is your first memory of KOM?
What changes have you seen in the past 10 years?
How has KOM made a difference in the life of someone you know?
What is your vision for the next 10 years?
Many remembered the first days at KOM, at its old office on Jackson Street. Employers and educators especially remembered walking in to KOM's office in the early days, and beginning a fruitful relationship with the Karen community. A Bailey Nursery employee wrote "[I remember] visiting Saw Morrison at the first office in 2010, looking for people to work at the nursery;" "I remember stopping in to see [KOM] at the old office on Jackson street to see about having my students help tutor Karen youth." wrote another. These relationships have continued and expanded over the past 10 years
The community also noted the changes KOM has seen over the past 10 years. Many were excited about seeing Karen youth start to graduate and join the workforce. "The Karen youth are graduating and getting good jobs. Living the American dream!" one community member enthused." Others reflected on how the range of KOM's services has multiplied: "KOM has been able to provide more services to the community, meeting the needs of the families. Thank you!" "KOM is a great organization to work with. I love to see all the new programs that they put in place for the community! You provide great support."
A number of supporters from outside the Karen community echoed this sentiment. "I've had the pleasure to work alongside so many dedicated staff and have enjoyed seeing KOM become such a multifaceted organization that responds to the unique needs within the Karen community. It's been a gift to be a coworker & cheerleader from the sidelines as KOM has grown!" Faith leaders especially noted the positive changes the Karen have brought to their flocks: "Four years ago, our church had never heard of the Karen. Now, we proudly host a Karen congregation and have learned quite a bit about Karen culture & history."
Without a doubt, KOM has touched the lives of many. From helping Karen community members gain citizenship and employment to bringing awareness of the Karen's story to Minnesota at large, our supporters reflected on how KOM has made a difference in the lives of people they know. "The spirit of the Karen has made us all more grateful for what we have," declared one reflection. Not only has KOM provided services, it has provided a sense of belonging and purpose for many. As another supporter wrote: "KOM has regularly been a safe and helpful place for many families that are looking for support & belonging." Or, as an employer mused: "Multiple times KOM has brought people to our company looking for a job. [Sometimes] while giving a tour, [new Karen employees] ran into someone who they used to know in the refugee camps, and they are so excited to see a friend! KOM brings people together!"
Lastly, we asked our supporters to think ahead to the next 10 years. Many wanted to see a continued expansion of the services KOM offers, especially for employment and education. "I would like to see the Karen community have more entrepreneurs, more businesses, [and] more graduate students in the metro area," one gala attendee wrote. Others speculated about the possibility of expansion to other refugee populations: "[I would like to see] expanding services to additional immigrant & refugee populations; share the expertise gained over the last 10 with more people."
While none of us can know what the next 10 years will hold for KOM and the Karen community in Minnesota, these reflections inspire us here at KOM. They make us grateful for all we've been able to achieve in the past 10 years with the love and support of the community, and challenge us to go even further in our service for the future.
To our community and supporters, thank you very much! Ta blut doh ma!