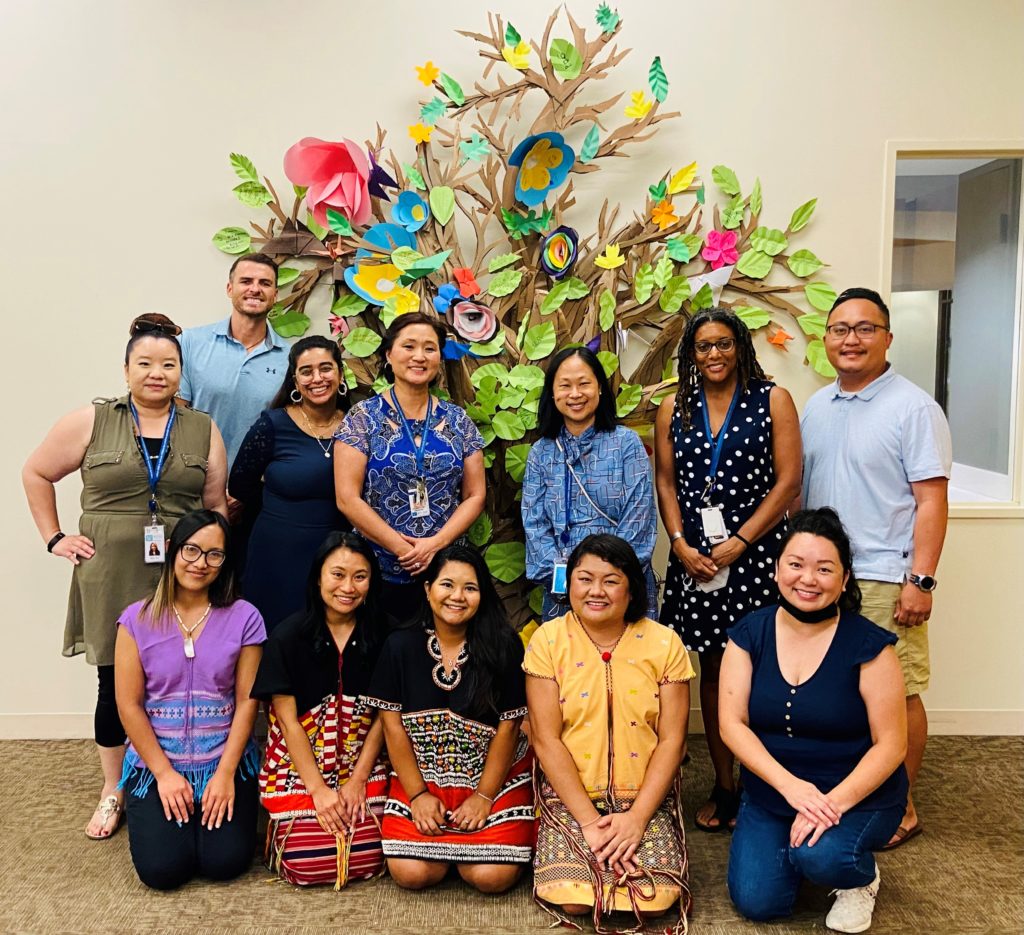 ThayGeMoo is a culturally therapeutic school-based support program for elementary to high school-aged Karen students. This Wilder Foundation program is hosted at various Saint Paul Public Schools. The intent of the ThayGeMoo program is to provide mentorship, address acculturation issues, foster positive cultural and individual identity, and nurture connectedness between youth, their family, school, and community. 
Photo above courtesy of Wilder Foundation; pictured are Wilder Foundation staff members at the ThayGeMoo program launch.
ThayGeMoo means living roots. It is roots that live on without water and soil. It never dies. When the roots are placed in a vase with just water, they will start to grow and sprout. Just like the living roots, the youth themselves are resilient and strong. With the support and care from the people around them, they will grow to pursue their goals for successful futures. 
Celebrating the ThayGeMoo Program Launch 
Upon entering, attendees signed their names or wrote their hopes on a leaf and attached it to the tree as a symbol for community and being a living root. They were able to create a paper Karen flag, take photos in a photo booth and watch a dance performance. They enjoyed a shared meal and participated in fun games and group activities. During the event, everyone got to learn about the new program from the speakers.  
April Moo, School-Based Mental Health Practitioner at Wilder Foundation who organized the event said, "There is a lot of stigma when it comes to mental health in the Karen community, and it is a new concept that many Karen families struggle to understand. Through this event, we were also able to acknowledge the importance and need of mental health services, encouraged families to seek support and help when needed, and to have hope." 
About 15 ThayGeMoo families were able to come, and a total of around 100 people! Some of our KOM staff came to celebrate the ThayGeMoo program launch along with Karen community leaders from Karen Organization of America (KOA) and Karen Community of MN (KCM), keynote speakers – Paw Wah and EhTaw Dwee, SPPS school staff, a dance performer, and Wilder Foundation staff. 
For more information about the ThayGeMoo program contact Lwepaw Kacher (KOM/Fairview staff) lnkacher@mnkaren.org  and/or April Moo (Wilder Foundation Staff) april.moo@wilder.org