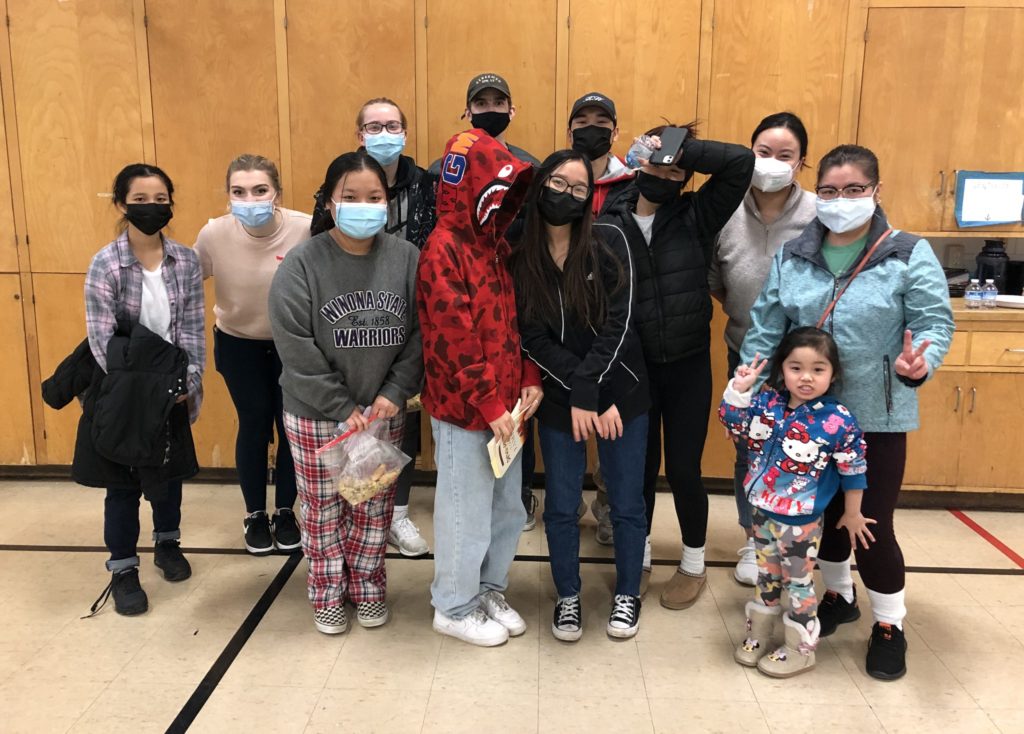 April is national volunteer appreciation month! This month we want to thank our many volunteers who have given their time and skills over this past year to support our staff, clients, and community. Hear directly from our volunteers and staff below!
Read interviews with our two social work interns, Henry Ngo and Eh Tha Blay Soe, here.
Pictured above: Youth mentors and their mentees pose with our youth staff at our mentorship game night in March.
Tutoring Our Youth
During the 2021-2022 school year, we have had over 20 virtual and in-person youth tutors. These tutors have helped with our afterschool programs at Humboldt Middle and High school, and Harding High School, and with our Youth & Family Coach programs. Almost half of our volunteer tutors throughout the year spoke Karen, Karenni, or Burmese, which helped them communicate with our students.
"I'm very thankful for all the tutors that set aside their time to reach out to us and help our newly arrived Karen students who are struggling in these difficult times, trying to catch up on their missing work and pick up the language," shares Lah Tha Pwee, KOM Youth & Family Coach. "The tutors went out of their way to navigate the communication and technology issues, and try to understand where we come from and our struggles. Some students requested to work with a certain tutor because of the way they spoke in an understandable way. I appreciate how the tutors didn't give up on our students and tried their best no matter the obstacles."
Building Cross-Cultural Bonds
This spring, we are partnering with students in an Intercultural Communication class at Bethel University for our youth mentorship program. The students are divided into small groups, usually with two mentors and two youth. In the program, the goal is for both the mentor and mentees to learn about a culture different from their own. The mentors also provide guidance around thinking about college, navigating activities and resources in the community, and helping with academics. Besides that, we want the groups to foster friendship and create opportunities to relax and have fun!
In March, we hosted an indoor Game Night for the groups to come together to play some games and eat good food. Almost everyone joined the informal volleyball game, full of screams of excitement and encouragement.
"I feel like we can talk openly as friends. So far, it's been really fun!" "I've been learning so much from my mentees, and I'm excited to keep building these bonds." – KOM Youth Mentors.
Shout out to our immigration interpreting volunteers, and the civic engagement volunteers who helped us Get Out The Vote last fall.
Our volunteers and interns provide support across so many of our programs. They bring in new perspectives, and foster connections with various communities in the Twin Cities. Wishing everyone a happy volunteer appreciation month!