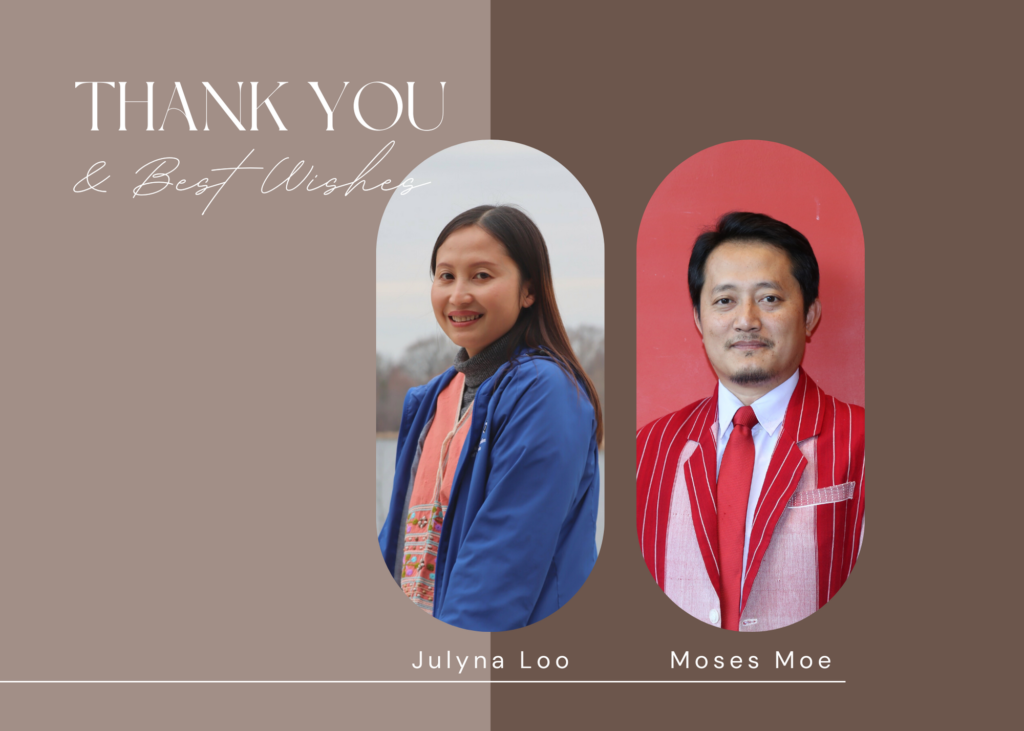 Over the years, we have been privileged to work with Moses Moe and Julyna Loo across our Community Health and Social Services programs. As we are sad to see them go, we are also very proud of the impact they've made in the community. We look forward to seeing what they do next.
Alexis Walstad, KOM Co-Executive Director, shares, "Moses and Julyna both did a lot of work on health topics that can be hard to talk about, like mental illness, family conflict, family planning, and COVID-19. They were both so good at translating complicated health topics into Karen and building trust with people to feel comfortable talking about health issues."
Supporting Her Community
During her 6 years at KOM, Julyna lead programing about parenting, family planning, suicide prevention, support for mothers post-partum, and much more. In 2017, she helped publish the Karen Decisions on Child Spacing booklet in partnership with WellShare International.  The 78-page booklet outlines reproductive health, child spacing methods, and talking to a healthcare provider in both English and Karen.
Julyna taught workshops for new mothers, as well as parents of teenagers. She also lead mental health workshops, peer support groups, and other programs to share crucial resources with the community. Her impact on raising awareness about mental health and providing support for families and individuals will forever be felt within the community.
Valued Partnerships
Moses and Julyna worked together on a collaborative program called the Eliminating Health Disparities Initiative along with other local organizations. One of those organizations is the Korean Service Center (KSC).
Jinhee Kweon, Program Manager at KSC, says to Moses and Julyna, "It has been a pleasure getting to know and working with you. You will be missed a lot. Best wishes for your adventures!"
"Moses and Julyna are both amazing leaders and did a great job for their community," shares Ner Mu, KOM Youth Health Educator. "They both are talented at working with partnering organizations and leaders. Also, they are good at recruiting community members for health workshops and share different topics of health information to community members effectively."
Leading By Example
As Program Director at KOM, Moses Moe's contributions are countless. Moses' work ranged from developing ideas for new programs, to the nitty gritty of writing grants and reports. He supported cross-agency health collaboratives including the Karen Chemical Dependency Collaborative, East Side Health and Well-Being Collaborative, and M Health Fairview's MINI Immunization Clinics. But his talents don't end there. He is also known for his artistic eye and skills for design and video editing.
As part of KOM's leadership team, Moses was involved in important decision making and always looked out for the needs of the community. He also encouraged his staff when working on new projects. Ner Mu says, "Whenever our community health programs came up with any issues or challenges for the program to reach outcomes or any activities, he always stepped in to help solve the challenges together."
They have each done so much more for the community than can be put into words. Join us in recognizing Moses Moe and Julyna Loo for their dedication and wishing them the best as they move forward.