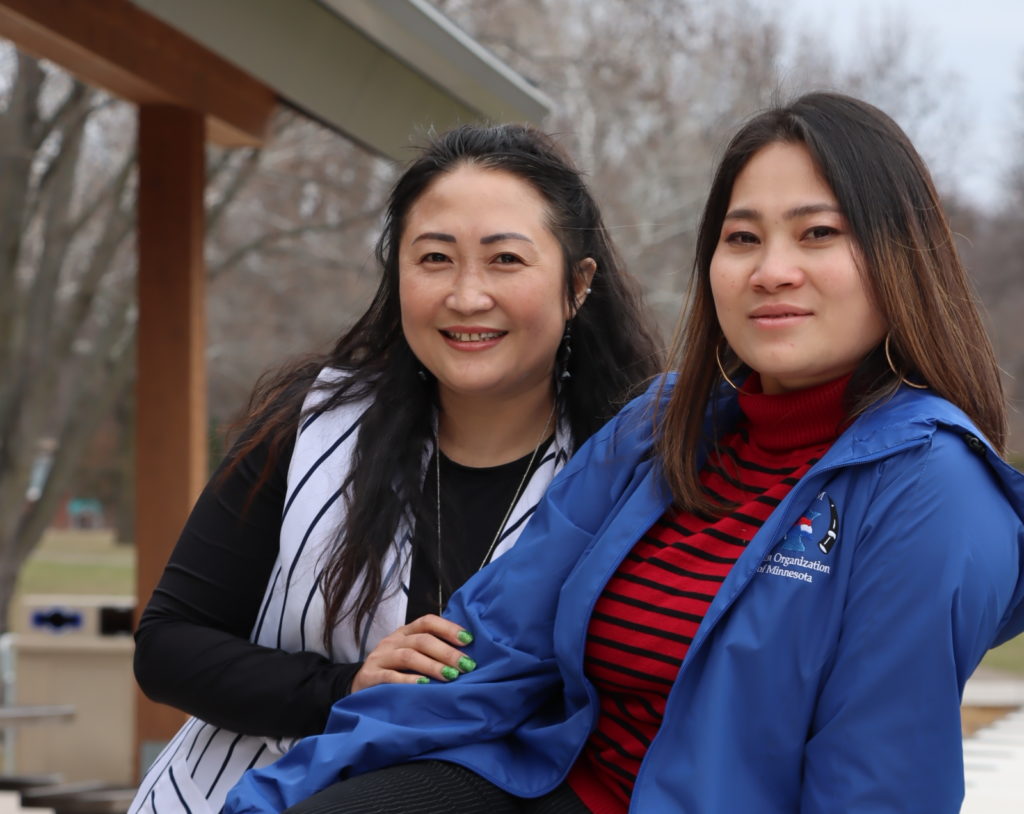 As summer comes to a close, we are sentimental to be sending off three incredible staff members and our 2022 summer interns. Join us in recognizing these individuals for all their contributions to KOM and the community.
Photo above taken by Mung Nai Tun, picturing Nana Loo and Ehgay Htoo So.
Staff
Nana Loo joined KOM back in 2013 and has held many positions within the organization. She started off as a Health Education Coordinator, later becoming a Social Service Coordinator, Family Advocate, and finally a Youth & Family Coach.
Ehgay Htoo So joined KOM as our front desk receptionist in 2018 and has worked providing intake, referring clients to services, and supporting all KOM programs.
"I am blessed to have had the opportunity working with wonderful colleagues like these two [Nana and Ehgay]. Working with a community based social services organization is sometimes very challenging and stressful, but despite those circumstances they went above and beyond their roles to address the needs of their clients and the community," reflects Eh Tah Khu, KOM Co-Executive Director. "I greatly appreciate their passion, flexibility, and commitment for the organization and most importantly for the community. We wish them happiness as they begin a new chapter in their lives."
Mung Nai Tun served at KOM as an Opportunity Navigator with Minnesota Opportunity Corps for the 2021-2022 year. He helped support KOM's career training programs, youth programs, and more.
"Mung has a great way with people and contributed in a variety of ways at KOM, especially with our career pathways programs," shares Lisa Gibson, program manager. "He was a "jack of all trades" and took on many different responsibilities, from transporting participants to working at the front desk."
Interns
We were fortunate to have three interns at KOM this summer in communications, community health, and human services.
Ner Mu, community health program manager shares, "Mirian is a very positive and friendly person. She is eager to learn more about new things and she has talent how to work with different cultures and communities. Whenever I asked her to support or join our community health activities she always said yes. She loved to involve and support our team as much as possible."
This summer was KOM's first year offering paid internships. "I'm so thankful to our leadership team for supporting this step toward providing more equitable opportunities for community members to gain experience." Suzanne Olive, KOM's Volunteer Coordinator, works alongside staff to design internship positions and onboard new interns. "I worked closely with Grace on communications, and I love having the different perspectives that interns bring to our work. It is also a joy to see them grow their skills."
We are grateful to have Sha Mu Na back with us this fall to continue helping our social service programs.
Best wishes to all our summer interns and departing staff. We hope to see you all around the community, and we know you will be doing great things!
---
Want to join our team? Check out our current paid internships and job openings.