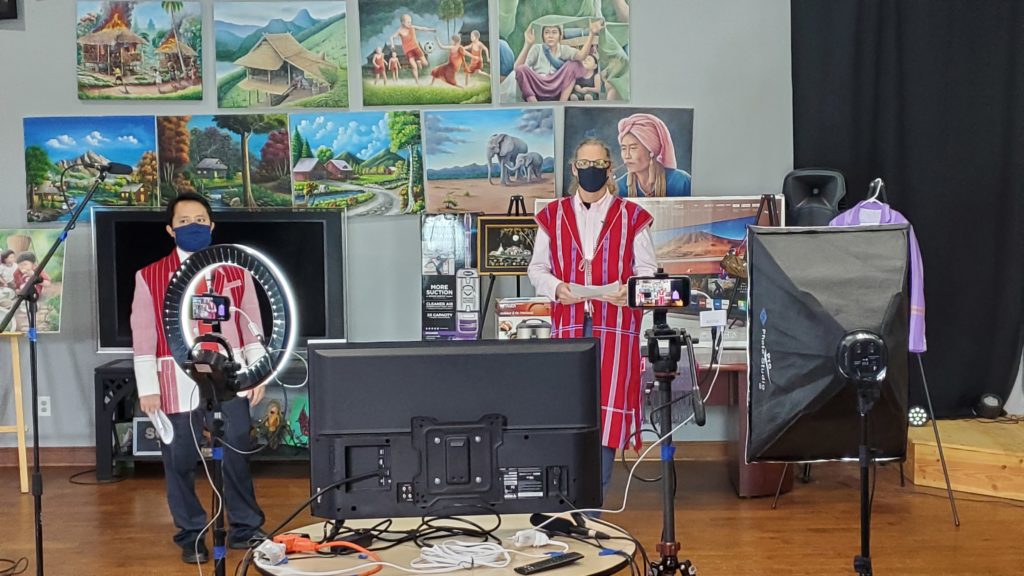 While we are sad we were not able to hold our Annual Gala in person this year, our Stronger Together Virtual Fundraiser was a success!
Pictured above: Moses Moe, our Program Director, and Tim O'Brien, our KOM Board Treasurer, led the online event at The Urban Village's beautiful space in East Saint Paul.
First, we want to thank The Urban Village for the use of their space, and Ku Hser from SOFT TV for his tremendous help with production.
Speakers & Musicians
We were very excited to have two Karen musicians, Kaung Kaung and Martha Htoo Wah, perform at the fundraiser!
Kaung Kaung was born and raised in Burma, and as a youth won multiple singing competitions. He has produced albums in both Karen and Burmese, and has written more than 70 songs for himself and other artists.
Martha Htoo Wah was born in a refugee camp in Thailand and moved to South Korea a few years ago. The young teen has become well known for her singing with the Karen Community in Burma and internationally.
We were also lucky to have two speakers join us to talk about their experiences as KOM clients.
Moo Ru spoke about her experience coming to Minnesota while not knowing how to speak English. KOM has helped her with this language barrier through ESL classes and also helping with things like reading her mail. She also discussed the impact of COVID-19 and its effects on the process of getting citizenship for her child. She said she is grateful for the support that KOM provides.
Paw Dai Nya moved to Minnesota from Missouri 5 months ago after learning about the services that KOM provides. COVID-19 has impacted her family, but KOM was able to assist with applying for assistance to meet their needs. She is thankful for the people at KOM who helped her with applications and transition to living in Minnesota.
Donations
You can still donate here to help us reach our goal!
Between the Stronger Together Virtual Fundraiser and Give to the Max Day, we have been able to raise $6,934.95 towards our $9,000 matching goal! Thank you to everyone who has donated and continued to support KOM.
Thank you to our sponsors: M Health Fairview, Jody Baber State Farm Agency, Adaptable Workforce Solutions, HealthPartners, Japs-Olson Company, Samah Home Healthcare, and the Council on Asian Pacific Minnesotans.
Raffle Winners
Congratulations to all of our raffle winners! Thank you to everyone who purchased tickets. The proceeds from the raffle are going towards supporting refugees and immigrants in Minnesota.
Karen Suit Jacket: Todd Gibson
Karen Weaving: Dah Say
Rice Cooker: Hser Doe Htoo
Burmese Artwork: Paw Hae Soe Say
AirPods: Mi Mar
Visa Gift Card: Lay Lay Htoo
Shark Vacuum: Moo Thaw
Karen Horn: Mu You
GoPro: Todd Gibson
Smart TV: Hsar Law La Doh
Gold Necklace: Thaung Shwe
iPhone XR: Lay Paw Kay
Watch the recording of the event here on our YouTube Channel!