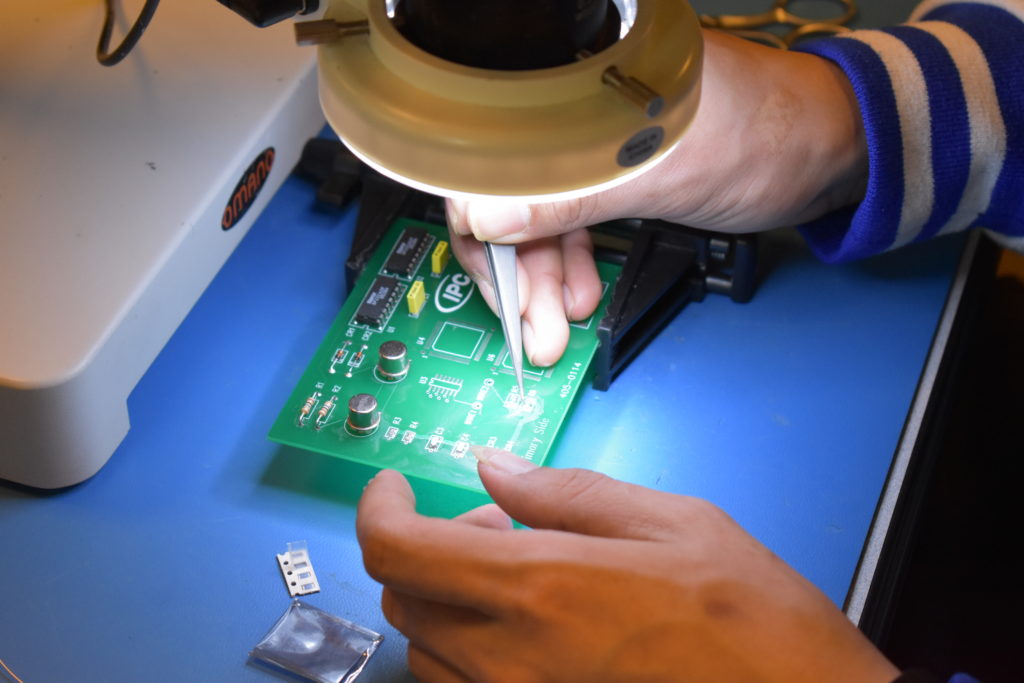 Near the end of February, we paid a visit to KOM's 7-week Soldering Training Program, offered in partnership with TSC Connect LLC. There, we interviewed students about their choice to join the class, what they're learning, and their hopes for the future.
The TSC classroom, located just south of Como Park, was busy with activity when we arrived on a bright, snowy Tuesday morning. Students sat peering intently through their microscopes, wisps of smoke rising from their soldering irons as they fused components onto circuit boards.
As the class soldered on, we pulled aside a few volunteers to ask them about their experiences in the class. Most had decided to join the class in hopes of starting a career in soldering. "I decided to take this class for my future, and to find an easier, less heavy-duty job," said one student. Others cited the average pay for soldering technicians, and a general interest in electronics: "I just wanted to learn a new skill. I like circuit boards and hi-tech [things]… if I could fix my own phone it'd be great, right?"
Over to one side of the classroom, a student sat in front of a laptop with KOM's Rebekah Hanson , working together on building a resumé. As part of the course, students receive career counseling support, as well as support finding a job placement after. Upon completing the class, students will have learned enough about soldering to receive IPC-A-610 and J-STD-001 certifications. These certifications, recognized across the electronics industry, will allow students to take their new hand soldering skills and begin new careers as soldering technicians.
During the interviews, students occasionally rose from their seats to ask soldering instructor J.P. Heu for feedback. A veteran soldering technician, Heu was recruited to teach the course by his uncle, and looked every bit the teacher as he scrutinized his students' work under a microscope.
What advice would Heu give to Karen or Southeast Asian youth interested in a soldering career? "Come on in. You gotta start somewhere, and once you start soldering, who knows? Once you get into a company, the learning never stops, it always continues […] It opens up a lot of doors."