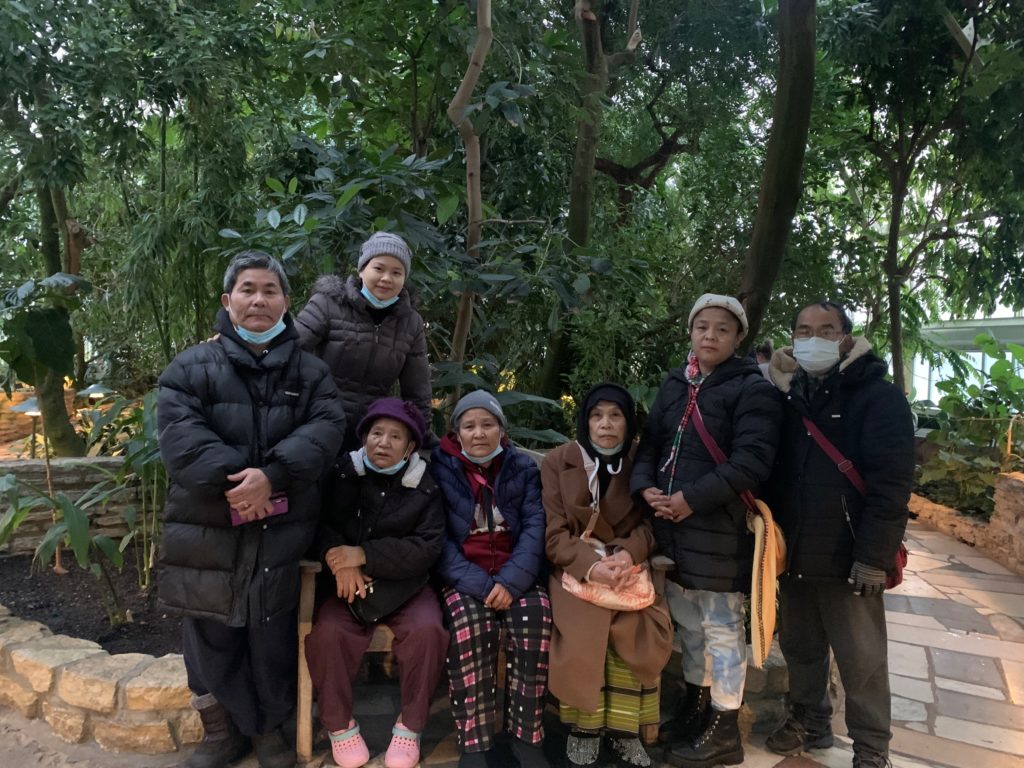 At the KOM, one of the most significant benefits of a senior program is being part of a community. Therefore, KOM staff try to create opportunities for the elderly to take part in activities and build community cohesion. By doing outdoor activities, they can bring new energy, comfort, and connection for elders who may feel isolated. 
Photo above: KOM Social Service Coordinator, Synthia Htoo, and KOM Elders Program members at Como Zoo Trip 
Winter comes to Minnesota, and KOM staff understand it can be hard for people to enjoy winter events, especially our senior members. Therefore, Como Zoo and Conservatory is a good spot for the Elders Program to visit. As it is a warm place, it can bring back feelings of their hometowns.
According to Synthia Htoo, a KOM staff member directly supporting the elders, "Since wintertime came across Minnesota, none of the elders had a chance to go outside and enjoy the activities. Therefore, we decided to make the trip to Como Zoo Park." This trip has provided them with a closeness to nature, helping them recall memories of their home country. 
"They missed their village because this tropical garden has so many things that they had in their village." Most senior members shared with Synthia that they felt like they were home. "They want to pick some vegetables and cook mountain food."
A trip to Como is a great way to warm up winter in Minnesota; this trip was full of fun and laughter. Besides, meeting and participating in activities together has created a close relationship between members of the group. The Como Zoo trip helped enhance social interaction, promote mood, and decrease the risk of depression and loneliness. The positive energy on this trip brought them closer together. The Karen Organization of Minnesota and the Elder Program aim to create an environment that works to build relationships between senior members and the community. Therefore, Synthia always tries to create more opportunities for senior members to participate in activities with nature and trips to bring back positive memories. 
On February 25th, 2023, the Elders Program will make a trip to the Mall of America to visit Sea Life. Elders will get to see marine animals and can experience the blue ocean air right here in Minnesota.  If you are looking for an elder's program for the Karen community, at KOM, we ensure our senior members have a supportive environment. Contact Synthia Htoo, our social service coordinator, at shtoo@mnkaren.org or 651-202-3102. Join us and create happy memories with Karen elders here in Minnesota.