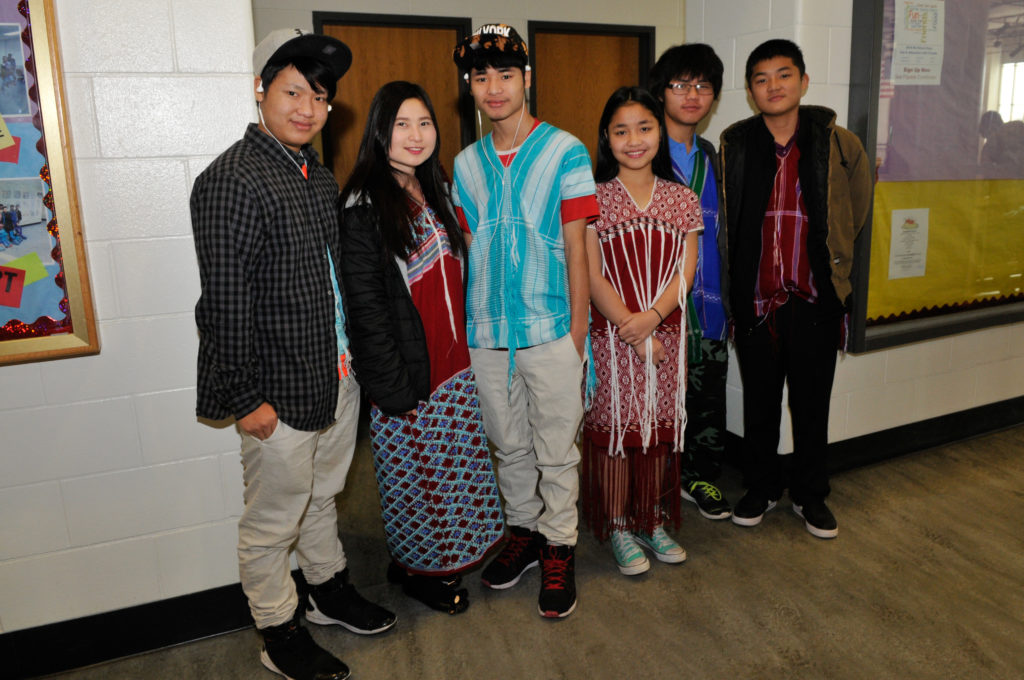 Karen youth smile for a photo at the 2756 Karen New Year Celebration.
Eh Hser came to the U.S. five years ago with her husband and three of her five children. She started working right away, because her husband has a disability and is unable to work. She worked at a Thai restaurant cooking food and washing dishes while her three children attended school.
When her 21-year-old son graduated from high school last year, she was hoping he would go to college. Instead, he decided to find a job because he didn't want his mother to work anymore.
"He told me, 'Mom, take a rest. I will work to provide for the family. My two sisters will go to college,'" said Eh Hser.
Along with being disappointed that her son is not in college, Eh Hser worries about her two daughters.
"I worry that they will choose the wrong friends and they will not do well in school," said Eh Hser. "Every day I try to teach them what is good."
Eh Hser is one of thousands of Karen parents in the U.S. who are concerned about their teenagers growing up in America. Although she tries her best to educate her children, she is worried that they will forget their Karen culture and be poorly influenced by the American culture.
This is why Sarah Hoffman, a professor at the University of Minnesota, reached out to the Karen Organization of Minnesota with an interest in conducting research on Karen parenting in the U.S.
"After interviewing Karen adults in Thai refugee camps, one of the themes that emerged was parenting," said Hoffman. "Parents were concerned about raising their kids in Western culture and did not feel prepared for this task."
Hoffman started working with KOM in January 2015. She partnered with Julyna Loo, community health educator, and Jenn Kortgard, a social worker from Northeast Youth and Family Services who is contracting with KOM. The three of them designed a curriculum for a parenting class specifically geared for Karen adults.
The first class was a test run held in the summer led by Kortgard. The second class began on Feb. 15 and will run for 6 weeks on Wednesdays. The class is being taught by Loo in Karen language, so no interpreter is needed.
The class includes material on communication styles between parents and teenagers, disciplining youth, risk that teenagers face, the school system, and more. The curriculum specifically addresses challenges that Karen families have in the U.S.
"Karen parents have different rules," said Loo. "To discipline kids in the refugee camp, they usually spank them. But in the U.S., parents usually give their kids time outs to discipline them. Karen parents have a hard time adjusting to this."
While the majority of Karen youth are doing well in Minnesota, KOM has seen an increase in youth engaging in harmful behavior. Some of this behavior includes alcohol and drug use, gang involvement, and more.
"The parents whose youth are involved in dangerous activities don't know what to do, so they call the police or their case worker," said Loo. "We are hoping to educate parents so they can apply the knowledge and pass it along to their friends."
There are many challenges that Karen parents face in the U.S., and KOM hopes to educate a handful of these parents with tips on how to build stronger relationships with their teenagers in a new country. This is a pilot project, and KOM hopes to learn from program participants and continue offering this class in the future.
If you are interested in learning more about future parenting classes, contact Julyna Loo.