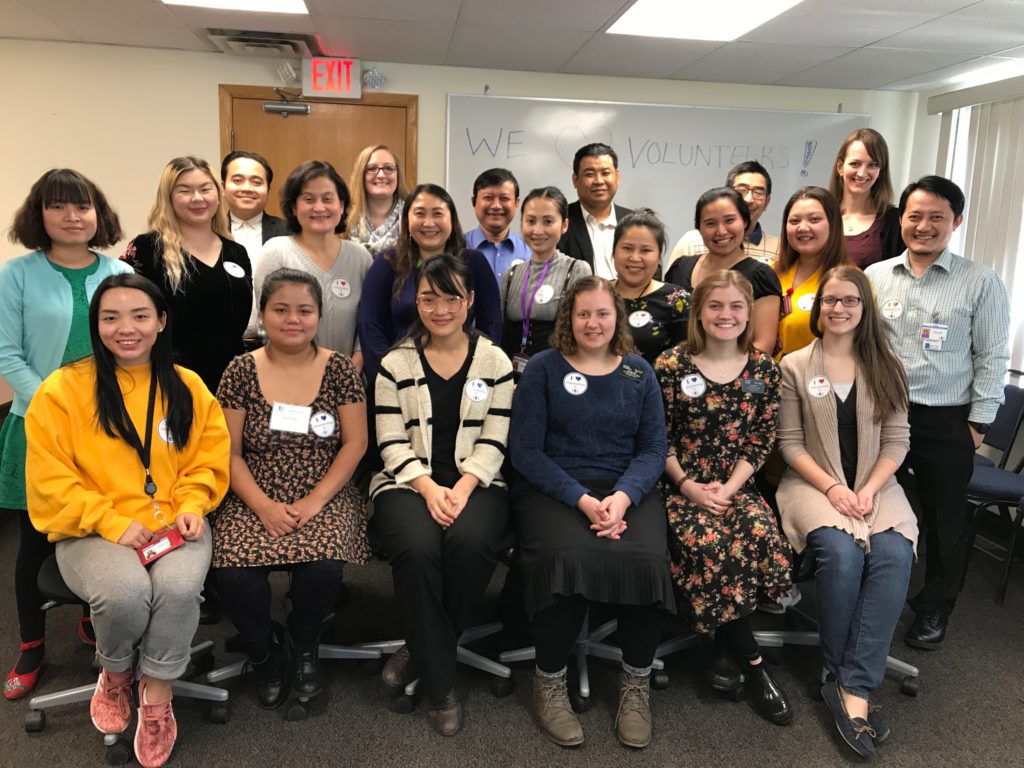 Thank you so much to all of our volunteers at KOM, past and present, who dedicate their time and skills to help the community. We've had over 120 volunteers at KOM since September of 2015, committing over 3,200 hours!
"Every day as I came to volunteer, it is a day of treasure because I had learned new things every day." – Bway Khu, KOM Human Services Volunteer
There is so much we couldn't do without our volunteers who help our community and organization thrive! Here at KOM we have a variety of volunteers doing valuable work. Our volunteers help out in our adult ESL class, they mentor youth in our youth program, they help serve our walk-in clients, they provide support for our staff with their programs, they help with events, and much more!
"The volunteers that are helping with the walk-in clients are doing a really good job, and it helps the staff a lot when we're very busy so that we can have more time to focus on our program work." said Nana Loo, KOM Family Advocate and Social Service Coordinator.
Many of our volunteers have gone above and beyond expectations. Stephen and Roma Hurley, two of our former ESL volunteers, received a city-wide 2017 Outstanding Volunteer Award for their dedication to the students in our ESL class and their creative ways to support the students beyond just English language learning (Read about their contributions here). Stephen also created a website for learning Karen and English: http://www.karentalk.com/ .
Pae Say, KOM's first Community Health Intern, worked closely with our Health Staff and supported the organization in many ways. She helped Laymu Paw, our Elders Program Coordinator, lead health-related classes for the elders, she helped organize a Community Dialogue on Mental Health and wrote a report about the dialogue (Read about the dialogue here), and helped create a booklet in Karen with tips and resources regarding mental illness and suicide prevention (View more about the booklet here). Her contributions go so much farther than just the organization, they provide resources and education to the community as a whole.
As we believe our volunteers to be incredible individuals, we'd like you to hear from a few of our volunteers in their own words:
Jonathan (ESL Tutor):
What do you do in your position? 
Well, Of course the things that are expected; like assist the Teacher with the students on an individual or group basis, bringing lesson material pertaining to adult ESL students, and to generally engage the students. Additionally, I try to learn about the students and identify what their individual goals and interests are. This allows me to not only teach English, but it also helps engage and prepare the students for the challenges they face.
Why did you choose to volunteer at KOM?
After some travelling and meeting the kindest people. People that will go out of their way to help you or someone with no relation. The thought that people travelling to the US or who are in the US from other circumstances, may not get the same feeling I often did abroad was unsettling. I was tired of just thinking about volunteering, and I realized the only thing that was holding me back was myself. I knew about KOM previously, and after some research, it was an easy call to make.
What have you learned or how have you grown through volunteering at KOM?
To tell you the truth, I never expected the experience I've had at KOM. Every day I am in the classroom, my heart is warmed by the strength, compassion, and determination of the students. Taking this with me also makes me a better person.
Additional comments:
I have to make a shout out to Teacher Fred. He is an inspiration. Simply put, he is passionate about his role at KOM. He creates an open and inviting classroom where students are comfortable. He engages and challenges not only the students, but also myself.
Shee Htoo (Human Services Intern):
What do you do in your position?
I volunteer as a Human Services Intern. I do translating for the Immigration worker and Ramsey County worker, I make phone calls, fill out paperwork, help with data entry and filing, and anything the clients need.
Why did you choose to volunteer at KOM?
I love to help out my community and make them feel like it's not a burden to live in the United States. It's a better place for us to live here, and I want them to feel welcome.
What have you learned or how have you grown through volunteering at KOM?
I learned a lot of new information, and I met new people. I learned about the different positions that people work here, their experience before working here and their majors, which inspired me. I learned how to communicate with people on the phone, how to manage time, and how to coordinate with clients' needs.
Bway Khu (Human Services Volunteer):
What do you do in your position?
In my position as a Human Service Volunteer I help clients make phone calls, request interpreting, fill out paper work, I read letters for them, and I interpret for clients between them and another worker.
Why did you choose to volunteer at KOM?
KOM is a nice organization to volunteer with. I like that I am able to gain experience working with my own culture and using my own language. It is easy for me to communicate with the clients because I can speak with them in our language.
What have you learned or how have you grown through volunteering at KOM?
I learned a lot. I learned how each client's case is different. At first I didn't understand how to fill out a lot of the forms, but one of the KOM staff, Nana Loo, helped me. She was very good at explaining things and was very patient with me. I also learned about a lot of the programs that they have at the Karen Organization, and I like how they have programs, like Weaving, that maintain Karen culture.
Additional comments:
This is one of the best places for everyone who wants to give some extra time that they have and give back to their community. I would like to invite more people and students who want to do volunteer job to come and lean about this organization and support the community.
Want to volunteer or intern at KOM? Check out our volunteer and internship positions online!
We're currently looking for a Communications Intern, among other great positions!
For more information about volunteering, contact Suzanne Olive, Community Engagement Specialist.