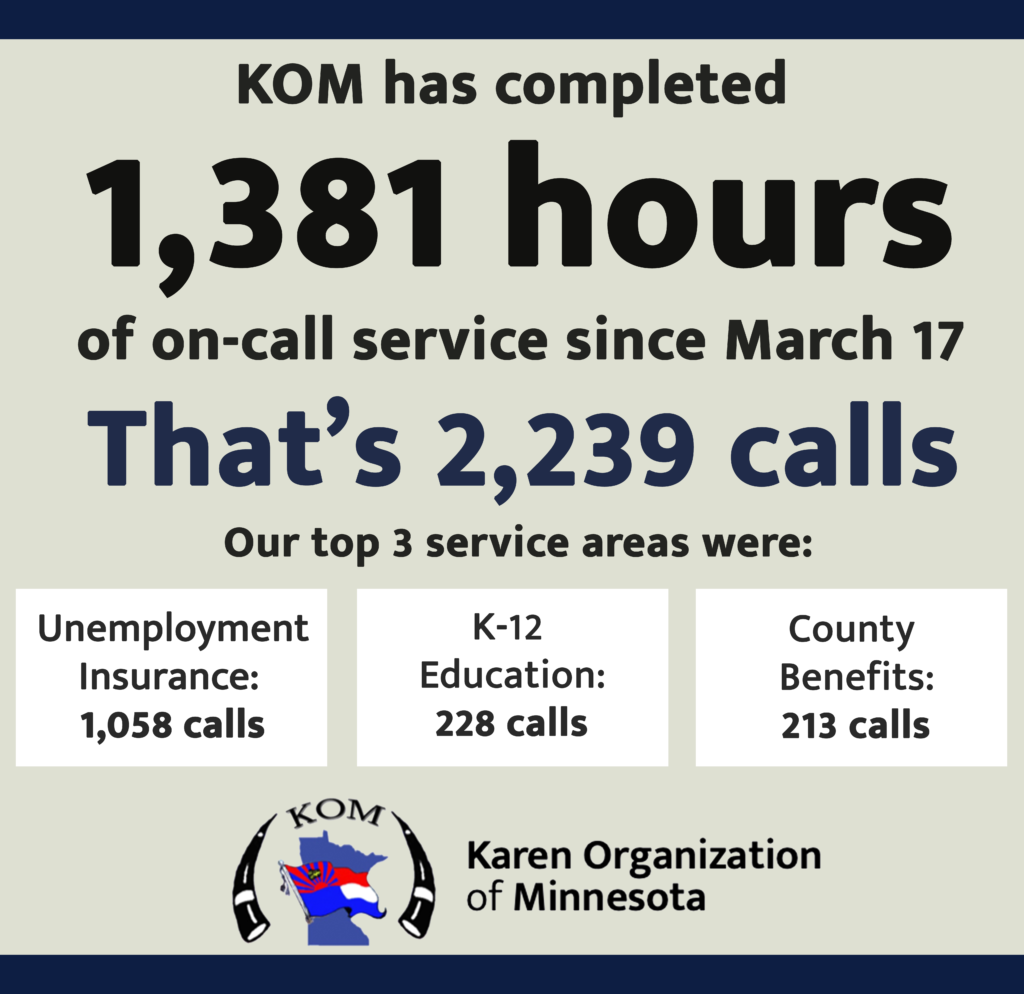 Beginning on March 17, KOM transitioned to serving clients fully digitally to keep both our staff and our clients safe. In April, we shared that from March 17 to April 20, we completed 506 on-call appointments. That was over 100 calls a week, and our biggest need was helping clients fill out their unemployment insurance paperwork.
Over the past 10 weeks, we have completed another 1,667 on-call appointments and spent 1,056 hours helping process unemployment insurance, navigate healthcare insurance, fill out census forms, or apply for county benefits. That means since we closed in-person appointments in March, we have had a total of 2,239 on-call appointments–nearly triple the number of walk-in appointments that we typically host in the same period.
15 of our staff members have been working tirelessly so that every community member who calls can be served. But the transition from serving clients face-to-face to over the phone has not been easy.
Laymu Paw is a Family Assister and the MNsure Outreach Coordinator at KOM. Her on-call duties have mostly been helping clients with applications for MNsure, unemployment insurance, and county benefits like SNAP. She spoke about her experience moving her work on-call.
"It has been challenging helping clients over the phone rather than meeting them in-person because some clients have a hard time giving out their information because they can't read and write," says Laymu.
But she says getting through those challenges has been rewarding, "the best feeling with helping clients during on-call service is when I help someone resolve the case, like getting back on track with their health insurance, SNAP, or cash program. This makes me very happy when I am able to solve the case."
KOM has announced that we will be resuming some select in-person service. Find the full details on our COVID-19 Resources page.
Please join us in giving a big shout out to all of our staff for continuing their incredible work while working from home!