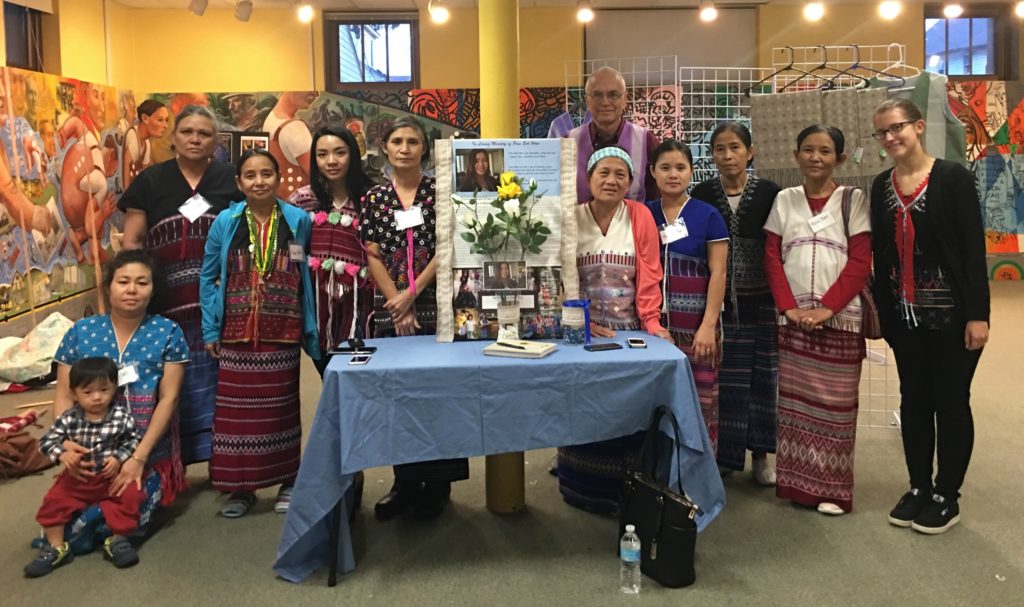 The November weaving event that closed off the 2017 year greatly honored our late Weaving Coordinator Paw Boh Htoo. The women weavers were happy to see so many people interested in Karen traditional weaving, and they were glad to have the opportunity to share the life and work that Paw Boh Htoo had led.
We want to thank everyone who came to show their support for the Karen Weaving Circle. We also want to thank our speakers, Peter Rachleff from the East Side Freedom Library, and Rosie Say, one of the weavers, who is a founding member of the group, for speaking about the Weaving Circle and about the life and work of our beloved Paw Htoo.
During the event, youth from KOM's youth program brought some of their finished pieces that they had woven over the summer. Our Youth Coordinators partner with the Weaving Circle in the summer to offer weaving classes after the youth finish summer school in July.
For some of the youth, the weaving class gives them the space, time and materials to practice their skills in traditional Karen weaving with expert weavers. For others who had never done weaving before, it gives them a chance to learn their own culture's traditional art. Copies of the three-part weaving booklet that they made, showcasing Karen back-strap weaving steps, were also available at the event.
In the downstairs of the library, we had three weaving step stations with demonstrations: winding yarn into balls, winding yarn onto the warping frame, and weaving using the back-strap loom. At these stations, visitors could see up close and in person the detailed process behind traditional weaving.
Various pieces handmade by the Karen Weaving Circle were on display and for sale including, women's and men's shirts, bags, scarves, table placements and more. By the end of the night, the women ended up selling almost all of their pieces!
Upstairs, we had Karen food, an information board with the background of the Karen Weaving Circle, and a video on display produced by the Minnesota State Arts Board about our Weaving Circle.
We know Paw Htoo would have been proud of the weavers and youth for continuing to share their culture and traditions with the community in St. Paul. We are so proud of her and grateful for everything she did for KOM, our staff, our weavers, our youth and our community.
Read an article posted in the East Side Review about Paw Htoo and our Weaving Event here.
Read our tribute we wrote for Paw Htoo here.
To donate to Paw Htoo's family, please visit their Youcaring page here. The Youcaring page will close on Monday, December 18th.