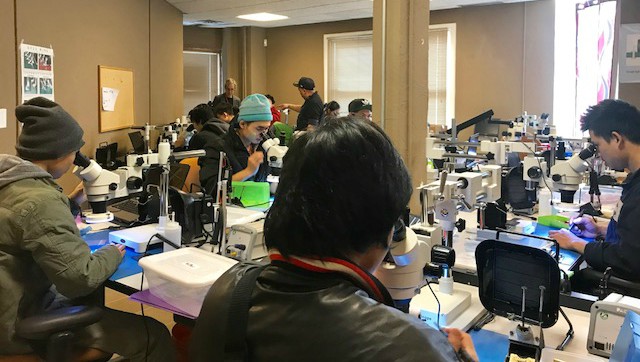 "The whole group was so excited for their first day on site," said MooMoo Paw Htoo, one of our Employment Counselors who took a group of 12 to begin their hands-on soldering training in February.
Before their on-site training, the group completed one week of ESL preparation with an instructor from the Roseville Adult Basic Education (ABE) program. They went over soldering terminology, math and reading materials related to employment. They also prepared their resumes and practiced for interviewing with a soldering company.
The soldering instructor is Tieng Vang, a certified IPC trainer with TSC Connect LLC. He leads the classes Monday through Thursday, for three hours each day. The ESL teacher from Roseville ABE has also been attending the classes, and facilitates a review and job-preparedness session on Fridays. The Friday sessions also allow for students to go over questions they had during the week.
The students started with a beginning level soldering class, and after a couple weeks, they begin working on more complex items that would be similar to the products a company would have them work on. Currently, the participants are having exams to measure what they have learned so far before moving on.
Moo Moo Paw Htoo is KOM's coordinator for this training program and has been attending the soldering classes with the participants. She says the skills they are learning are very interesting and this is a great opportunity to prepare them for employment.
The participants are required to complete about 100 hours of training. Once they've completed their training and receive soldering certificates, they are able to apply for a soldering position!
Moo Moo Paw Htoo said many of the students are looking forward to getting a job and starting their work in soldering.
This new soldering training program is funded through a grant we received from the Department of Employment and Economic Development for developing warehouse and manufacturing career pathways.