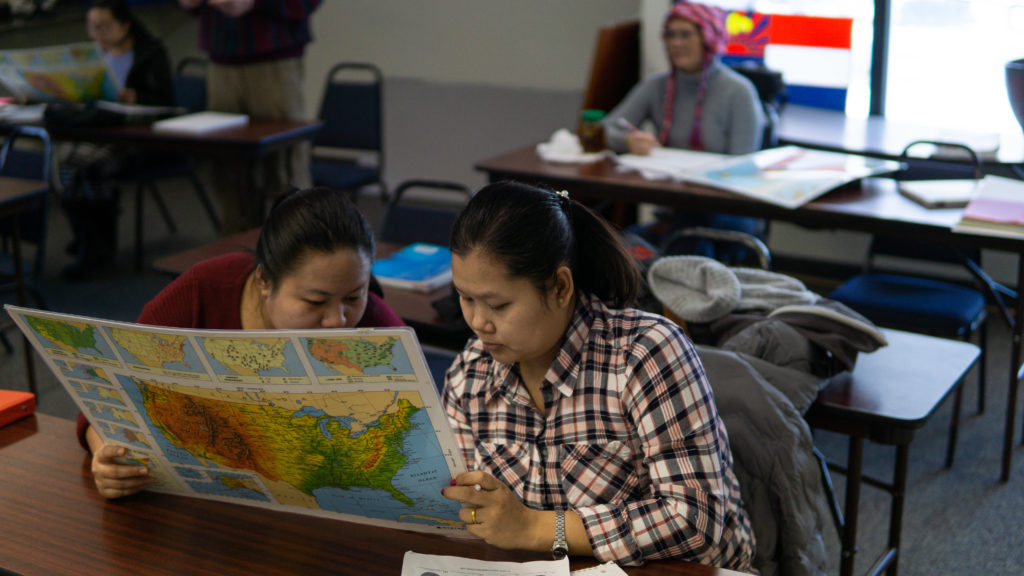 This year, the Roseville Adult Learning Center is leading a citizenship class.  This class will prepare you with the English and civics skills needed to pass the naturalization test and become a U.S. citizen!
Why should I take this class?
Becoming a citizen has a cornucopia of benefits.  Citizens are able to vote, hold a passport, and have a home country.  This course helps people become citizens by preparing them for the naturalization test.
The instructor for this course is Rebecca Jarvis.  Rebecca wants to dispel the illusion that this test is unachievable.  "A lot of people who have been in the U.S. for a while feel like they can't pass," she says.  But she disagrees.  "You can pass this test…You just need more support and more practice."  And according to Rebecca, this class is the perfect opportunity to get that support!
Who is this class for?
This class is open to anyone.  However, ideal candidates will be approaching their five-year mark of residency in the U.S..  Students approaching this mark will be close to meeting the eligibility requirements for citizenship.  This class is catered to beginners in English, but students at any English language level can benefit.
Curriculum
To prepare for the naturalization test, the class covers the three main topics that are on the exam. These segments are geography, history, and government.  U.S. capitals and territories, early U.S. History, and the three branches of government are some topics that will be covered within these segments.  In the class, Karen students will have supplemental resources in Karen to help with learning. Additionally, this class will focus on strengthening English skills through read a-louds and dictations.  
What is the naturalization test like?
The naturalization test is a one-on-one interview. It assesses the applicant's English proficiency and knowledge of civics. Applicants must be able to read and write 1 of 3 sentences correctly in English.  In addition, the USCIS Officer will judge speaking ability based on interview performance.  During the interview, they will be asked up to 10 civics questions.  To pass the test, 6 of these must be answered correctly.
The test is set up by appointment and can be taken a maximum of three times. 
Eligibility Requirements for Citizenship
A person becomes eligible for citizenship after having lived in the U.S. for five years or after being married to a U.S. citizen for three years.  You are ineligible if you have committed a felony.    
Class Logistics
This course will run from October 20 to May 6 on Tuesdays and Thursdays from 2pm to 4pm.  Due to safety concerns regarding COVID-19, the course will run over Zoom.  Geography, history, and government will be the three segments under this course.  Each will run for approximately seven weeks.  The segments are as follows:
Geography, October 20 – December 17
History, January 5 – February 25
Government, March 16 – May 6. 
For the purpose of the naturalization test, it is best to take all three segments.  However, you can pick and choose which segments you'd like to attend.  To sign up, contact Rebecca Jarvis at REBECCA.JARVIS@isd623.org or 651-604-3553.   
Roseville Adult Learning Center
The Roseville Adult Learning Center (RALC) offers many different programs for adults, including English Classes that range from low beginning through advanced conversation.  The center also hosts our Apprenticeship and Manufacturing Ready Program, designed to help people launch careers in the trades.  At the moment, all classes are being held over Zoom. 
The Roseville Adult Learning Center is located in the Fairview Community Center building in Roseville at 1910 County Road B West.  Make sure to call before coming in, as the building is currently under construction.  You can contact Rebecca Jarvis at REBECCA.JARVIS@isd623.org  or 651-604-3553.