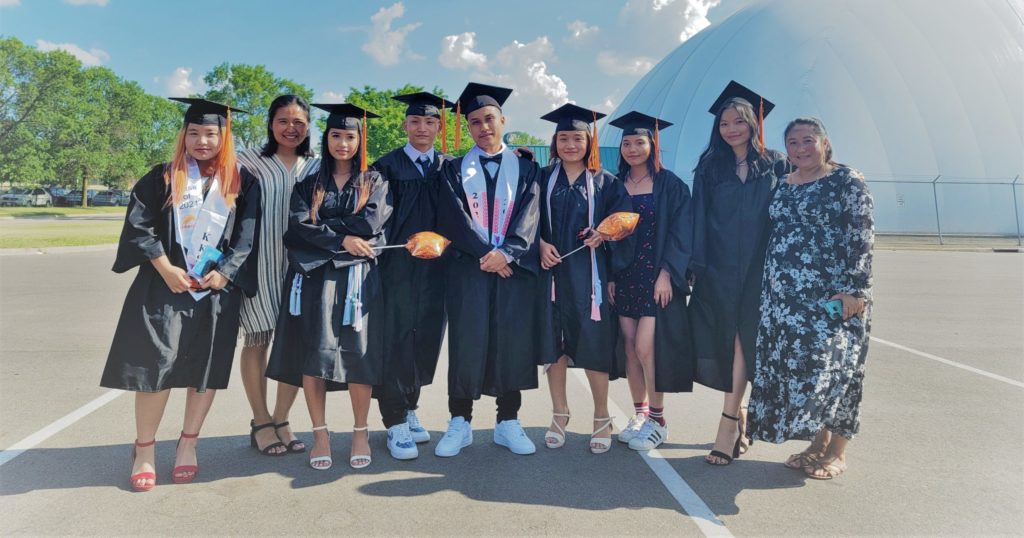 Last month we spoke with Sarmoo Kwee and Pkwa Htoo about their jobs as Youth Development Coordinators.  We spoke on what challenges they have had to overcome as a result of the pandemic, and how they have managed to succeed even against such difficult circumstances.
Pictured above: Pkwa Htoo and Nana Loo (Youth & Family Coach) pose with their graduating students on June 9, 2021.
What's a Youth Development Coordinator?
Youth Development Coordinators at KOM work with middle and high-school students in the St. Paul Public School District to support them in their academic goals and plans for the future.  For instance, counselors assist with homework after school.  They also help students make a plan about what they would like to do after graduation.  Sarmoo works at Harding High School and Pkwa helps students at Humboldt Middle and High Schools. 
Challenges
So far this year everything has been virtual because of the pandemic.  This has introduced its own set of challenges for students and counselors alike.  According to Sarmoo, "distance learning [has been a] challenge at first because we [were] new to the technology".  Other challenges included students not feeling as connected with their teachers online and having to do a lot of work independently. Without very much academic support at home, it can be difficult for students to learn the new material on their own.
However, the coordinators soon adapted to the technological barriers, and also devised a strategy to convince students to join the program.  They used phone calls to parents to share with them the type of support they could offer their children.
Successes
According to Pkwa, "one way to gauge the success of this program is by the fact that many students who started out needing tutoring are now tutoring other students."  This demonstrates that "the young people want to participate in the program and…are learning the importance of education".   Additionally, Karen students who can tutor other Karen students are a huge asset, because new arrivals can greatly benefit from having "access to a tutor that can speak Karen".  Sharing a common language "removes many of the obstacles from the learning process."
The Youth Development Coordinators have also been successful at "covering many of the emotional and social situations our children encounter: stress management, healthy relationship, depression, overcoming problems, resisting drugs, alcohol, and tobacco use, and in general learning how to solve the social problems they encounter," Pkwa explains.  "Over all, although this has been a very different year, I think the programs I have been involved with are still very much helping the people of our community."
An Unexpected Growth in Volunteers
Back in September, when KOM's Youth Coordinators realized they were going to need at least 20 virtual tutors, Suzanne Olive was unsure if they'd be able to meet that goal. As KOM's Volunteer Coordinator, she quickly revised the youth tutor position, which in previous years hosted about 5 tutors per year in-person. As applications trickled in, Suzanne found that there were many people eager to volunteer. The remote aspect also lifted transportation barriers for many.
In a wonderful turn of events, over 80 people applied to tutor throughout the school year, with almost 60 placed. About half of all our youth tutors could speak Karen, Karenni, or Burmese. "It was overwhelming to have so many people wanting to help, and it definitely came with its own challenges," says Suzanne, "especially with this being the first time we were offering tutoring online, in addition to navigating language and technology barriers. But seeing how much the community wants to support these youth has been a highlight of the year."
Mentors
In addition to youth tutors, KOM was able to host a spring mentorship program and continue their partnership with a Bethel University class. The mentors helped with afterschool tutoring and met with students in small groups to talk, play virtual games together, and build cross-cultural connections.
One of the mentors recalled spending hours talking with his mentee about the new Godzilla vs. Kong movie, after they both watched it in theaters. Another group used Google Earth to show each other where they grew up, from the cities of Minnesota to the refugee camps in Thailand. They also shared music, folktales, and other aspects of each other's cultures virtually.
Still Virtual for Now
The program is still virtual for now.  Currently, there is not enough space to accommodate the program safely with COVID-19 still posing a threat.  However, next year there is potential to return to in-person.