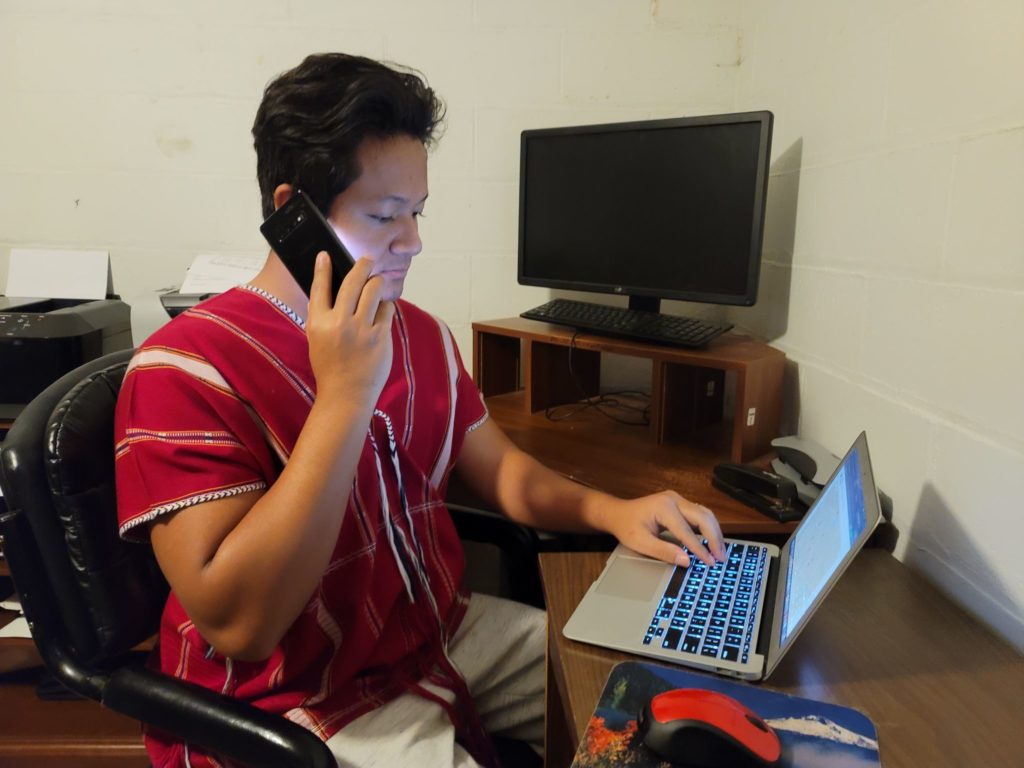 Jackie Chan, new COVID Care Navigator
The Department of Health and Human Services has partnered with KOM to appoint Jackie Chan as their COVID Care Navigator.  Jackie Chan is a member of the Karen community.  Born in Thailand, he moved to the United States in 2006 and graduated from St. Paul College.  Jackie has a certificate in community health, and is eager to help the Karen community navigate their way through the pandemic. 
COVID Care Navigator Role and Services
The role of the COVID Care Navigator will be to help refugees and immigrants access food, toiletries, and COVID-19 testing.  Jackie will direct individuals to testing stations and follow up with those who test positive. He will also organize the delivery of cleaning supplies, toiletries, and food to those infected.  
COVID-19 Hotline, 651-318-0989
One way Jackie will track positive coronavirus cases will be through the use of a COVID-19 hotline.  Community members are encouraged to use the hotline to reach out with questions on COVID-19 related issues.  Information on how to find test site locations and where to access free food will be provided.  People can also call the hotline if they or someone they know is sick.  The hotline is available to all immigrants and operated by speakers of a variety of languages.  The languages available at the moment are Somali, Oromo, Arabic, Spanish, Anuak, Amharic, Karen, Swahili, French, Lingala, Luganda, Mashi and Hindi.  Karen speakers will be transferred to Jackie Chan. You can call the hotline at 651-318-0989.
Promoting this service during the next several months is going to be critical to the health of the Karen community.  As of now, Jackie reports that many people are nervous about reaching out for help.  This is in large part due to language barriers.  However, Jackie believes his new role can ease this anxiety by providing Karen language outlets for support.
Helping KOM Staff
Jackie's role will also help ease the workload of other KOM employees.  When the pandemic hit, many staff had to expand their typical duties. For instance, Youth and Family Coach Nana Loo expanded her responsibilities by taking on the task of helping community members schedule COVID-19 testing and access information.
Similarly, Laymu Paw, Family Assister & MNSure Outreach Coordinator at KOM, has seen a dramatic rise in clientele since the pandemic hit. Since COVID-19 started, she has been helping more and more clients apply for unemployment insurance, health insurance, and county benefits. This work has kept Laymu very busy.  She is hopeful that Jackie, working as the COVID Care Navigator, can help meet the testing and resource demands of the Karen community with regards to COVID-19.
Jackie's Advice
One of Jackie's concerns involves shifting attitudes in the Karen community regarding hospitals.  Many have begun to associate hospitals with declining health.  However, if you are sick, Jackie wants to stress that the hospital is the safest place for you to go.  There are resources at the hospital to help people with COVID-19 recover.
Unfortunately, the pandemic is only getting worse.  This means individuals must be increasingly vigilant by washing their hands, social distancing, and wearing masks.  One of Jackie's primary concerns with COVID-19 and the Karen community is social distancing.  Not all institutions have been following public health guidelines. Regardless of what institutions do, always protect yourself and others in the community by following the guidelines of public health officials.