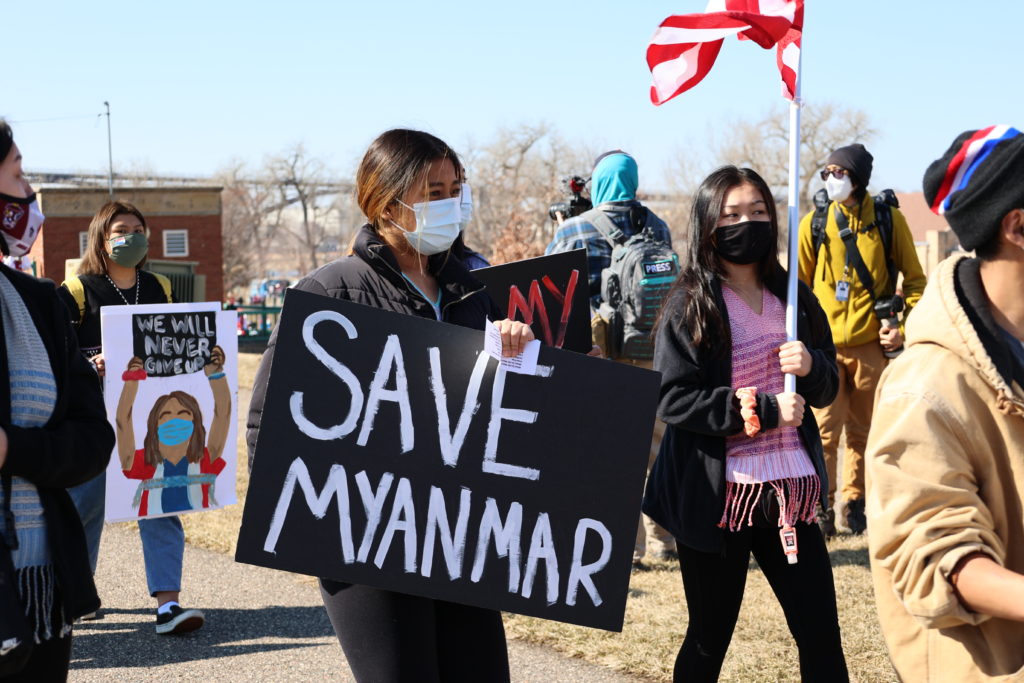 On Saturday, March 13th, the "Multi Ethnic Youth Movement for Human Rights" led a march from Harriet Island to the State Capitol.  The march began at 10:30am, and people arrived at the Capitol to protest around 12:00pm.  At the Capitol, there was live music, dance, poetry, and speeches.
Situation in Burma
On February 1st, 2021 the Tatmadaw military took over the state, overthrowing the elected government.  In Burma, people who've protested have been met with deadly force.  So far, over 600 people have died and over 2,800 are being detained in prisons.   
The Tatmadaw has been launching campaigns of ethnic cleansing against ethnic minorities since 1947.  However, since 2010, democracy seemed to be on the rise and people were hopeful.  Unfortunately, this hope disintegrated when, in December 2020, the Tatmadaw launched another offensive against Karen, Karenni, and Kachin villages.  As a result, over 1.5 million people have been displaced.   
Currently, there are over 20,000 displaced persons in the Karen State, according to an April 5th report by the Free Burma Rangers. The Burmese military launched air strikes in Karen State, beginning on March 27th with four bombs dropped on the Day Pu No area. Attacks and additional air strikes have continued through Karen and Kachin states since then. Many Internally Displaced People (IDPs) fled to Thailand, but were at first turned away by Thai authorities. Now, some have finally been able to take refuge on the Thai-side of the border, but remain displaced in the jungle. It remains challenging to get humanitarian aid to IDPs on the border, both inside Karen State and to those who fled to Thailand. 
Protester Goals
The organizers of the Multi-Ethnic Youth Movement for Human Rights are intent on supporting the rights of those practicing civil disobedience in Burma.  The protest on March 13th also called for the condemnation of violence against ethnic minorities and sought to pressure the U.S. government to take action against the Burmese military regime.  The Tatmadaw has been violating human rights and democracy since the December leading up to the coup, and those who took part in the protest want to see the promotion of human rights and democracy in Burma.  Specifically, the demands of the protesters were as follows:
1) Demanded a new constitution of inclusion and equality will be written.  
2) Demanded justice and self-determination for ethnic people. 
3) Demanded that the military regime fall.  (The Tatmadaw) 
Nali Puday, KOM's Career Development Counselor, attended the event with these goals in mind.  She also harbored a conviction in the importance of speaking out for people who were unable to attend the rally.  "I felt the need to represent the people who were unable to attend due to COVID or other reasons and be their voice.  We want them to know we care about what's going on in Burma [and] we're not just…sitting quietly.  We are doing something to let the world know what is happening.  Change starts with voicing.  Even though we can't physically be there [in Burma], what we can do is participate in events like these."
Point of Contention
Despite the overwhelming support to bring democracy back to Burma and halt oppression of minority groups, there was still some disagreement over representation of Aung San Suu Kyi at the rally.  Aung San Suu Kyi was State Counsellor of Myanmar and Minister of Foreign Affairs until she was detained by the military in February. Some protesters at the march carried posters of her, calling for her release from military custody.  They also championed her as a pro-democracy symbol.  Others were less than thrilled about this representation, due to her lack of acknowledgement of ethnic minority issues, including her defense of military generals for the persecution of the Rohingya Muslims in the International Court of Justice in 2019. 
March and Protest at Capitol
Lah Tha Pwee, Youth and Family Coach for the Karen Organization of MN, described an uplifting atmosphere at the march.  She attributed much of this galvanizing spirit to the gumption of the youth who organized it.  "Young people took the time and energy to organize the event, which goes to show that we are powerful" as an ethnic group.  Nali Puday was also inspired by the protest, especially with regards to how "different ethnic groups [came] together.  Not just the Burmese but [also] Caucasian and Black people.  This shows that all the ethnic groups [can] come together.  We were different…groups but we were united in our goal."
Once marchers reached the capitol, leaders of the protest called out for different ethnic groups to come up to the Capitol steps with their flags.  Lah Tha Pwee was surprised by the high turnout of many ethnic groups.  "I thought it was just the Karen and Karenni, but there were others like the Chin.  We went up and took pictures together". 
Music and dance were also important components to the protest.  A group of Karen community members performed a dance, donning different ethnic clothes within Burma to showcase Burma's diversity.  Additionally, songs were sung by Eh Wah and Eh Ler Tha, a famous singing family in the Karen community.
Turnout
It was estimated by The Urban Village that about 2,000 people attended the rally.  In addition, $3,514 were raised on that day for Mutual Aid Myanmar.  Par Yei Say, Job Counselor at KOM, spoke on how proud he was that so many people "came together to stand up for our country's future.  It [felt] good to be a part of something and feel like you're making a difference and in unity…I'm very thankful for the youth and other members who put this protest event together and made it happen."
National Response
The day before the rally, Biden granted temporary legal residency to people from Burma already residing in the states.  The status will last 18 months.  
Currently, there are resolutions in the U.S. Congress regarding the current situation in Burma:
Senate Resolution 35: "Condemning the military coup that took place on February 1, 2021, in Burma and the Burmese military's detention of civilian leaders, calling for an immediate and unconditional release of all those detained and for those elected to serve in parliament to resume their duties without impediment, and for other purposes."
Senate Resolution 105: "Condemning the coup in Burma and calling for measures to ensure the safety of the Burmese people, including Rohingya, who have been threatened and displaced by a campaign of genocide conducted by the Burmese military."
House Resolution 134: "Condemning the military coup that took place on February 1, 2021, in Burma and the Burmese military's detention of civilian leaders, calling for an immediate and unconditional release of all those detained and for those elected to serve in Parliament to resume their duties without impediment, and for other purposes."
How You Can Help: Continuing the Movement
Donations 
One of the best ways to help this movement grow is through donations.  Mutual Aid Myanmar provides lost-income support for food, healthcare and housing for students, civil servants, nurses, and others in the Civil Disobedience Movement.
If you want to focus your donations towards assisting internally displaced people, please send your donations to organizations providing on the ground support, including: 
Many local youth, churches, and individuals have organized their own fundraisers happening on a regular basis. Some are selling food, T-shirts, or other items. To find these fundraisers and more, you can follow the Multi-Ethnic Movement for Human Rights on Facebook or Instagram. 
Activism 
In addition to donations, you can also help by signing a letter to President Biden.  The Karen community is calling for the Tatmadaw to be held accountable and for the U.S. to issue sanctions on military owned companies.  Click here to sign the letter. 
There are multiple rallies happening across the US this weekend in solidarity with the people of Burma. One large rally is happening this Saturday, April 10th in Washington D.C. There are also protests and social media campaigns that you can participate in from home. For more info on social media campaigns, future events, and other ways to get involved follow the Multi-Ethnic Movement for Human Rights, The Urban Village, and Karen Organization of America. 
More Information
To read more about the current situation unfolding in Burma, please visit our previous article titled "Crisis in Burma: How You Can Help with links to various news sources reporting from within Burma, locally from Minnesota, and internationally.