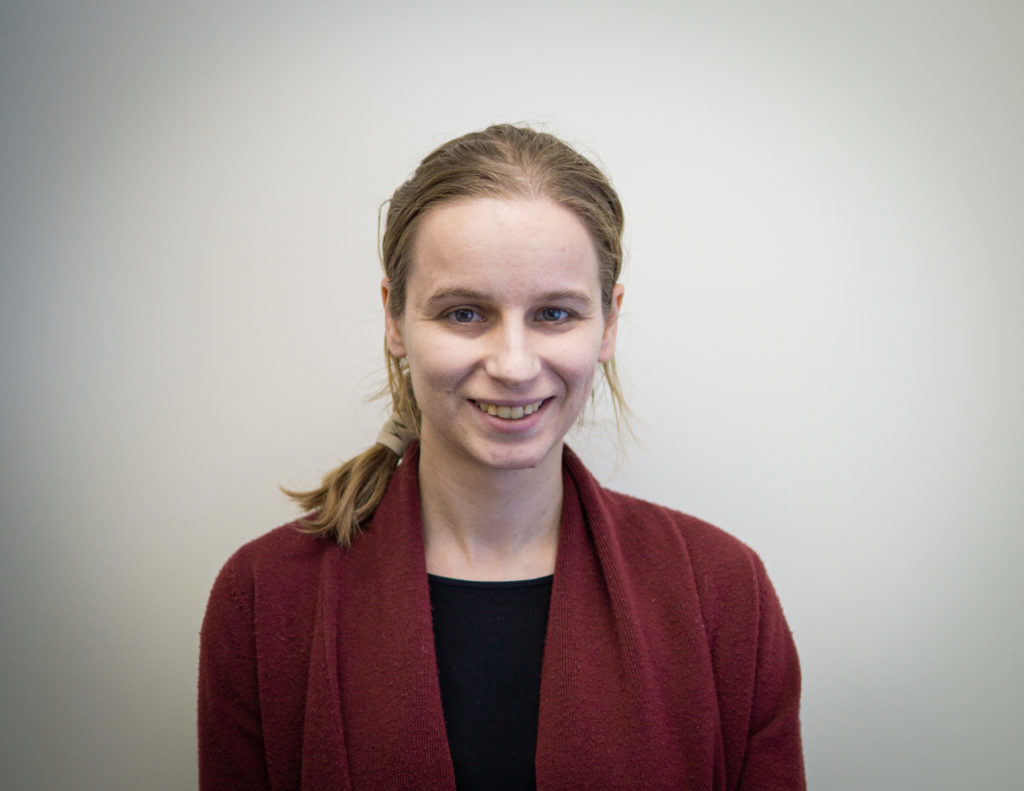 KOM is excited to welcome one new staff member and five new Spring 2020 interns to our team! Each new team member brings unique skills and experiences to help advance KOM's mission.
Staff 
Sarah Shapiro (above) is our Apprentice & Manufacturing Ready (AMR) Career Development Counselor.
Sarah Shapiro is a Minnesota native with a passion for helping others. She attended Northwestern College in Orange City, Iowa, where she earned a Bachelor's degree in Social Work with a TESL minor (Teaching English as a Second Language).
Before coming to KOM, she worked at The National Theatre for Children. Sarah maintained relationships with schools to offer educational theatre programming. She has also worked with AmeriCorps VISTA as an Employment Navigator, and a school library media specialist.
"I'm glad to be back in employment services. That was something I really enjoyed in one of my previous jobs," Sarah said. Since starting at KOM, she has met all the students in the AMR program and discussed the students' progress with their teachers. She has also joined the students on field trips to a job site and to the Brick Layers Training Institute. "Going to those has really given me a good feel for the job and what it's going to be like." 
Sarah's primary goal is to "collaborate with and get to know good employers who really want to hire our people." She hopes that these employers will not only hire the students, but also do the work to retain them and be receptive to having diverse people in their workplace. Ultimately, she is looking forward to "connecting participants with jobs that are really right for them and with something they can hopefully stay in for a long time and build a career out of." 
Interns
Synthia

 

Htoo is one of our two

Human Services interns.
Synthia was born in a Karenni refugee camp and moved to the U.S. in 2013. She initially arrived in South Carolina and later moved to Minnesota with her family.  Synthia is in her senior year at Metropolitan State University, pursuing a degree in Human Services.
In her time at KOM so far, Synthia has been assisting clients with important tasks such as applying for insurance. She is excited to get to know her coworkers at KOM and learn about how they serve the Karen community. In her free time, she volunteers at her church and spends time with friends. 
Nan Poe Sandy Thway is our other Human Services intern.
Nan Poe Sandy Thway was born in Karen State, Myanmar, but grew up in Yangon where she received her bachelor's degree from Dagon University. She moved to the United States to study business management, and currently attends Saint Paul College. Her dream as a child was to work at an airline, so she is studying customer service and business management in hopes of opening up her opportunities.
Nan applied to intern at KOM because she wanted to be close to the Karen community here in Minnesota. As a human services intern, she also hopes to help people access resources and knowledge to improve their lives here. After her first few days, Nan has helped our program staff with data entry, researching mental health services, and more.
Joe
Campbell is one of our two Communications interns.
Joe grew up in Columbus, Ohio and attended college at Hamline University in Saint Paul. He graduated in 2018 with degrees in Marketing and Environmental Studies. After graduation, Joe left the US for Kathmandu, Nepal to teach English. He's here at KOM out of a desire to write in professional settings and to maintain connections with international communities. Since starting at KOM, Joe has been helping maintain KOM's social media presence, working with program coordinators to develop materials, and planning out stories for the monthly newsletter. 
Joe is excited to dig deeper into the relationships KOM has within the city so he can learn more about the international community. "KOM is an interesting place," he said. "It's an organization by refugees and immigrants for refugees and immigrants. I'm excited to help tell the stories, because there's a lot of stories coming out of KOM that are really worth telling." 
Ler Moo is our Community Health intern.

Ler Moo was born to Burmese parents in a refugee camp in Thailand. She's currently a senior at Saint Catherine University in Saint Paul, Minnesota. Ler Moo is majoring in Public Health with a focus in Health Sciences. She's hoping to gain experience in community health education. Ler Moo is also hoping to develop her research skills to be a better public health professional.
Ler Moo has been at KOM since January and has been working with our community health staff to learn more about the program. She will be working with our Community Health Program Manager and staff to expand and support our health programs through education, outreach, events, and careful research. When she's not at school or here at KOM, Ler Moo loves to write poems and draw.
Jessica Thomas is our other Communications intern.

Jessica grew up in Minnesota and is currently pursuing a degree in Professional Writing with a minor in Marketing at University of Northwestern – St. Paul. She was interested in working at KOM to strengthen her writing and communication skills in a nonprofit. Since starting, she has been learning about KOM's wide variety of programs, updating the website, and developing stories for the monthly newsletter.
Jessica is passionate about telling the stories of organizations through writing. "Even though I've only been at KOM for a couple weeks, I have already seen and heard so many great stories," she said. "I'm excited to work with Joe, the other Communications intern, to share with all of you the amazing things that are happening here." She is also looking forward to learning about and engaging with the Karen community during her time at KOM.