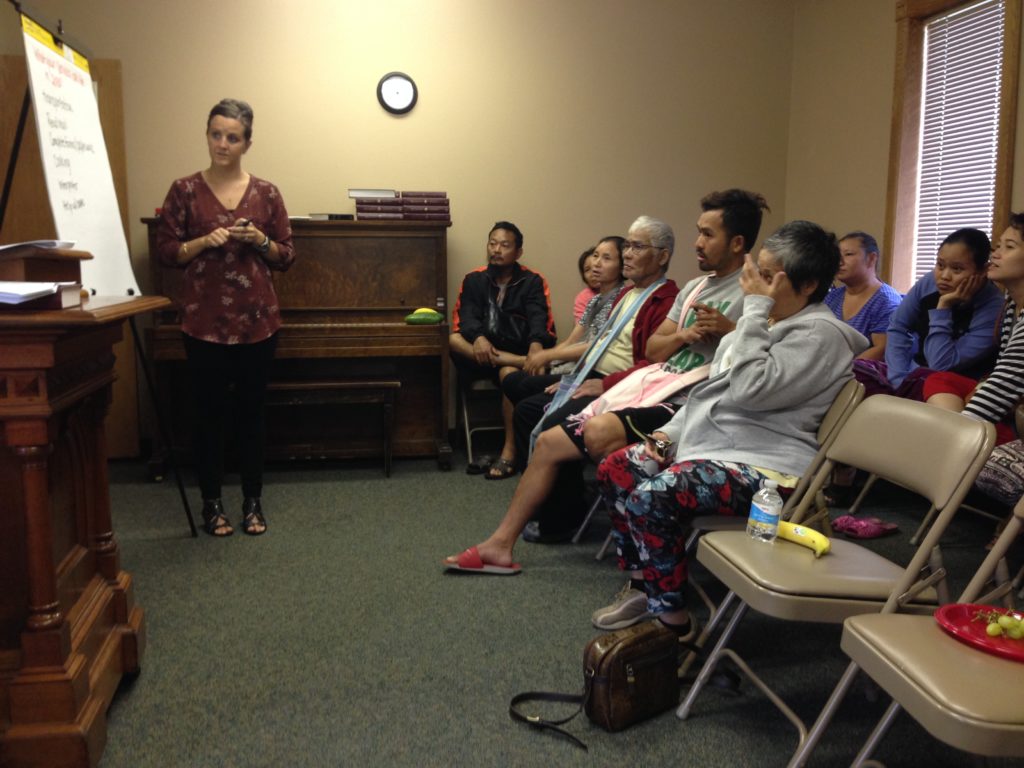 At the September Karen monthly meeting, a representative from the Minnesota River Area Agency on Aging presented and asked for input from members of the Marshall Karen community. The Karen discussed what they may need in the next 12 years in regards to medical services and care giving for the elderly. They also discussed citizenship classes and having a Karen New Year Celebration in Marshall this year.
Jamie Lanners, the representative from the Minnesota River Area Agency on Aging gave an interactive presentation that was very fruitful. The Karen gave many ideas about what they felt was needed now and going forward.  Discussion revolved around how to care for aging parents and relatives in this country and what that care would mean to cultural value. They also discussed social services that are needed now to help families stay together and adapt to a new life style.
The Minnesota Board on Aging and the Department of Human Services are leading a focus group effort that will help agencies prepare for the growing population of Minnesota residents over the age of 65. The presentation and discussion with the Karen community is part of that effort. The input that the Karen made helps voice the needs of a recently arrived refugee and immigrant population in relation to serving residents over 65.
During another part of the meeting, they discussed beginning citizenship classes that will be led by Ron Skjong. So far they have over a dozen Karen members who have signed up for the class. They are also beginning a conversation about the possibility of having a Karen New Year's Celebration in Marshall.
Outside of the monthly meeting, the staff in Marshall continues providing many social services. This includes taking people to Sioux Falls for finger printing, helping with green card applications, translating for various agencies and institutions, and more.