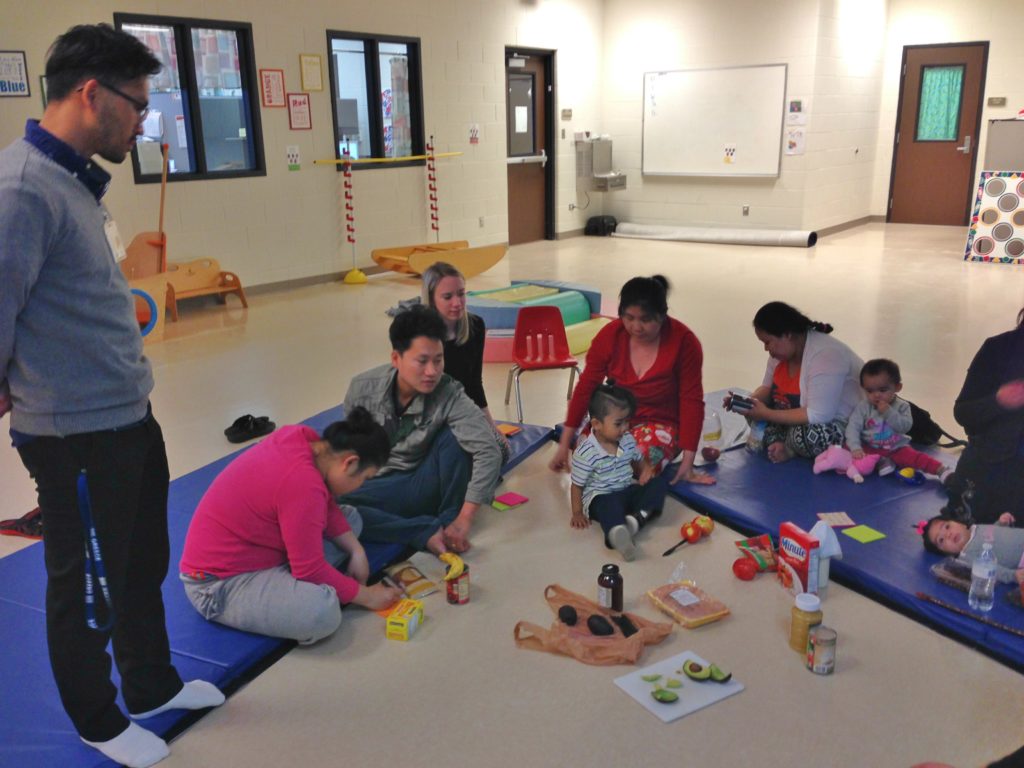 Parents and their young children in the ECFE program learned about healthy foods and lifestyles, and seniors at the Adult Community Center got a chance to try various foods that were new to them at the Cultural Buffet. Also, Marshall residents were able to hear the experiences of two Karen women living in Marshall as part of a panel for the MinneAsian Stories campaign for Asian Pacific American Heritage Month!
KOM and the Center for Community Health Improvement taught a group of parents and their young children about choosing healthy foods in the local ECFE program in May. The Executive Director of the Center for Community Health Improvement, and our KOM Program Manager in Marshall, Ron Skjong, led a discussion with ECFE parents about healthy eating and life styles. They also read a book called "Good Nigh Yoga", and the Executive Director of CCHI led the group in yoga exercises.
Earlier in the month of May, KOM in Marshall collaborated with the Adult Community Center to host a Cultural Buffet. The fifty or so attending seniors were treated to a little discussion about each food they were going to sample and then, the sampling began.
At first, some of the seniors were a bit skeptical about eating different food but, when they tried it, they liked it!  The event was a fun time to learn and share culture stories and food.
As the month of May is Asian Pacific American Heritage Month, the Coalition of Asian American Leaders – CAAL led a storytelling campaign called MinneAsian Stories that came to Marshall. During the event, two Karen women living in Marshall spoke about their experiences in Southwest Minnesota. Thank you to the two women and all the other panelists who spoke, as well as CAAL for organizing and creating a platform for these stories to be heard!