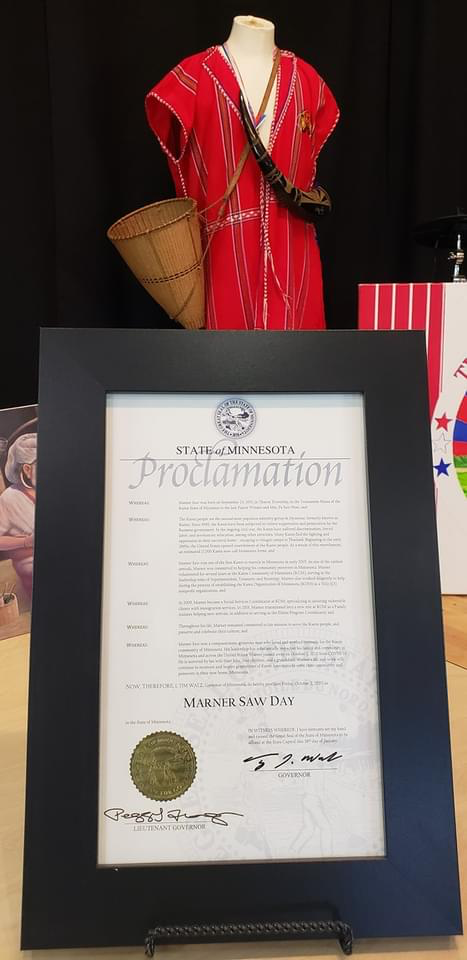 On Friday, February 12th, 2021, the Ramsey County Board of Commissioners and Governor Walz declared October 2nd Marner Saw Day in Minnesota.  The proclamation spoke on Marner Saw's life, from his beginnings in Burma, to his instrumental role in establishing KOM and helping Karen immigrants settle in Minnesota.
Early Life
On September 23, 1970, Marner Saw was born to Pastor Winner and Mrs. Pa Saw Htee in Thaton Township in Myanmar.  Unfortunately, Marner would have to flee Burma due to oppression towards the Karen people.  After leaving Burma, he spent time in a refugee camp in Thailand before moving to St. Paul in 2005.  This made him one of the first Karen refugees in Minnesota.  As a result, Marner dedicated himself to the task of assisting incoming Karen refugees.  He served in several leadership roles in the Karen Community of Minnesota, including Secretary to the Treasurer and Superintendent.
Establishing KOM
Marner was instrumental in establishing the Karen Organization of Minnesota (KOM) as a nonprofit in 2009. Subsequently, Marner joined KOM's staff as the Social Services Coordinator, helping clients with immigration services.  In 2019, Marner also assumed the roles of Family Assister and Elder Program Coordinator, allowing him to continue assisting new Karen arrivals while also providing aid to families and elders.
Honoring Marner Saw
Through his work at KOM, Marner Saw improved the lives of countless individuals and families, and inspired his colleagues to do the same.  Consequently, his passing On October 2, 2020 devastated the Karen community.  To honor his memory, Sia Her, Executive Director for the Council on Asian Pacific Minnesotans, and Eh Tah Khu, Co-Executive Director at KOM, asked the Ramsey County Board of Commissioners and the state of Minnesota to recognize Marner Saw.   The commissioners wholeheartedly agreed.  However, they went further, drawing up a proclamation designating a day in Marner's honor.  When the state learned that Ramsey County planned to name October 2nd as Marner Saw Day, Governor Walz followed suit.  Therefore, October 2nd is now Marner Saw Day in the entire state of Minnesota.
On February 12th, the proclamation was presented to the public over a livestream Zoom call.  Speeches highlighted Marner's dedication to the Karen community at home and abroad.  For instance, Sia Her praised the work Marner did maximizing the chances of Karen Americans "to live that life of dignity that he and so many others have fought for".  In addition, Marner had a profound global impact.  Co-Executive Director of KOM Alexis Walstad explained that "when people travel[ed] back to refugee camps in Thailand, [there were] people talking about Marner.  There [was] always a funny story or a time that he helped someone."  The reason for this profound impact stemmed from Marner's passion.  As his daughter, Moo Hset, explained, "he was always passionate about helping others here in MN and those in Thailand".
The event was recorded and is available to watch here on YouTube.