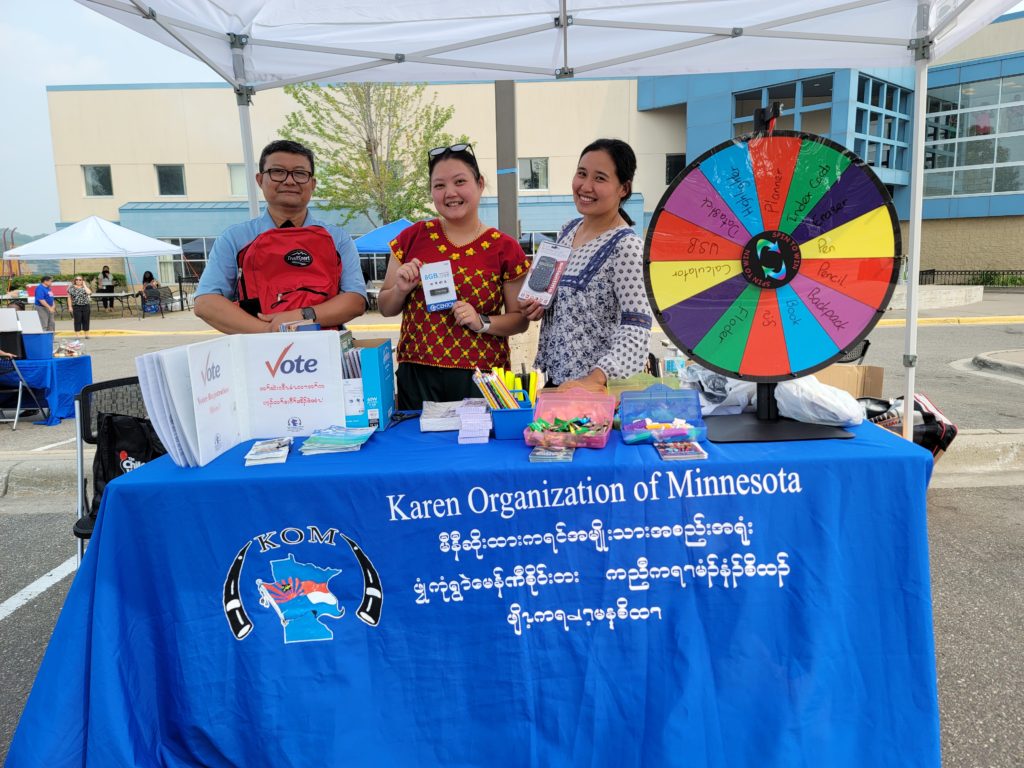 The Karen Organization of Minnesota is committed to empowering our community by promoting civic engagement. Voting is an important way to make your voice heard, and we want to make sure everyone has the information they need to exercise their civic rights.
What have we done so far this year?
This year, we have reached out to the community at multiple events, including National Night Out (pictured above), Karen Martyr's Day, the Solidarity Street Gallery, and more to help everyone who is eligible register to vote. So far, we have helped 87 voters register!
What are we doing this fall?
Besides voter registration, we also help with finding polling locations and requesting absentee ballots. We also host voter education sessions to help people feel confident and informed when exercising their right to vote.
We have two voter education workshops coming up this month. These workshops go over how to vote, why we vote, voter guidelines, and how to find out about candidates running in your area.
Hta Thi Yu Moo, our Civic Engagement Coordinator shares, "A previous participant said they really appreciated us helping them by providing the voter workshop, because they never voted before in the refugee camp. They came here, became a citizen with the right to vote, but didn't know how." Thankful for help from KOM, the participant was proud of themselves for voting even if their candidates don't win, they got to practice their voting rights, which they never got to do before.
This October and early November, we are phone banking to reach the community about participating in the upcoming elections.
Hta Thi explains, "Most of our community is aware of presidential elections only and not the local elections, so we do announcements and outreach so that they're more aware and informed about [their local elections]. We help elders get access to voting like requesting an absentee ballot, or driving them to the polls if they don't have transportation. Now, we see a lot of the younger generation helping them [with access to voting]."
How can you get involved?
Help us continue to get more representation at the polls! Sign up to help us phone bank on Tuesday and Thursday evenings leading up to election day! You can also receive a $20 per hour stipend for your first two shifts. Apply here!
---
To learn more about our civic engagement program, contact Hta Thi Yu Moo or visit our Civic Engagement Program webpage.