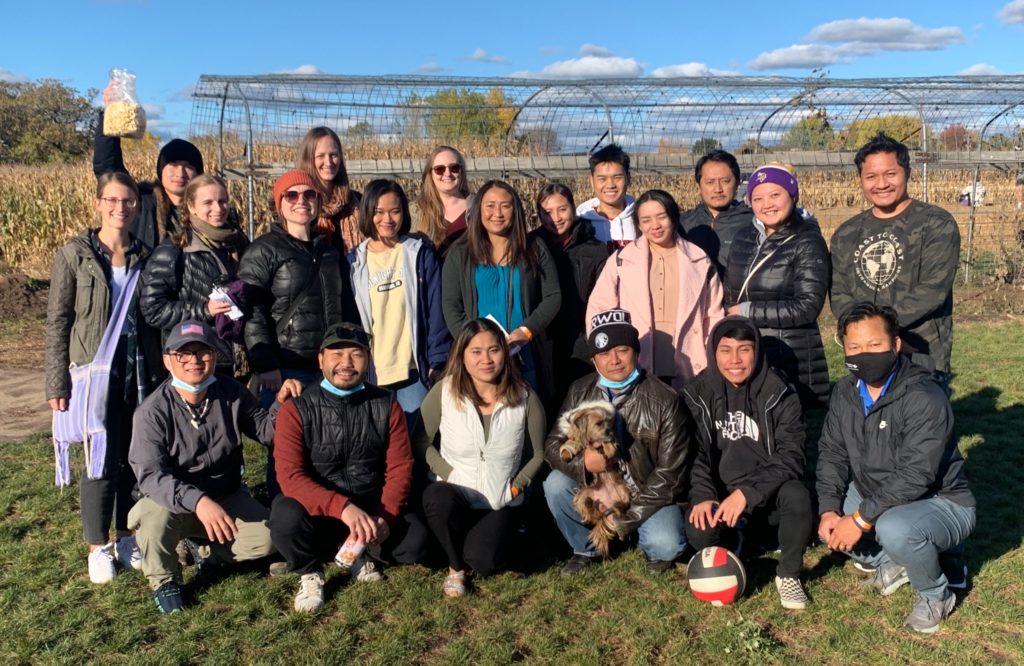 2021 has been another unpredictable year for our organization and our community. With the pandemic keeping it's hold, our organization continued to adapt to meet the needs of the community. At every step of the way, we prioritized the health and safety of our staff, clients, and volunteers. The year also began with troubling news from across the Pacific ocean.
International News Hit Home
As we all know, this has been a very heavy year for people from Burma in Minnesota and around the world. On February 1, 2021, the military dictatorship staged a coup in Burma. Hundreds of thousands of people took to the streets to demand democracy. The military has responded by arresting and killing thousands of peaceful protestors and attacking villages throughout the country.
Watching these events unfold has been very stressful for people from Burma here in Minnesota. Many community leaders have organized meetings with Congress to advocate for the people of Burma and raised money to send relief to people in need of food, shelter, and medical supplies. We have been especially inspired by our youth leaders who have come together across multiple ethnic groups to organize peaceful demonstrations and fundraisers.
This December, a team from the Urban Village is bringing more supplies to the region, and they continue to need support.
Our 2021 Program Updates
This year we were excited to resume some of our programs in-person, including our career training programs and our youth programming. We also began offering drive-up curbside services three days a week to give community members a safe and immediate in-person option.
Our program staff have been busy! In 2021, our employment team helped over 130 clients find employment and/or complete workforce training. Our Family Assisters helped 195 people with things like applying for health insurance, maintaining their county benefits, and more. Our Youth Program staff worked tirelessly to connect over 100 students with tutoring support, school counselors, transportation, food, and other resources. And we expanded our Community Health team to increase support related to COVID-19, family relationships, and youth substance use.
A special thanks to our staff and board members who have gone above and beyond in supporting the community during the COVID-19 pandemic. Because of their creative thinking and hard work, KOM has not only continued our existing services; we have actually increased our staff and programs over the past year.
Success Stories
One recent success story from KOM's programming comes from our youth career pathways initiative.  
Two of our What's Next students, Neg Kui Moo and Heh Kyer Htoo, completed their first year as Right Track interns with Tree Trust this summer. At Tree Trust's end-of-year celebration, Neg Kui Moo was recognized with the Governor's Award for going "above and beyond" in his accomplishments, while Heh Kyer Htoo was presented with the Perfect Attendance Award. Chris, a Tree Trust Career Counselor, said, "Any business that is hiring, hire this guy (Neg Kui Moo). He is a bulldozer. Watching him work is always so impressive." 
This summer, we were also able to resume our youth weaving program. One student shared, "I wanted to make something for myself with my own hand[s], something to feel proud of and it's unique to my specific background." Through this program, youth participants learned a new skill and gained a deeper understanding of one aspect of Karen culture, while weaving instructors were able to pass their knowledge on to the next generation. 
Support
There is still time to support the work we do and help us unlock our match. From now until the end of the year, your donation to support refugees and immigrants in Minnesota will be doubled.
So far, our donors helped us raise $5,466.76 towards our $10,000 matching fund!
To contribute to our year-end giving campaign, please give here.
Thank you for your generous support through another year of unforeseen challenges and new opportunities. We are all in this together!