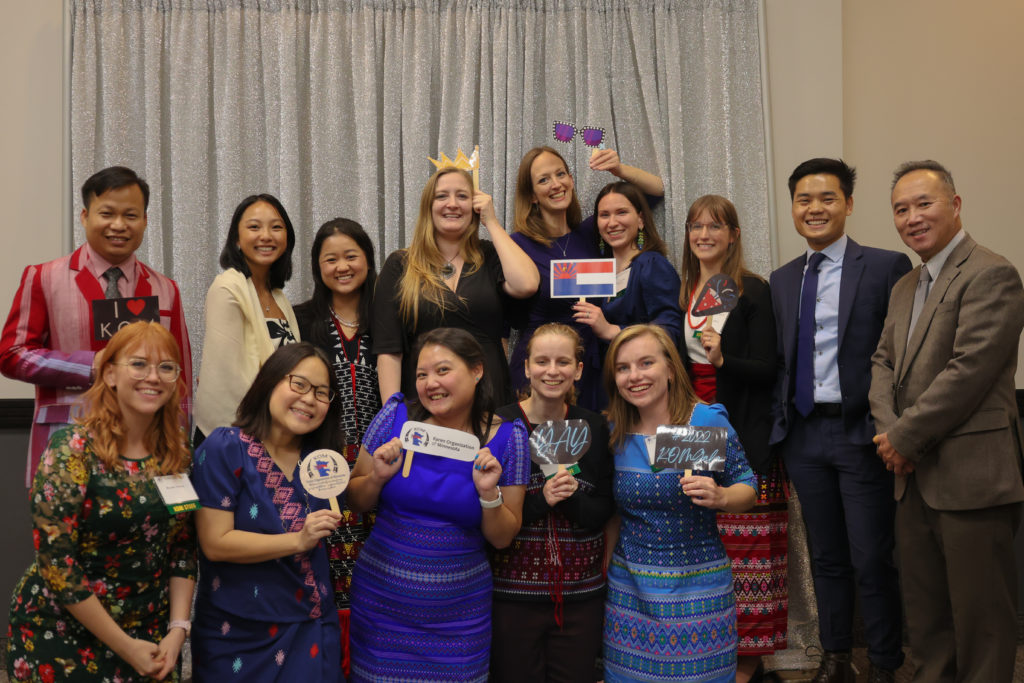 Dear supporters: The Karen Organization of Minnesota has recently announced a new mission statement that highlights the non-profit organization's dedication to serving refugees and immigrants in Minnesota:
To build on refugee and immigrant communities' strengths and remove barriers to achieving economic, social, and cultural well-being.  
A nonprofit's mission statement explains to the public the core purpose of our organization. KOM's previous mission statement, to enhance the quality of life for all refugees from Burma in Minnesota, reflects why the organization was originally created by Karen refugees to support their fellow community members. While we still specialize in culturally specific services, and over 90% of our clients are from Burma, our programs have grown in the past 13 years to serve refugees and immigrants from around the world. The Board of Directors decided to create a new mission statement to be more inclusive for all of the communities we serve and to be more specific about the kind of change we hope to see in people's lives.  
"The mission statement is important to reflect what we do and who we serve. The Karen community founded the organization, and as our name shows, it remains the same. Most of our clients are still from Burma, but we have broadened the scope of the population we serve. As we build our capacity, and continue to grow, we are at the point where we can expand and support other communities that need the same support we once needed. We took a lot of time going through this new mission statement. Throughout the process, we edited it a number of times before getting to this final version. We wanted to make sure that we are recognizing the strengths and expertise the communities already have, and we want to support them in building on that and breaking through barriers."
– Eh Tah Khu, KOM Co-Executive Director
As we know, refugees and immigrants face numerous challenges when resettling in a new country, including language barriers, limited access to resources, and discrimination. Despite these obstacles, however, they bring unique skills, experiences, and perspectives that can contribute to their new communities in meaningful ways.  
KOM's new statement recognizes these strengths and seeks to create a more inclusive and supportive environment for refugees and immigrants. We are committed to advocating for policies that promote diversity, equity, and inclusion and providing services and resources that help refugees and immigrants succeed.  
We firmly believe that removing barriers to economic well-being is key. Yet, unfortunately, many refugees and immigrants need help finding employment that utilizes their skills and experience or pays a living wage. KOM commits to working with local businesses and organizations to create opportunities for refugees and immigrants to succeed in the workforce. We know that when refugees and immigrants can support themselves and their families, they can also contribute to the growth and prosperity of their new communities.  
But economic well-being is just one piece of the puzzle. We are also focused on social and cultural well-being. This includes promoting community engagement and creating spaces where refugees and immigrants can share their experiences and build connections. In addition, we recognize that social support is essential for the mental health and well-being of refugees and immigrants, and we commit to providing a safe and welcoming environment for all.  
At KOM, we see refugees and immigrants as valuable assets to our communities. By working together to remove barriers and create a more inclusive society, we can build stronger, more vibrant communities that benefit everyone.  
We urge you to join us in this mission. Whether through volunteering your time, donating to our cause, or simply spreading the word, your support can make a real difference in the lives of refugees and immigrants in Minnesota.  
Thank you for your continued support.  
Sincerely,  
The KOM Team