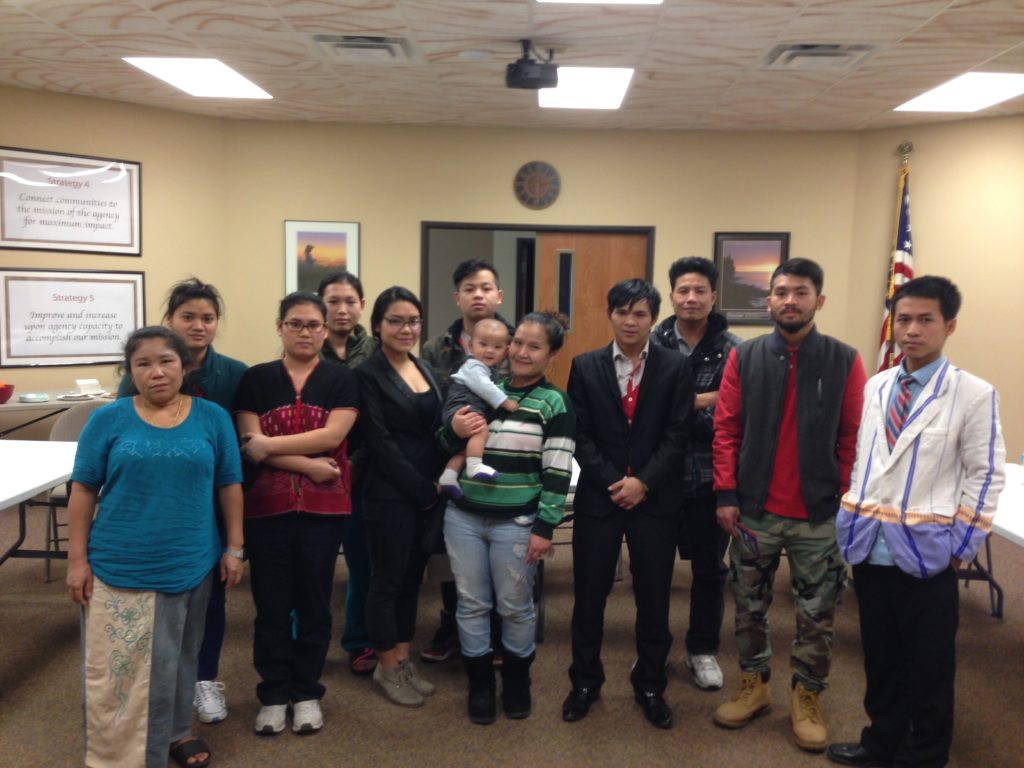 When KOM opened a second office in Marshall, MN in October 2014, the Karen community in Marshall was just beginning to grow. Refugees from Burma were moving to the small rural town 3 hours southwest of St. Paul to fill job openings at food production companies.
The office, located inside of the United Community Action Partnership building, was not very active during the first two months of being opened. But that changed when Program Manager Ron Skjong started in December 2014.
"I walked into a bare-boned office and was told to do something," said Skjong.
Skjong, who has over 20 years of teaching and community outreach experience, was determined to find resources for the Karen to help them thrive in Marshall. Previous to working at KOM, he had worked with the Latino community in Willmar, which gave him a deep understanding of the challenges that immigrants in rural cities face.
With this understanding, he began learning about the unique experiences and culture of the Karen.  As he learned, he started to share this newfound knowledge with others.
"I started meeting with people," said Skjong. "It was taking what I learned from the Karen and educating people who were not familiar with this new population in their town."
Through Skjong's extensive outreach in Marshall, he was able to build connections with employers, public school workers, government officials, church leaders, and more.
"Overall, the Marshall community has been very welcoming to the Karen," said Skjong.
Besides Skjong, who oversees community partnerships and manages the office, KOM's Marshall Office now employs two part-time case managers. Mu Hser joined KOM in November 2015 and Orchid Apolo will join KOM in July 2017.
During a typical week, Mu Hser assists 6-10 clients with questions regarding their public benefits and applying for a Green Card. She spends most of her time outside of the office at Southwest Health and Human Services or doing home visits, since many clients do not have access to transportation.
Besides working at KOM, Mu Hser takes classes at Southwest Minnesota State University and takes care of her baby. She moved to Marshall in August 2013 after graduating from high school in St. Paul.
"I like working at KOM because I can give back to my community," said Mu Hser. "And living in Marshall pushes me to speak English more since there are not as many Karen here."
According to Skjong, Marshall is home to approximately 600 Karen. Many Karen adults have found jobs at Turkey Valley Farms, Schwan Food Company, and Christensen Farms. Additionally, approximately 125 Karen students attend Marshall Public Schools and 12-15 Karen students attend Southwest Minnesota State University.
Although the Twin Cities have the largest Karen population in Minnesota (approximately 9,000), many refugees from Burma have moved to rural communities – such as Marshall, Worthington, Willmar, Austin and Albert Lea – for employment, affordable housing, and safety.
There are great benefits to living in a rural town, but also challenges – especially for a community of refugees. The biggest challenge, according to Mu Hser, is that resources in southwest Minnesota are spread too far apart.
"Clients need to drive to Willmar to get their Green Card and Sioux Falls to get fingerprinted," said Mu Hser. "When shopping for groceries, most families travel to Worthington or St. Paul where there are more stores with Asian foods."
Skjong added that an ongoing challenge is language. For example, some employers are hesitant to hire Karen who do not speak English.
"Employers need to stretch a little bit," said Skjong. "It's a long-term investment that will produce results."
Currently, most of KOM's Marshall Office services are focused on social services and immigration. Sometimes Mu Hser helps clients apply for jobs, but she does not have the capacity to provide health education, support to youth, or family services.
Besides providing direct services, KOM also hosts a leadership cohort for Karen community members. The cohort has 10 members who are being trained on how to be effective leaders. The cohort invites Marshall community leaders to speak at each gathering to share wisdom and advice with the members.
"When Marshall leaders attend these cohort meetings, they see that the Karen are actively engaged and want to be more involved," said Skjong.
Looking forward to the future, Skjong hopes to get more involved with the Karen youth. He would like to host a regular youth meet-up for students to have an open space to share about the challenges of adapting to life in the U.S.
Skjong also would like to work himself out of a job. He wants to empower Karen community members to take ownership in the rural town of Marshall, and he is making every stride to do just that.
Funding for the Marshall Office comes from the Otto Bremer Trust. The Headwaters Foundation Community Innovation Fund supported our Karen Leadership Cohort.