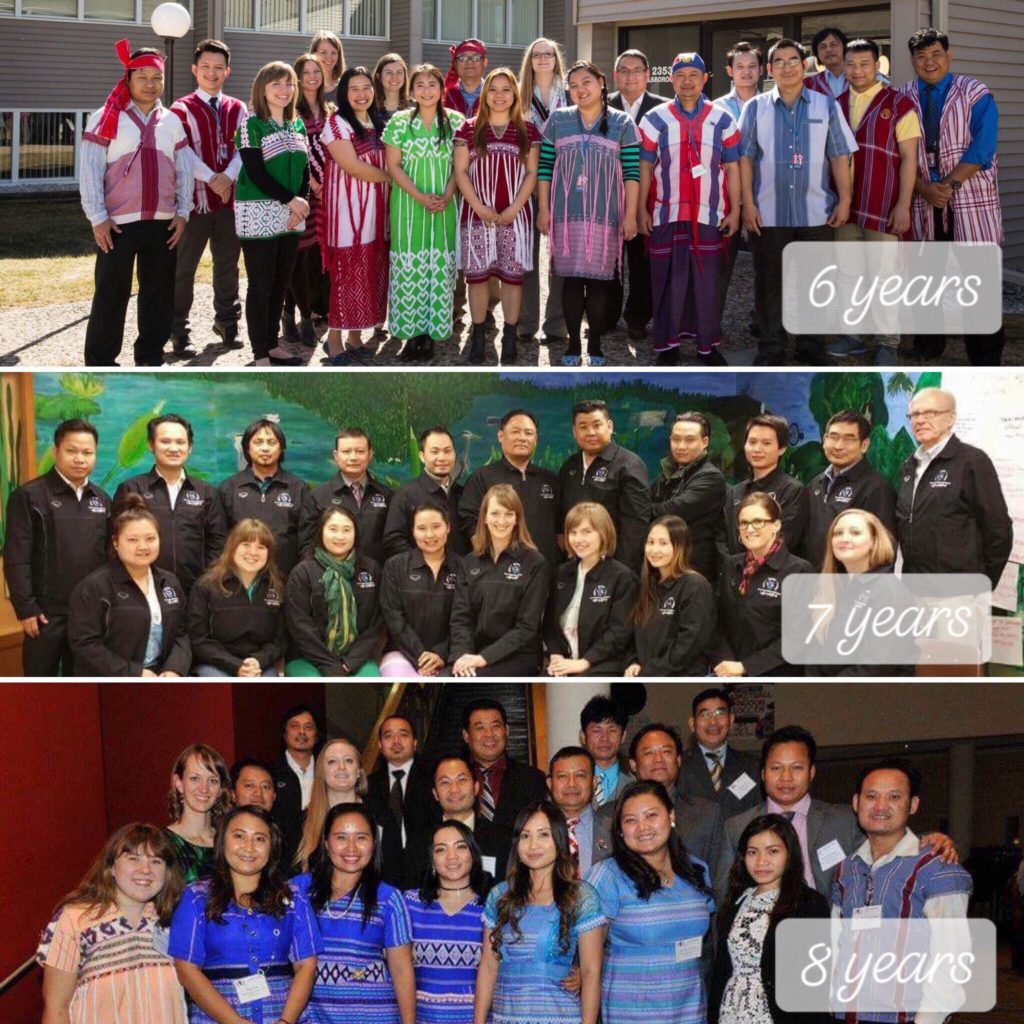 The Opening of the Marshall Office
As KOM gained stability, the organization never stopped expanding. In late 2014, KOM opened a second office in Marshall, Minnesota to serve the growing Karen community there. Soon after opening, Ron Skjong began as the new Program Manager at KOM's Marshall office. Of that time, Ron said,
"When I was asked if I would like to help the Karen population in Marshall, I had to do some very quick research to learn about the Karen – who they are, where they come from, why they're here and a bit of their history. What I discovered struck something deep within me that said, this was going to be interesting, a learning experience, and an opportunity to serve my fellow humans."
A few months after the opening of the office in Marshall, Mu Hser began as a part-time Case Manager. At that time, there were about 350 Karen people living in Marshall. As Ron and Mu Hser continue to work together, they have seen the Karen population grow to about 700 today.
How far we've come
The Marshall office has done so much since opening, including hosting monthly Karen community meetings where the KOM staff listen to the community's needs and do their best to address them. They've covered a wide variety of topics in the meetings including, but not limited to, health care issues, emergency preparedness, technology, law enforcement, nutrition, exercise, family planning, and immigration needs.
KOM has raised awareness in Marshall about the Karen community, and worked together with local businesses, city and county officials, and more. Just last year, we started a Leadership Cohort. From that cohort, we've seen a Karen family connector get placed in Marshall Public Schools and a number of Karen families have purchased homes.
One of Ron's hopes for the future of KOM in Marshall is to see a full-time Case Manager.
"With new Karen entering the area on a regular basis, there is a continued need to serve them. [A full-time Case Manager] would give us the chance to build more bridges between local people and businesses, and to further help the needs of the growing Karen population in Marshall." 
Changes for KOM in the Metro Area
New Programs
Back in Saint Paul, there were other new and exciting things happening. In 2015, KOM started the Karen Weaving Circle at the East Side Freedom Library, as well as the Karen Tobacco-Free Program with WellShare International. We also moved into a new office in Roseville off of Rice Street!
The Weaving Circle provided space and materials for Karen women to practice their traditional back-strap weaving skills and have an opportunity to connect with each other.
"I haven't weaved in 10 years! I thought I forgot how to weave. But when I touched the supplies again, I remembered." –Paw Law Eh Wa.
The weavers have also worked with youth in our youth program to pass the tradition onto the next generation, and to open up communication between the generations.
"The women are excited to share their art with the community. Some of them have been doing this for over 40 years, so it is something they want to preserve." –Laymu Paw, previous KOM Weaving Coordinator.
The Karen Tobacco-Free Program has educated hundreds of adults and youth in the community about the health risks of tobacco and betel nut. Read stories about the program here.
A New Leadership Model
In 2016, KOM transitioned into a new leadership model that continues to hold strong until today. Eh Tah Khu, previous Youth & Social Services Program Manager, and Alexis Walstad, previous Development Associate and Interim Executive Director, began as the two new Co-Executive Directors. In this model, they have divided up executive responsibilities, and maintain regular communication with each other and the staff.
When the board was discussing the Executive Director role, they decided it was very important to have more community engagement and leadership from the community. They came to an understanding that the role was much bigger than one person, so they began to pursue a Co-Executive model. Of the position, Eh Tah Khu said,
"I did not plan to apply at the beginning, but the staff here at KOM and community leaders encouraged me to try. So I applied on the last day before the application closed. The interview process was very intense, so I wasn't sure at that time if I would make it."
After the initial interview with three of the board members, all applicants had to give a presentation and answer questions from a large group of about 40 community members. The board's final decision reflected the community feedback. Alexis Walstad said of the second interview,
"We got to see how the organization valued community input, and at the same time, it was good to hear the community's vision for KOM."
After working together as Co-Executive Directors for a few years, they believe it has been working well. As they each have different strengths and skills, they're able to help each other.
"I may be better with the community engagement piece, but when it comes to finance, that's a challenge for me, so I'm able to go to Alexis," said Eh Tah Ku.
"I may have ideas of how we could do something, but it might not work in the community. So, I think we make better decisions as a team when we have multiple perspectives involved," Alexis added.