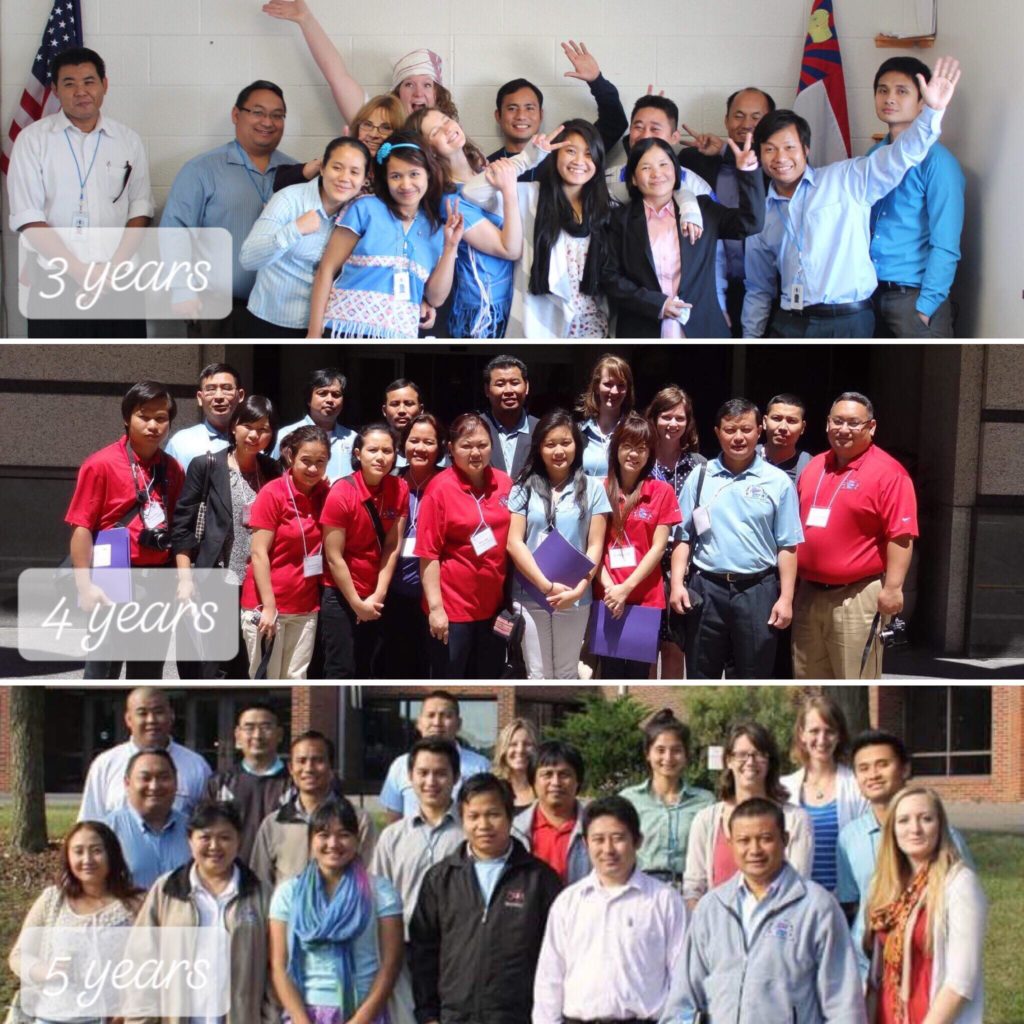 "If there was no KOM, we'd face a lot of trouble. We'd be very miserable because we can't speak English and we need help every month filling out forms, such as food stamps, medical insurance forms, paying bills.  We've never seen such paperwork in our lives.  We don't have those kinds of things back in Burma or in the camps.  When I arrived, I was told, 'Do not worry.  We're here.  You can call us anytime.'  That is great comfort for me and my family." –Anonymous KOM client, 2011
From late 2011 to early 2014, KOM's programs were booming. Let's take a moment to picture this in terms of pure numbers. Over those 3 years:
More than 800 youth participated in KOM's youth empowerment program;
Over 1,300 refugees from Burma attended trainings about health, law enforcement, metro transit, home safety, financial literacy, and more;
About 400 people completed job training, and more than 500 secured employment;
Almost 3,000 people were connected with resources to address social service needs like housing, transportation, food assistance, citizenship, and more; and
Many others came to KOM for other immediate needs through walk-in appointments, averaging 150 walk-ins per week in 2013.
These numbers don't even include some of the other programs, like the English Language classes, the gardening program, and the health screenings.
As the amount of participation in programs increased, so did the staff, going from 15 staff members in 2011, to 21 staff by the end of 2013. Among these staff was Chrit Hen, who started at KOM in 2012, and is currently a Social Service Coordinator. He said,
"When I started at KOM, I was very, very busy. We had a lot of new arrivals at that time. Some days I brought my lunch to work, but I didn't even eat it, I brought it back home at the end of the day, because I was so busy picking up clients and helping them. It is funny to think about now. I also remember the first bus training I gave, and I was so nervous. I had a lot of clients to pick up, so we ended up starting later than planned. Through those experiences, I was able to learn how to create a better plan and solve problems.
For me, my English is somewhat limited and I don't have a very high education, but working at KOM I have gained so much experience that I think is very valuable. I know how to solve problems for people in many situations, not just Karen people, but other American people as well. I think it is important for people with high education to also work with people like me, who has a lot of experience with social services, so that we can accomplish more."
About his clients he also said,
"With my clients, I work to give them what they need, and when we can get it, they are happy and I am so happy too. When we can do this, my clients begin to trust me a lot, and whenever something comes up in their life, they will come to me. Even my first clients from 2012 will come back to KOM, and they will always ask to see me. If I am too busy that day, they say they will wait until my schedule is open."
Not only Chrit Hen, but many other staff have similar experiences of clients with whom they have built trust over the years. It is a wonderful trait of KOM that demonstrates commitment beyond just achieving program outcomes.
Highlights from each year
KOM's first annual gala was held in October of 2011 at Hamline University! By that time, there were about 6,000 Karen and other refugees from Burma living in Minnesota, both in Saint Paul and in rural areas such as Worthington and Albert Lea. Read an article in the Twin Cities Daily Planet written at that time about our first annual gala here.
In 2012, KOM added mental health services in partnership with Wilder Foundation, Sue Johnston, Ahmed Yusuf, and Tonya Cook. We also began partnering with Emergency, Community, Health, and Outreach (ECHO MN) to provide critical announcements on health, safety, emergency, and civic engagements topics in Karen Language.
With the generous help from individual donors, KOM was able to purchase a 12-passenger van in 2013 for $14,000. This helped tremendously to overcome transportation barriers for clients. The van was used across all programs, from employment, to youth, to gardening, and more.
A major highlight from this phase in KOM's journey was the immense youth empowerment program. Each year the students participated in leadership training, mental health education, academic tutoring, and arts and cultural activities. One Youth Leadership Training participant said,
"Before the leadership program, I never came to KOM. It didn't seem important. But when I started with the leadership program, I learned the importance of connecting to the leaders here and the community. I like to hear their stories and learn from them. Through the leadership program, I am learning how I might be able to lead my people when I am older."
Keep following our stories in these next few weeks to hear more about KOM over the years!
Join us on October 25th for our 10th Anniversary Gala to hear more about our journey over the past decade and to support us in moving forward into the next 10 years!