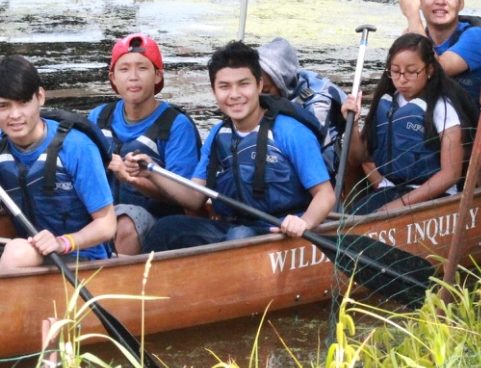 Kul Hell Wah, center, participated in a canoe trip with Wilderness Inquiry and other summer activities with KOM's Youth Program in 2016.
Kul Hell Wah came to the U.S. in February 2015 with his mom and brother. He grew up in a refugee camp in Thailand and had lived there his entire life. When he arrived in Minnesota, he started attending LEAP High School in St. Paul. But life in the U.S. was not easy for Kul Hell Wah. He struggled to learn English in school, and when he came home at night, he was often bored and started feeling lonely. The next school year, Kul Hell Wah joined KOM's Youth Program at LEAP High School. He stayed after school participating in leadership training and health classes. Over the summer, he learned Karen bamboo dance and performed at two community events.
"I really liked staying after school to learn new things and meet people," said Kul Hell Wah. "I feel like I am more confident."
Kul Hell Wah just finished 11th grade and will graduate from LEAP High School next year. After he graduates, he wants to study to be an auto mechanic.
Like Kul Hell Wall, all refugee youth face challenges when they start their new life in the U.S. KOM's Youth Program seeks to support refugee youth from Burma through in-school academic support, after-school programs, and summer activities. Learn more about the Youth Program.
Want to support youth like Kul Hell Wah? Join KOMoves for Youth this summer to raise money to provide more activities and support to refugee youth from Burma.