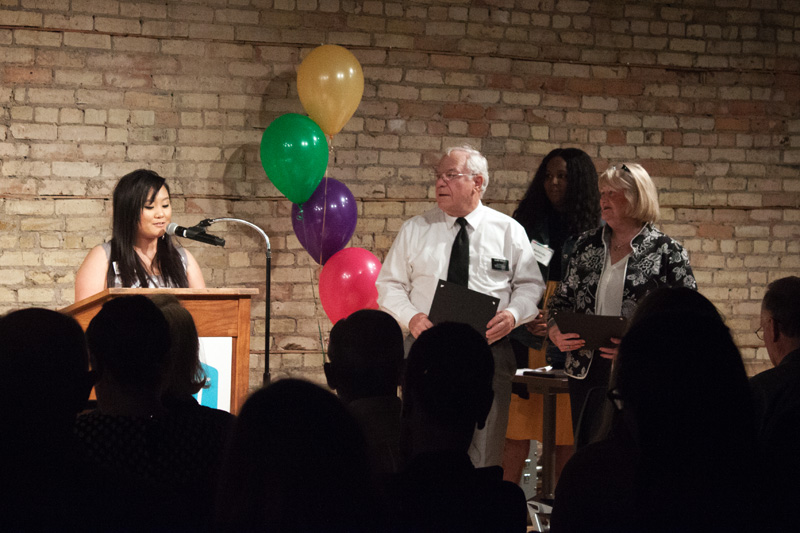 Stephen and Roma Hurley receive a 2017 Outstanding Volunteer Award as Wendy Vang Roberts from the Minnesota Literacy Council reads about their contributions to KOM as volunteers.
KOM is proud to share that two of our ESL Tutors, Stephen and Roma Hurley, received a 2017 Outstanding Volunteer Award from the Minnesota Literacy Council (MLC). An awards ceremony was held on Thursday, May 25 at the Loft Literacy Center in Minneapolis to honor the Hurley's and other volunteer award recipients who teach English Language Learners.
Stephen and Roma began volunteering at KOM in November 2016 in the ESL class at KOM. They started off volunteering two mornings a week, but increased their efforts upon learning the needs in other areas at KOM. Roma has used her skills as a nurse teaching and leading health and nutrition lessons. She also does foot care clinics with seniors twice a month at KOM's office. Stephen has contributed significant technological expertise. He has conducted computer training and is developing and implementing an interactive Karen language website.
"Roma and Stephen are exceptional volunteers that go above and beyond what they are asked to do. They have a genuine heart and respect for the Karen community and desire to serve them in any way possible. They always come to class with enthusiasm, and give their best efforts to help each student. They are not only committed to meet the educational success of each student, but to the overall growth of each student as they adapt to their new life in America. They have taken time to get to know each student, even learning some Karen language in their personal time to help communicate better with the students. They are determined to empower students to reach their goals and create a successful life in America." -Fred Bartling, ESL Teacher and Rebekah Jacobson, Community Engagement Specialist