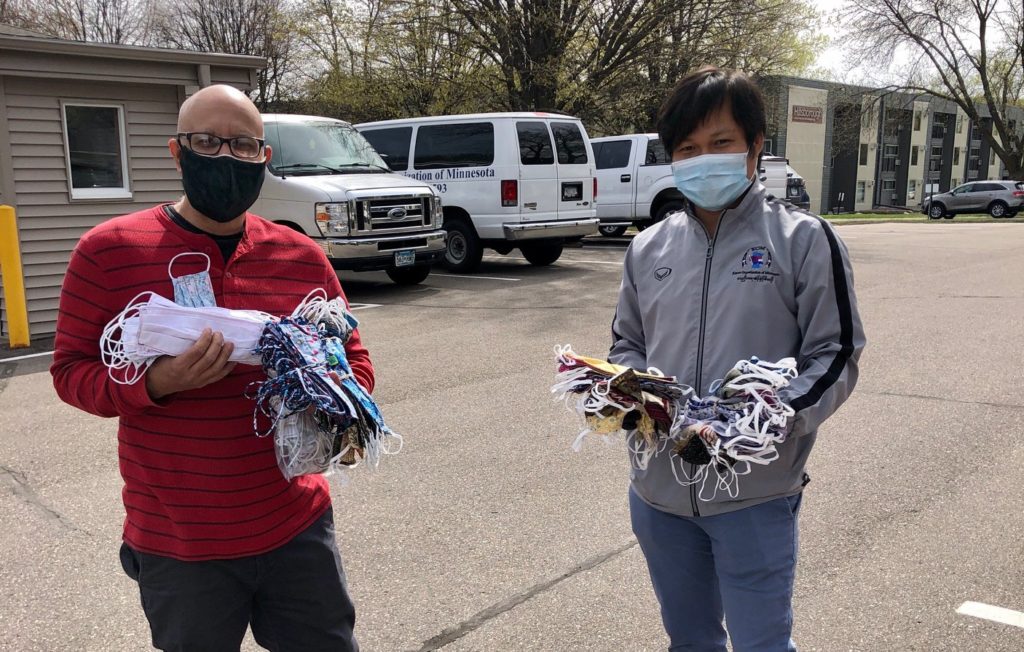 Photo Caption: Eh Tah Khu, KOM Co-Executive Director, accepting mask donations from Arrive Ministries donors.
As the COVID-19 pandemic has continued, we at KOM have been forming a plan to return to work. With stay-at-home restrictions beginning to loosen in Minnesota, it's time to share our plan to reopen. We will continue to monitor the situation. Operating with health and safety is the top priority.
We will reopen in phases to ease back into the swing of things. Beginning Monday, June 29, phase one of our return to work will begin. Some of our current policies will remain in effect, and some new services will be introduced.
What is new?
We are adding the option to serve clients through curbside appointments. Appointments can only be made when clients cannot be served remotely, and must be scheduled ahead.
The procedure for curbside appointments will be simple. Clients will call to schedule their appointment. On the day of, they will complete a COVID-19 screening over the phone.
At the appointment, clients will wait in the car while staff comes to collect their documents. Staff members will bring their documents back into the office to complete necessary tasks, then return them to the client at their car. If there are additional questions, staff will call clients on their phone.
What is the same?
Until we can return to full normalcy, KOM's safety measures will remain in place.
This means clients will not be allowed in the office (hence curbside appointments). Staff will continue to work from home, and the on-call schedule will remain in place.
As the situation evolves, we will continue to adhere to the best practices possible to ensure safety of all our staff and clients.
We can't wait to see you all again!
For more information, visit our COVID-19 resources page.