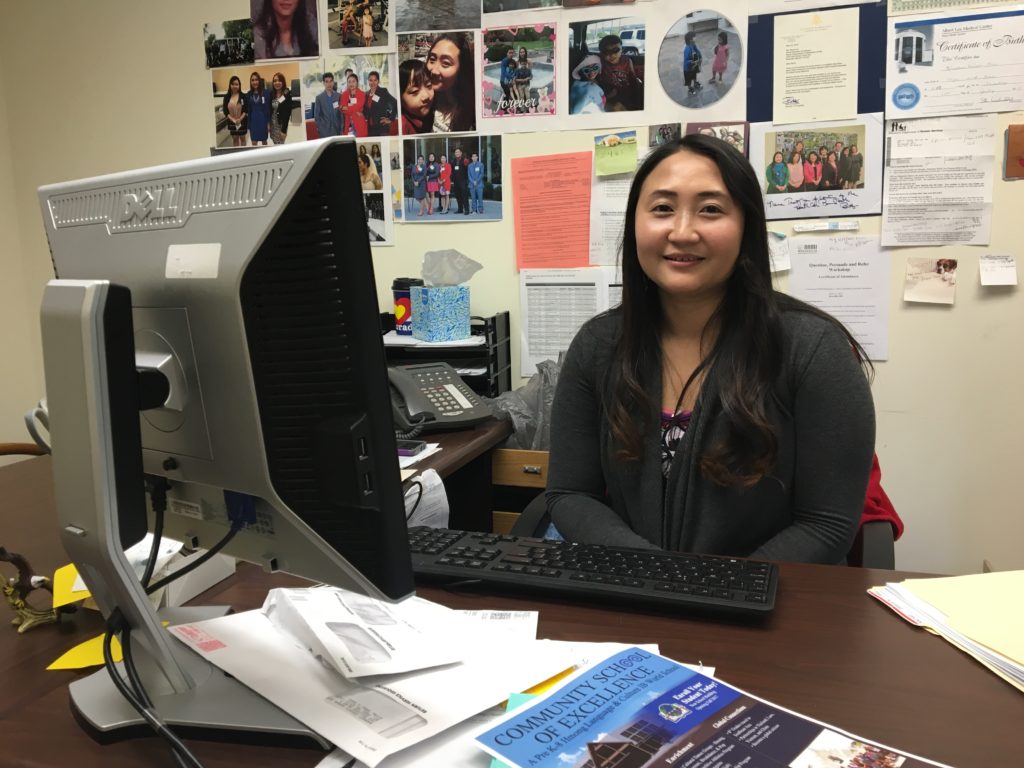 It's been over a month since Minnesota's stay-at-home officially began and KOM staff began working from home. It has been quite the adaptation. Though things are difficult, our staff have worked hard to continue their programs remotely.
Photo caption: Nana Loo, KOM Youth & Family Coach, working from her desk at KOM, which is not a possibility at this time as staff work from home.
Much of our program work has been able to continue remotely, though there was a learning curve. Everyone has adapted their specific jobs in their own ways, which have filled many needs that arose as a result of stay-at-home.
For example, Career Development Counselor Lisa Gibson has been creating YouTube videos as extra resources for students to better understand remote work. "These circumstances are pushing everyone to develop stronger tech skills," she said regarding both herself and her clients. "I think that's going to really help students hone skills."
Many of our programs involve a lot of face-to-face interaction. This has meant that many staff check in with clients by phone, from once or twice a week to every day, depending on the program. Nana Loo, one of our Youth and Family Coaches, works tirelessly to provide mental health support to students who are immigrants and refugees. She works closely with school social workers and teachers to provide services and resources.
Ta Da, one of our Community Health Educators, has adapted the Karen Chemical Dependency Collaborative program to meet remotely. He hosts meetings several times per week with the program's various groups. At the beginning, he had to devote some time to helping his clients get used to meeting remotely. Now, things are business-as-usual.
Our Youth Development Coordinator, Sarmoo Kwee, was quick to restructure her after-school program. Sarmoo has been working with students to keep them engaged in schoolwork despite being unable to attend classes. She has connected with students for online tutoring sessions, coordinating with teachers regularly. This has also brought a need for more virtual volunteer youth tutors.
Though it took extra work at the beginning to adapt KOM's programs to the changing situation, our staff have remained busy. There has been a focus shift to helping with things like health insurance, unemployment, and census forms. From March 17 to April 20, our on-call staff received 506 appointments. That breaks down to over 100 calls per week.
Programs have continued to perform, thanks to the dedicated efforts of all our staff. Everyone is working hard to continue to adapt their programs. Despite the difficulty of working with clients remotely, the consensus is that it is getting easier and more efficient. But of course, everyone at KOM is counting the days until they can see the community face-to-face once again.
For updates on KOM's activities during COVID-19, visit our Info and Updates page.
To volunteer as a youth tutor, visit our volunteer page.