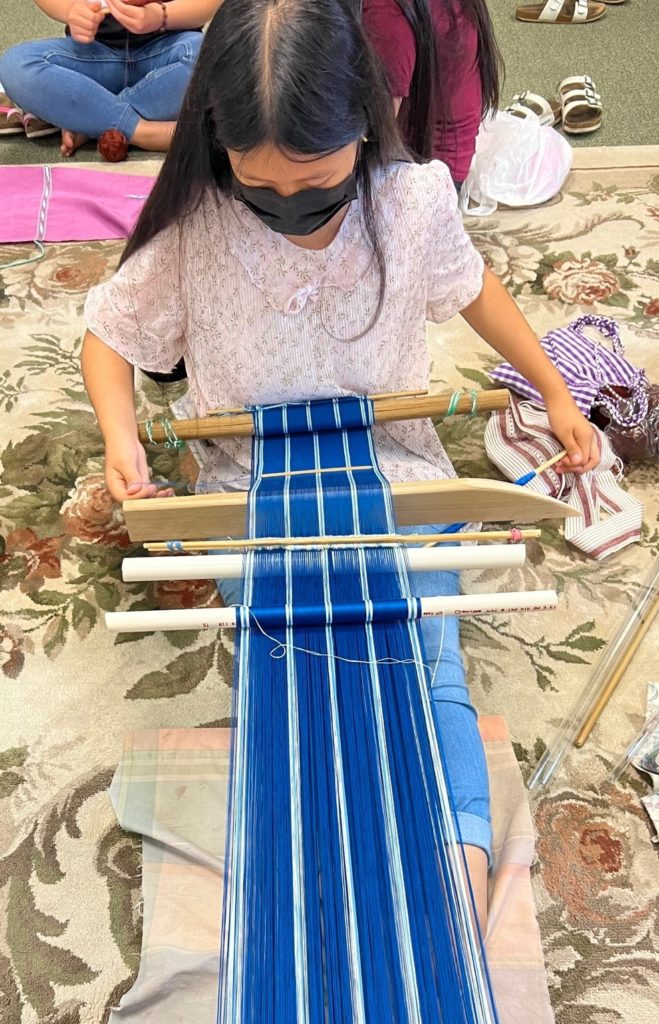 Between colorful yarn, intricate patterns, and wooden looms, generations are woven together. Intent on keeping their cultural traditions, elders in KOM's weaving program are happy to teach youth in the community how to create their own clothing. Join us this weekend to see live demonstrations from both instructors and students, and support their craft.
Youth Learning to Weave
Keeping the tradition alive, 30 students across three classes practiced the Karen art of weaving this summer. With help from three experienced weaving instructors, youth who were completely new to the art form were able to learn new skills, while more advanced students finished their own designs. Some of the more advanced youth weavers had been in this program in the past, or learned how to weave when they lived in the refugee camp.
Hta Thi Yu Moo, KOM Weaving Program Coordinator shares, "I'm happy to see that a lot of youth, this new generation, are willing to learn [Karen traditional weaving], and they are proud of themselves that they can tell people they've made the bag that they wear and that they did it themselves."
Our Weavers at the Solidarity Street Gallery
Stop by our table on Payne Ave this weekend, September 9th and 10th to see these hand-woven pieces up closed and in-person. Our weaving instructors, as well as some youth, will be doing live weaving demonstrations on backstrap looms both Friday and Saturday. They will also have items available for purchase including scarves, bags, shirts, and more!
Find more details about this two day arts event here.
Hta Thi invites all to come to the event this weekend, "over the years we've been to a lot of events, a lot of people have gotten to know us, and we are glad that people know who we are when they see our Karen clothes; they know it's our traditional culture clothes. We are so grateful for people who support us."
She also shares her appreciation for KOM, our partner organizations, and our weavers for their support of this artistic tradition. "Thanks to KOM for helping us with the grants and arranging everything for us. We are grateful for our partnership with the East Side Freedom Library, where we have been able to use their space for many years. I would especially like to thank the weavers who are willing to pass down their skills and knowledge to the new generation. It's very important to them. They don't want their culture to disappear. Even though we're not in our country, we still want to maintain our culture."