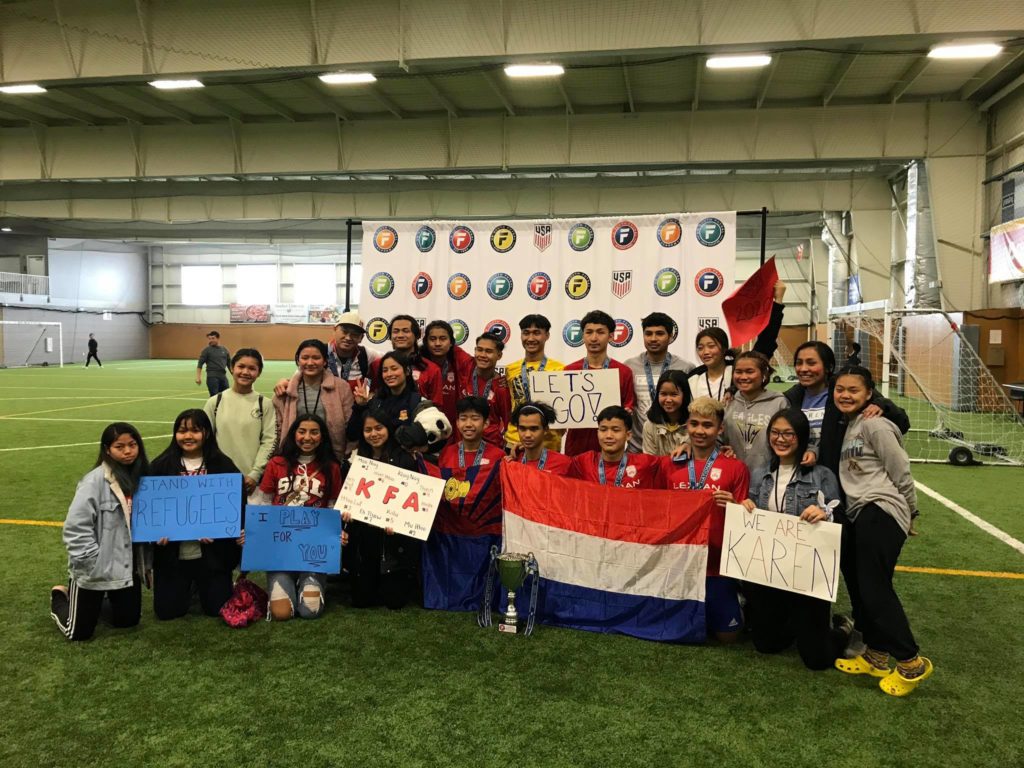 A little over a year ago, there was an informal pickup league in Roseville, Saint Paul. That was the beginnings of Karen Football Association, which is now the official governing body of the first Karen national teams. A few weeks ago, KFA boys' and girls' teams played in their first-ever national futsal tournament. 
Karen Football Association began to address a community need. Karen youth often grow up playing soccer and futsal, yet didn't have a formal outlet for it in the US. Traditional club soccer can be prohibitively expensive for immigrant and refugee families without a lot of resources. KFA gives Karen youth a platform for visibility.
"KFA gives these athletes a lot of legitimacy," said KFA Founder and Executive Director Kyle Johnson. "They come from playing pickup… They're not being seen by college scouts." As director of a national team, Kyle has found that college coaches are interested in Karen youth. "The resiliency and talent of these players is off the charts, and coaches love to hear about it."
On the National Level
Things have moved quickly for KFA since its official founding. The girls' team attended a national training camp in San Diego back in December. But things really gained momentum when both the boys' and girls' U19 teams punched their tickets to the 2020 Youth Futsal National Championships in Kansas City. In order to qualify, both teams had to place first or second in a regional futsal tournament. 
The boys placed second while the girls won overall, securing their national spots. "Winning the regional tournament feels really good… I just feel really proud of us," said Tina, one of the players of the KFA girls' team. "Especially since it's our first year," added Reebar, one of her teammates.
KFA faced tough competition. The brand-new national team came to face 178 teams from 17 states. Though the girls were eliminated early, the boys pushed on to the final round, finishing second overall. But winning wasn't the only thing on their minds.
"We went out there because no one knows who is Karen," said Eh Ku Say, one of KFA's boys' team. "We go out there and show them what is Karen." That's exactly what they did. KFA turned heads at the tournament. They were the unknown newcomers, yet the only ones with a flag.
"I guarantee there were families that looked up 'Karen' during the tournament. That alone is a win," Kyle said. "One of the parents came up to me. They said that we had an amazing cheer group, so that was a really cool experience," added Reebar.
Back at Home
Though KFA returned from nationals with no title, they have nonetheless become something for Karen people across the country to rally around. Eh Ku Say and KFA's boys returned just a few days ago from a national training camp in Atlanta, Georgia, where they had support.
"It was really exciting with a lot of the Karen community there," said Eh Ku Say. "To support us even though we lost… Really special." That game had 100 in attendance, with over 10,000 watching the live stream.
With nationals behind them, KFA is eager to get to work. Their sights are set on international competition in the next few years, but they're also looking for ways to best elevate the Karen community. "It feels good to represent my people," said Tina.
"There's a lot of kids who look up to us," Eh Ku Say said. "I might not be playing next year, but there's gonna be a new kid who's gonna play there. They can ask me about it."
Eh Ku Say, Reebar, and Tina were quick to point out the value of their experiences. At the end of the day, they wanted to be role models for future generations and to spread the stories of the Karen. "Who we are and who we can potentially be," said Reebar. "I'd like us to be known around the world by everyone."
To learn more about Karen Football Association, visit their web site. Also find them on Instagram and Facebook.