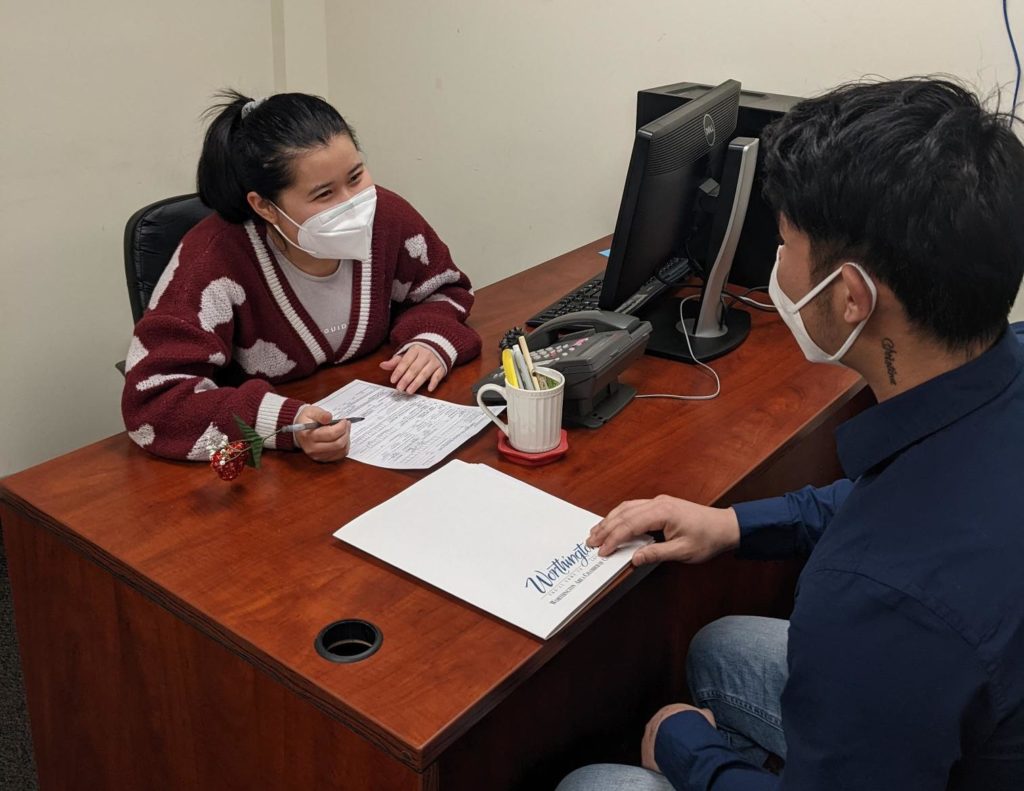 This year we were fortunate to have two social work interns working with our social services and community health programs. Henry Ngo is our MSW Intern working especially with our mental health and chemical dependency programs. Eh Tha Blay Soe has been working with our various new arrival services as a BSW Intern. Join us in thanking them for their support of our staff, clients, and community. Hear directly from our interns and staff below!
Pictured above: Eh Tha Blay Soe, BSW Intern, working in the KOM office.
Growing Through Challenges
Laymu John supervises the BSW internship and is the Program Manager for KOM's New Arrival Services. She shares, "the work that Eh Tha Blay Soe has been doing is pretty amazing. She's very open to work with Karen and non-Karen clients, and is always ready to take on a challenging case. I'm really thankful to her and the work she's done helping our Family Assister program, and I'm excited to see her become a social worker. Our client cases are not easy, but she takes them on with humility and understanding."
A brief interview with Eh Tha Blay Soe
What challenges have you overcome in your internship?
Working with people outside of the Karen community has challenged me. At first, I worked with a few non-Karen clients who speak English, but recently I was assigned clients who don't speak English, and who don't share the same culture as me. For their program, we have to provide services over the phone. To make sure we understand each other, we both have to repeat ourselves many times. I have only been working with these clients for about one month, and we finally started building that relationship and rapport with each other. Unfortunately, my internship is ending soon and the clients are sad about it because they really want me to stay and finish out their case. But I assured them there will be another staff to work with them, and not to worry.
Overall with COVID that is another challenge, even at school with online learning. Personally, I prefer meeting in-person, so it has been great now that KOM has in-office services.
What has impacted you the most during your internship with KOM?
For me when I first applied for the program, I thought I would only work with Karen clients, but working with other communities, event though it's a challenge, it's very impactful. In my social work career I will work with many communities, so this is a first step for me towards that goal. Another thing is that I learned so much working with Karen people too. I learned more about the barriers and challenges that my own community faces.
My internship ends in May, and I'm going to miss this place, especially all the staff. They've all been very helpful and welcoming. In my interview early on, I said I really wanted to work in a very welcoming, friendly, and healthy environment, which is what I got from the staff here. I am very thankful for that.
What are your future career plans?
For now, I want to continue to do case management, as I've gained a lot of experience with that. I'm planning to get my BSW license and then practice for a couple of years. After that, I want to go back to school and pursue an MSW license. I would love to focus on mental health services, which is why I want to go for a clinical MSW degree.
Expanding Cultural Humility
"I'm very thankful for having Henry at KOM. He is smart, friendly, kind, and supportive to our mental health and chemical dependency programs," says Ner Mu, Program Manager for KOM's Community Health programs. "He loves to support the Karen families. Whenever they need help, he jumps in. He helps with our peer support groups every month with developing training content on topics like youth and family communication, women's rights, and education for parents to know their rights in America and how to speak up. Henry also supports Mar Htay's program by connecting youth with adolescent treatment centers for in patient and out patient programs, and following up with the youth and their parents. Whenever I ask him to help with something, he always says yes."
A brief interview with Henry Ngo
What challenges have you overcome in your internship?
A significant challenge is navigating the language barrier for Karen clients. Even with an interpreter, the language barrier complicates accessing services. Federal and state programs are byzantine in design, confusing even native English speakers. Eventually, I gained more confidence in using translators to serve clients more effectively.
What has impacted you the most during your internship with KOM?
Ner Mu, Lwepaw, and Mar Htay have been pillars of support throughout my internship. Ner Mu has an open-door policy and I continually learn from him. He has been incredibly supportive throughout my professional development and has encouraged me to continually learn about practicing with the Karen community. Ner Mu's lived experience as a refugee is an inspiration and highlights the importance of workers who are from the community. I am grateful to have Ner Mu as a guide throughout my journey at the Karen Organization.
Mar Htay and Lwepaw were also significant in my professional development in which I learned case management skills and how to conduct home visits. The home visits showed me the profound struggles of resettlement and the complexity of case management for Karen families. Home visits were the best opportunities to apply the theories from class to contextualize Karen families and their needs.
What have you learned in your internship that you are most excited to use in your future career?
Throughout my time at KOM, I have been intentional of expanding my cultural humility. That is, I recognize the implicit power imbalance of working with Karen clients which compels me to minimize that discrepancy in a culturally attuned way. If I am doing a home visit, I will sit with clients to meet them where they are at. Cultural humility is also lifelong learning about different communities. In my MSW program, I conducted original research on the Karen community focusing on the role of meaning making in the recovery from trauma. I think however to learn about a community, you must be engaged with that community. The daily conversations and collaborations with Karen staff, and working in the Karen community, provided me with a grounded learning experience which shaped my practice.
Thank you, Henry and Eh Tha Blay Soe for your incredible work. We wish you all the best as you pursue your goals. Happy Volunteer Appreciation Month!