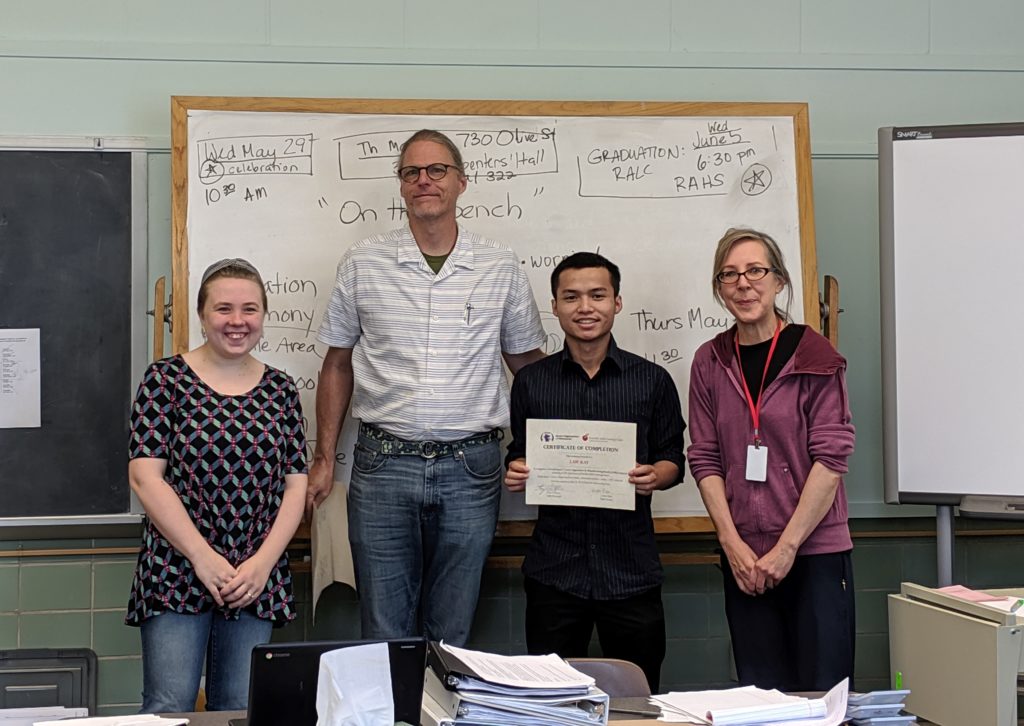 KOM's Apprenticeship & Manufacturing Ready (AMR) program has been around for just over a year and it is already making a mark on the lives of our clients.  
Law Ray is one of the graduates from the AMR program, which is a collaboration between KOM and Roseville Adult Learning Center (RALC). He originally heard about the program when he reached out to KOM for employment help. "Rebekah told me about the program and I just signed up," he said.  
What he learned:
Law Ray was a part of AMR for about seven months. During that time he and other students learned a lot about language and math skills. "In class [we learned] how to improve our speaking skills so that we will be able to communicate with people. We also focused a lot on understanding the meaning of math. I learned how to apply math skills to real life."
Law Ray said that within AMR he was taught about many of the building trades. "We covered carpentry, painting, iron work, and cement work." The program also provided Law Ray with exposure to the actual construction industry, "We visited job sites to see how people work." Students of AMR also learn about OSHA safety standards, CPR/First Aid, and civics. 
Law Ray reflected that AMR has grown in his interpersonal communication skills through encouraging  use of his English in the workplace. He also learned conflict resolution skills, whether that is with a boss, manager or co-workers. 
When asked which trade he enjoyed the most, Law Ray answered, "I really loved painting. I used to like drawing as a child. It was my dream to be an artist." Law Ray is thankful to the experience that he gained through AMR. Before AMR, he hadn't realize that painting existed, now he is excited to pursue that as a living. 
What's next:
The AMR program seeks to place graduated students in an apprenticeship and in employment with a union contractor. Law Ray was hired as an apprentice painter by a union contractor in July and will be taking his first week of apprenticeship classes this month. His apprenticeship will take 3 years to complete. During this time, he will continue to work and gain experience as a painter in the industry. Then he will become a journeyman worker. 
Law Ray shared that before AMR he wasn't even aware of the possibility of apprenticeships. He said that for immigrants who are not prepared for college, apprenticeships offer a huge opportunity. Apprenticeships offer hands-on training at no cost to apprentices and provide apprentices with substantial work experience while getting paid. 
He said that for high school graduates who may not know what career they wish to pursue, apprenticeships are a great option. "For those who don't know where to go when you join the program, if you continue [in it] you will find your career." 
KOM is thankful for the impact that the AMR program is having on the lives of our clients and we are excited to see Law Ray continue pursuing his career.
 To learn more about our AMR program, contact Rebekah Hanson.
Are you interested in coordinating our AMR program? KOM is looking for a Career Development Counselor to work with our AMR program. For more information about the open position and to apply go to our job posting.