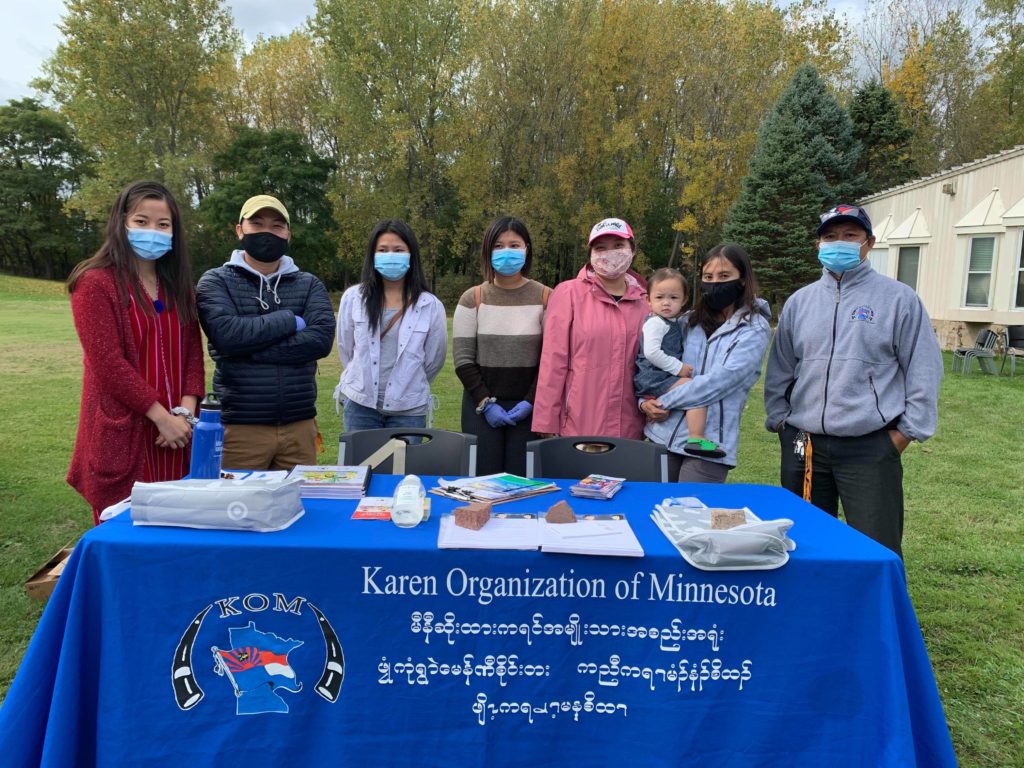 Pictured above: Ehkalu Sein (Bachelor of Social Work Intern) and Mee Kai (Community Health Intern) helping at one of our fall flu shot clinics.
This fall KOM has had five interns, helping with different services. Due to the current COVID-19 pandemic these internships were done virtually, but our interns have still been able to help in many ways.
Social Work
Dan Pysno has been our Master of Social Work intern since September. He has spent his time working with Lwepaw Kacher, the cultural broker through M Health Fairview. He worked with clients over the phone to provide support with filling out paperwork and other matters. Dan has also been working to create materials that provide information about things like mental health awareness, managing stress, and adjusting to American culture.
Despite the challenges of completing his internship virtually, Dan has enjoyed learning about Karen culture, which he used to be unfamiliar with. He thinks "KOM has a vital role because it is reflective of the community it serves".
Ehkalu Sein started as our Bachelor of Scoial Work intern in September. During her internship, Ehkalu was assigned to help the family assisters and youth and family coaches. She would receive calls from family members and assisted them with the help they needed. She would also do tutoring with high school students that she worked with.
Ehkalu's favorite part of interning at KOM was learning about different programs in the agency and how they play a role in the community. It was interesting for her to learn how to use technology and online services to help families and students. She was encouraged to step out of her comfort zone and learn new things. She said "I was a learner myself, and teaching others or serving others with the ability and knowledge that I have was challenging, but rewarding".
Communications
Kathleen Miles started as one of our Communications interns in September. Kathleen spent the first part of her internship helping with communications for civic engagement, which aimed to increase voter turnout in the Karen community. Now she is working on social media posts, newsletter articles, and helping create flyers for the Roseville Adult Learning Center. She has been able to learn how to create graphics, which she did not have experience in.
Kathleen has enjoyed being able to create material about voting processes and the recent election. She is passionate about civic engagement and believes that "government and politics affect every aspect of society, so it's important to understand it".
Priscilla Hagerman also started as a Communications intern with KOM in September. She has been working a lot on social media and creating promotions for the Strong Together Virtual Fundraiser. She has also worked on various articles for our monthly newsletter.
Priscilla has enjoyed learning about Karen culture and is happy to have gained experience working with a non-profit. Completing her internship remotely was challenging at times, but she said, "it was a good experience, and I am grateful to have learned so much". She was not expecting to work so much on helping with the fundraiser, but she enjoyed seeing it all come together over the last few months.
Community Health
Mee Kai has been serving as our Community Health Intern this fall. She helped plan and carry out our fall flu shot clinics, which were very successful. These clinics were very important in creating herd immunity, and Mee Kai was "surprised that so many people showed up" to the clinics. She said it was a great experience.
Thank you, KOM interns!