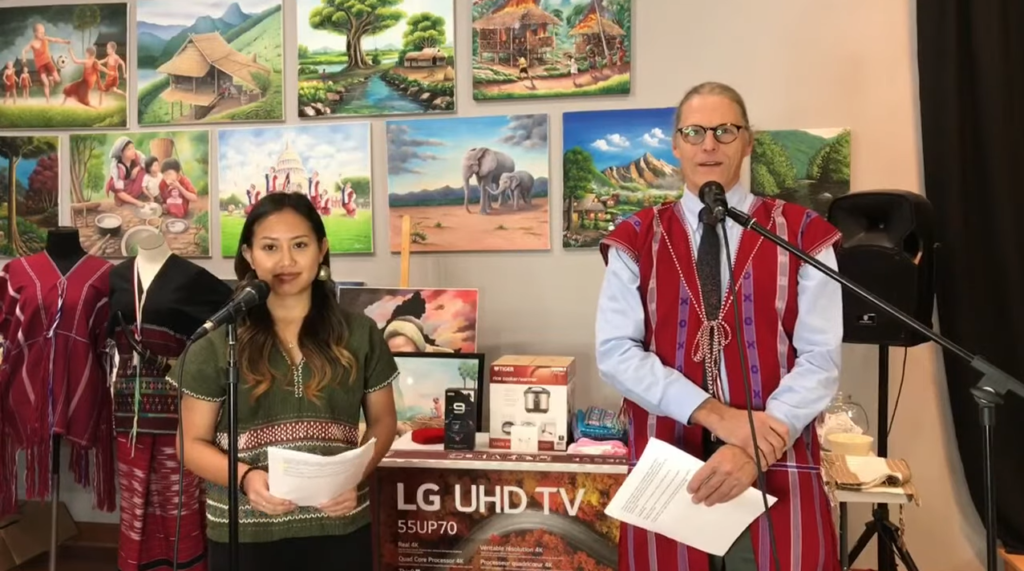 Another virtual fundraiser in the books! Thank you to everyone who joined us last Thursday evening to watch the event live. There is still time to support the work we do and help us unlock our $10,000 match! From now until the end of the year, your donation to support refugees and immigrants in Minnesota will be doubled.
Missed the live event? Check out some highlights from the evening below. You can also watch a recording here on our YouTube page.
Pictured above: Our MCs for the virtual fundraiser, KOM Board Chair Tim O'Brien, and Vice Chair Kaziah Josiah. 
First, we want to thank The Urban Village for the use of their space again this year, and Ku Hser from SOFT TV for his tremendous help with production.
Guest speakers and musicians
This year, we had the privilege of hosting two guest speakers from newly established programs that serve youth in the community.
The first speaker was Mu Chwei, mother of Pa Dee Dee, who shared about her son's experience with recovery and the support their family had from KOM's Youth Chemical Dependency Program. She testified that her son is no longer using, has a steady job, and helps support the family in their newly bought home in Austin, MN.
The second guest speaker was Kwe Knyaw, a youth mentor from Asian Youth Outreach, an initiative that aims to support at-risk Karen and Karenni youth. He shared, "I joined AYO because I care about the well-being of our young people. I believe that young people are the future to make changes and make a stronger and healthier community for us."
Everyone who joined us live also got to listen to two songs, performed beautifully by local singers Titer Haw Min and Rebeca Paw Moo. At only 13, both girls are passionate about music and have been performing around the community.
Donations towards our match
Through our virtual event, our donors helped us raise $2,126.75 towards our $10,000 matching fund!
You can still help us reach our goal by donating here before the end of the year.
Thank you to our sponsors for contributing to the matching fund: M Health Fairview, Adaptable Workforce Solutions, Japs-Olson, Jody Baber State Farm Agency, Metropolitan State University, Bix Produce, Culture Home Healthcare, Bailey Nurseries, HAP – Hmong American Partnership, SKD Auto Transport, St. Jerome School, UCare, Center for Victims of Torture, and Prodeo Academy.
Raffle winners
Congratulations to everyone who won items in our raffle drawing! Thank you to everyone who purchased tickets. The proceeds from the raffle are going towards supporting refugees and immigrants in Minnesota.
Brown boy's Karen shirt: Paw Pwe Doh
Bailey Nurseries plants: Quin Ney
Handwoven red men's Karen shirt: Pa Say
Air fryer: Paw Lwe Pay
Karen father-son shirt set: Mya Win
Karen women's clothing set: Ma Bu
Tiger brand rice cooker: Lay Leih
AirPods Pro: Sarmoo Kwee
GoPro Hero 9 bundle: Khun John
55″ Smart TV: Karen Home Healthcare
Gold necklace: Hsa Moo
Karen painting by Ku Paw: Pah Yu
Thank you for your support through another year of unforeseen challenges and new opportunities. We are all in this together!