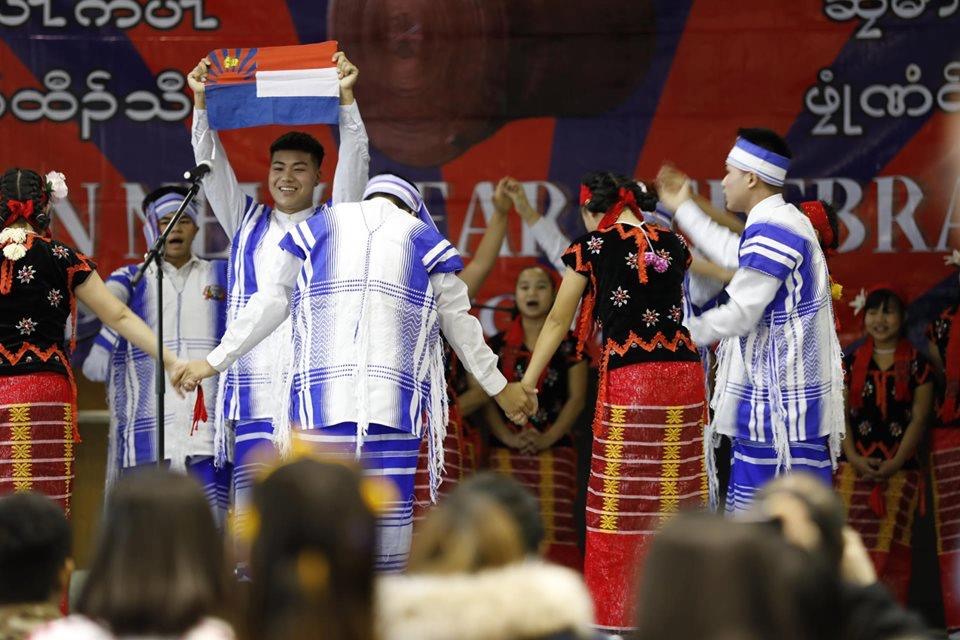 Happy New Year to you all! The 2759 Karen New Year celebration at Washington Technology Magnet School was a wonderful success. Thank you to everyone who came out to celebrate with us on December 26th!
We were so honored to have a group of special guest speakers that included: Governor Tim Walz, Mayor Melvin Carter, Colonel Shawn Manke, Executive Director of the Council on Asian Pacific Minnesotans Sia Her, Representative John Lesch, Pastor Hsa Moo Sheemo, and U Oaktama Linkara.
Mayor Melvin Carter (left) and Colonel Shawn Manke (right) address the audience at Karen New Year while Hsajune Dyan interprets in Karen.
Many thanks to the sponsors, announcers, community leaders, volunteers, sports teams, and everyone who made the event possible. We especially want to highlight Hope Senior Center for being a gold sponsor, and Saint Paul Public Schools for their long-lasting partnership and support throughout the years.
The event had amazing dance performances from the Karen Culture Organization of Minnesota, as well as a traditional song by a Karen women's choir, and songs by famous Karen singers Eh Wah and Eh Ler Tha.
Happy 2759 Karen New Year, and welcome 2020!
All photos taken by photography volunteers from the Karen Community of Minnesota.