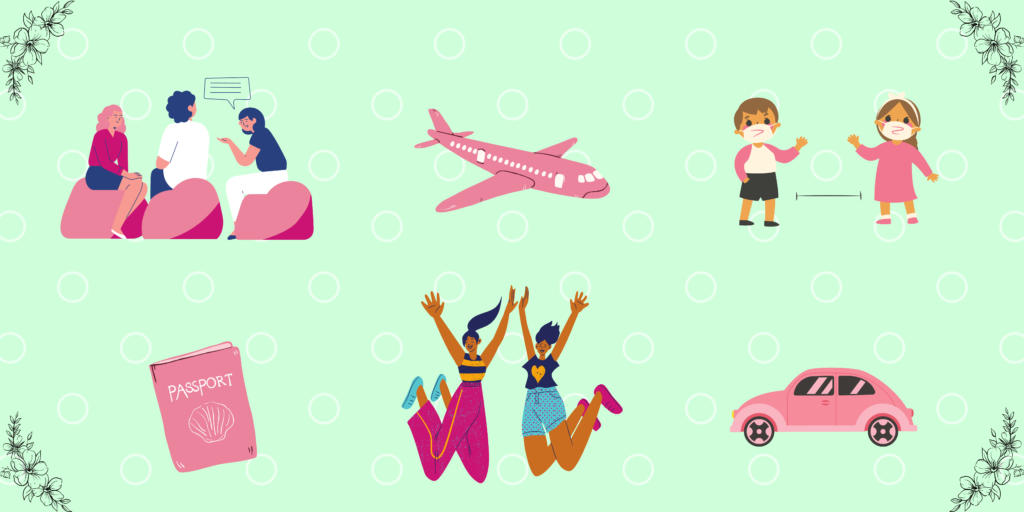 Hooray!  You're vaccinated.  But now what?
The good news is that you can start returning to some level of normalcy.  Read below to find out what the CDC is recommending for those who've been fully vaccinated.
Am I fully vaccinated?
The Pfizer and Moderna vaccines take two weeks after their second dose to take maximum effect. Likewise, Johnson and Johnson, which is a single-dose vaccine, requires two weeks after receiving your shot to achieve maximum protection. You will only be fully vaccinated when these requirements are met. Until then, keep following all the COVID safety precautions!
CDC Guidelines after Being Fully Vaccinated
Certain practices we developed this year will need to keep being followed, at least for the time being.  Wearing a mask, social distancing at 6 feet, and steering clear of crowds or places with poor ventilation will be practices we need to maintain for now.
What the CDC says is safe to start doing
Once you've been vaccinated, the CDC allows for gatherings of fully vaccinated people indoors.  Under these conditions, people do not need to social distance or wear masks.
Additionally, you can meet with unvaccinated people from one other home, without the need to wear masks or social distance.  The only caveat is if someone in the household is at an increased risk for COVID-19 complications.
You can travel in the United States without needing to get tested prior to or following a trip.  You also will no longer have to self-quarantine after hitting the road or taking to the skies.
For international travel, make sure to observe the COVID-19 situation at your intended destination. Unless required based on the destination of your travel, you do not need to get tested prior to leaving the U.S.  However, you will still need to provide a negative test result before you can fly back to the U.S.  Additionally, it is recommended that you be tested for COVID between three and five days after returning from international travel.  Self-quarantine after reentry to the United States is not necessary.
If you've had contact with someone who has COVID-19, you can still interact with others unless you begin to exhibit symptoms.  The only caveat is if you live in a group setting, whereby you should isolate from others for 14 days, regardless of whether you exhibit symptoms.
Public Health Measures to Keep Observing
Even after you've been vaccinated, it will still be important to wear a mask, social distance at 6 feet, and avoid crowds when you're in public, socializing with unvaccinated people from multiple households, or when around an unvaccinated person who is at high-risk for COVID complications.
Continue to avoid large gatherings and places where ventilation is substandard.
When traveling, continue to protect yourself and those around you by wearing a mask on transportation like planes, trains, and buses.  This also applies in public areas like airports where there is a large number of people in close proximity.
International travelers who have been completely vaccinated still must be tested for COVID within three days of arriving in the country.  The only exception is if they can produce proof of recovery from COVID from the last three months.
Still be wary of COVID-19 symptoms, particularly if you have been in close proximity to someone who is ill.  Get tested and self-quarantine if you have experienced COVID-19 symptoms.
Workplace guidelines still must be observed.
Still Not Vaccinated?
The state of Minnesota has expanded vaccine eligibility and many community sites and pharmacies are offering vaccine appointments. You can use Minnesota's COVID response website to find a location near you where you can get your shot. Most locations require you to sign up online, or you can call the COVID-19 Hotline at 651-318-0989 for help signing up. The hotline is available in multiple languages including Karen.