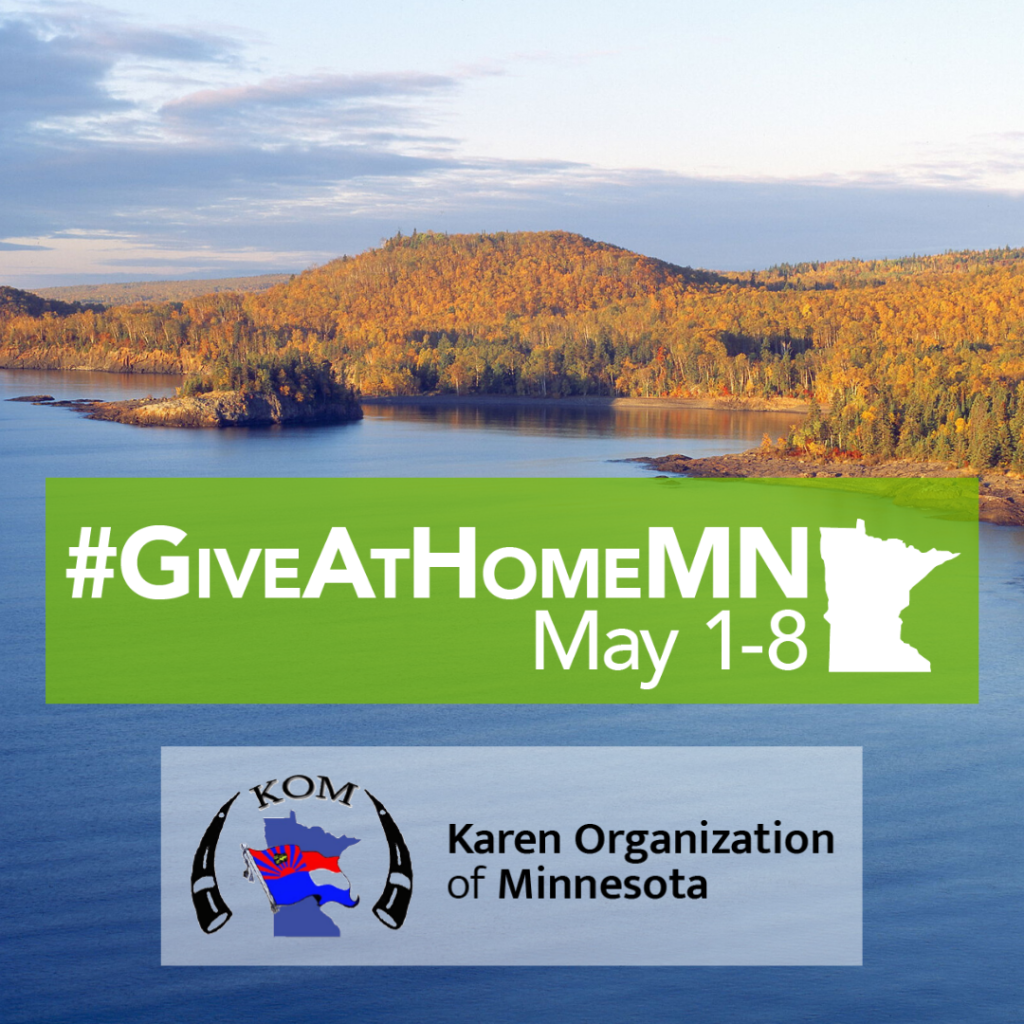 Thanks to our current funders, we've been able to sustain our work with our on-call staff who have been working non-stop from home since March 17th. By April 20, we had received 506 on-call appointments. That's over 100 calls a week!
We had 193 calls for help with unemployment insurance, 112 for census forms, 48 for health insurance, and much more.
However, the work is far from done. As the stay at home order remains in place, schools continue distance learning, and families stay on unemployment, we continue to need your support.
Because of this, GiveMN has launched the #GiveAtHomeMN campaign, to support local nonprofits and schools.
"We hope a statewide campaign encouraging generosity will spark increased giving and a greater awareness of how nonprofits and schools are strengthening Minnesota communities."
– Jake Blumberg | Executive Director, GiveMN
How can you help?
In this time of uncertainty, your monetary donation will help us continue to provide immediate assistance to Minnesota adults facing unemployment, youth trying their best to learn from a distance, families concerned about their health insurance, and much more.
As our staff work on a plan to re-open the office for essential needs, we are determined to put the health and safety of our community first. Although we don't know just yet what re-opening will look like, or when, we do know that we will need supplies to protect the health of our staff and clients. We are asking for your help to donate masks for our office. Our goal at this time is to receive 1,000 masks.
Drop off your masks at our office (2353 Rice Street, Suite 240, Roseville, MN 55113) any of the following days:
Friday, May 8th, 1 – 4 PM
Friday May 15th, 1 – 4 PM
Friday May 22nd, 9 AM – 12 PM
How to make a mask at home
Below, we've included information pulled from the CDC website with instructions for three types of face masks.
Cloth masks are recommended when going out in public where social distancing is difficult. Masks should: 
Be secured with ties or ear loops

 

Include multiple layers of fabric; cotton is best

 

Not restrict breathing 

 

Be able to be machine washed and dried without damage

 
Masks should not be placed on anyone under the age of 2, anyone who has difficulty breathing, or is unable to remove the mask without assistance. Do not use N-95 respirators or surgical masks as these should be reserved for healthcare workers.  
Materials
Two 10"x6" rectangles of cotton fabric
Two 6" pieces of elastic (or rubber bands, string, cloth strips, or hair ties)
Needle and thread (or bobby pin)
Scissors
Sewing machine
Tutorial
1. Cut out two 10-by-6-inch rectangles of cotton fabric. Use tightly woven cotton, such as quilting fabric or cotton sheets. T-shirt fabric will work in a pinch. Stack the two rectangles; you will sew the mask as if it was a single piece of fabric.
2. Fold over the long sides ¼ inch and hem. Then fold the double layer of fabric over ½ inch along the short sides and stitch down.
3. Run a 6-inch length of 1/8-inch wide elastic through the wider hem on each side of the mask. These will be the ear loops. Use a large needle or a bobby pin to thread it through. Tie the ends tight.
Don't have elastic? Use hair ties or elastic head bands. If you only have string, you can make the ties longer and tie the mask behind your head.
4. Gently pull on the elastic so that the knots are tucked inside the hem. Gather the sides of the mask on the elastic and adjust so the mask fits your face. Then securely stitch the elastic in place to keep it from slipping.
Quick Cut T-shirt Face Covering (no sew method)
Materials
Tutorial
Bandana Face Covering (no sew method)
Materials
Bandana (or square cotton cloth approximately 20"x20")
Rubber bands (or hair ties)
Scissors (if you are cutting your own cloth)
Tutorial
For additional video instructions on how to sew a face mask, view this video or visit JoAnn Fabrics' website.
Thank you for your continued support as we navigate these challenges together. Ta blut doh ma law!