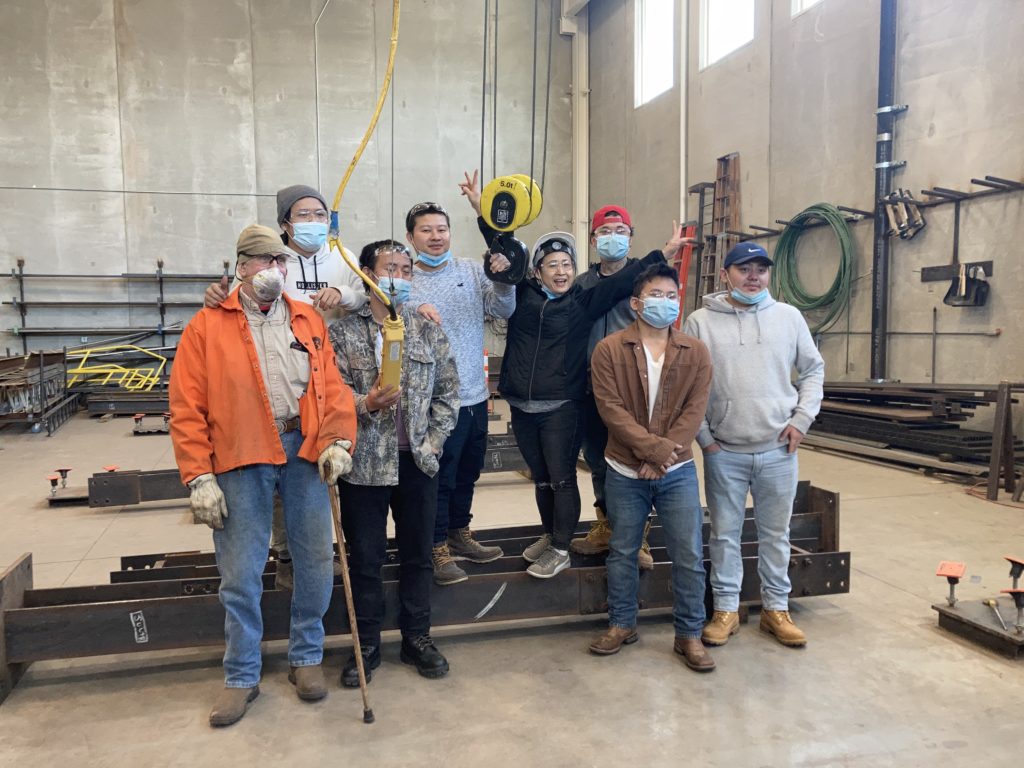 Did you know that KOM has Adult Career Training Programs? That's right—we provide vocational training opportunities for immigrants and refugees in many fields. Currently, our Forklift/Commercial Driver's License (On-Ramp) program and Move Up in Manufacturing/Career Advancement Training are enrolling. We also we have our Certified Nursing Assistant (CNA), Healthcare Exploration Training (HCCE) and Translating & Interpreting (TRIN), and Youth Career Pathways running. Let's learn a little more about each of these! 
Forklift/Commercial Driver's License (On-Ramp)
On-Ramp is an 8-week program designed to prepare participants for the Commercial Driver's License (CDL) permit test. After passing the permit test, they can continue to the forklift license program and behind the wheel training.  
This fantastic program meets participants right where they are. Participants have the opportunity to grow and gain skills.  
This program is open all the time for participants to join in. Some participants may be eligible for a stipend of up to $2500 per person. 
Move Up in Manufacturing
We also have our new Move Up in Manufacturing/Career Advancement Training program. It consists of 3 weeks of workshops intended to further the participant's career. This training focuses on manufacturing-interested individuals; however, anyone of Southeast Asian descent who wants to grow in their career can join! This program is designed for people who are not interested in receiving licensing training but would like assistance finding a job. Also, participants can join the course at any time! 
There will be a few manufacturing plant tours to help individuals have a better understanding of what it is like to work there. Additionally, participants are taught many skills to excel in their positions. Some of the skills include the following: 
Leadership

 

Goal setting

 

Interviewing

 

Strategies

 

Financial literacy

 
One aspect of this training is Ramsey County's Manufacturing Reverse Job Fair on Thursday, October 27. This event is all about learning about career opportunities in manufacturing. Participants will be able to visit three different manufacturing employers. They can get a close-up look at what their career could be. This is a community event put on by the county and participants of the this program are excited to be there! 
Career Pathways
All our programs provided by Adult Career Pathways include opportunities for participants to have one-on-one financial coaching. Participants will not just be ready for a specific career; they will be ready for all aspects of life! Taking advantage of this training can be useful in creating a resume, preparing for an interview, receiving job referrals, and learning how to properly use finances.  
"These programs give opportunities for people to achieve what they want to achieve."

— Lisa Gibson, Program Manager for Career Pathways and Financial Education
Additionally, we have the Certified Nursing Assistant (CNA), Healthcare Exploration Training (HCCE) and Translating & Interpreting (TRIN) currently running. We will start these programs again and the Apprenticeship in Manufacturing (AMR) programs in early 2023. Stay tuned for more information on those!  
Youth (ages 14-24) have an opportunity to participate in our career pathway programs too! What's Next is a program that helps youth develop skills and navigate going into college. Currently, we have the What's Next program at Harding, Humboldt, and Washington High Schools. Youth outside of these locations can participate too. Contact Ku Gay Nahpay for more information.  
These programs are vital for our community. They are a great way for participants to learn skills without gaining debt. Overall, they allow people to succeed in their careers. 
To learn more, visit our webpage on Adult Career Pathways or contact Lisa Gibson.