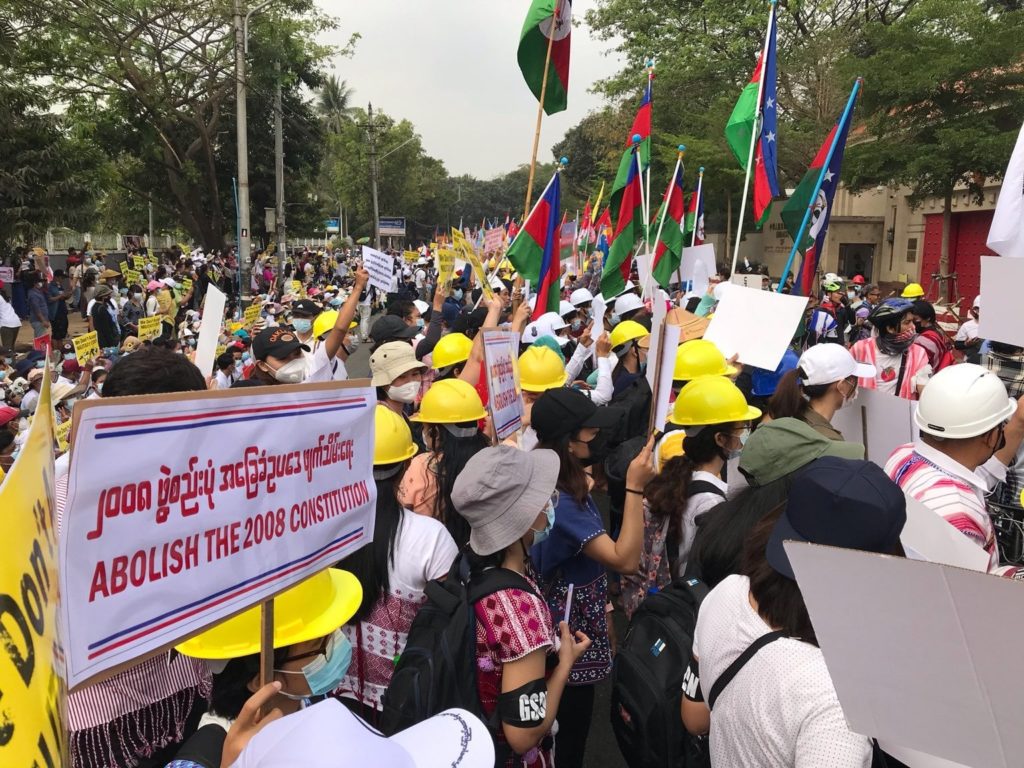 The Karen Organization of Minnesota is deeply concerned about the violent actions of the military in Burma that undermines efforts towards a democracy and continues to violate human rights.  Take a moment to read about the military coup and what is happening in Burma, and find a list of action steps that you can take to help.
Photo (above): Posted by the Karen Peace Support Network on February 17, 2021 of multi ethnic protesters in front of the Chinese embassy in Yangon.
---
Overview
On February 1, 2021, the military forcefully took control of Burma in a coup and detained numerous leaders of the country, including de facto leader Aung San Suu Kyi.  Consequently, the military began a campaign to try and stop the spread of information out of the country and temporarily cut phone and internet lines. Phone and internet connections were restored, but flights have been suspended. People have been getting around these barriers through posting to social media and streaming live videos. 
For the Karen people, this coup has ushered in chaos, violence, and forced relocation.  In the month preceding the coup, attacks on Karen villages by the Burmese military increased significantly. In some areas of Karen State within Burma, such as in Brigades 1, 3 and 5, there has been ongoing fighting since then. As a result, thousands have had to flee and hide in the jungle.  So far, over 5,000 people have been displaced by these violent attacks.
Background
Persecution of the Karen by the military in Burma is nothing new.  The military junta has been persecuting the Karen for seven decades.  There were two other military coups in the past 65 years: one in 1962 and another in 1988.  In recent years, some had hope that things would improve for the Karen and other ethnic minorities, as the country became more democratic after the National League for Democracy's party won in the 2015 elections.  But many feel this hope went unfulfilled as the National  League for Democracy under Aung San Suu Kyi failed to do their part in resolving ethnic minority issues, including stopping the persecution of the Rohingya.  Now things are getting worse again under a military that is outright abusing its citizens, especially ethnic minorities.
How You Can Help
: Reading Up on the Crisis
The coup has traumatized members of the Karen community and others from Burma both abroad and here in Minnesota. To educate yourself on the current crisis, you can start with the resources listed below. 
Background on the coup:
Updated information:
Karen perspectives:
International response:
How You Can Help: 
Social Media
You can also support the Karen and people of Burma through sharing social media campaigns and supporting ethnic led movements.  Some pages and campaigns devoted to supporting the people during this crisis include: 
You can also use the hashtags: #JusticeforMyanmar #SaveBurma #FreeBurma #SaveKarenPeople #EndTheCoup #SaveMyanmar #FreeMyanmar
How You Can Help: Advocacy
Contact Your Representatives. You can call by phone or send short and concise letters expressing your concerns.  It can help to team up with other citizens who share similar concerns and express your voices collectively.  It's also important to pursue follow-up to make sure your concerns are being addressed.  Find your representative here.
Leaders of KOM joined by other local Karen community leaders have met with the offices of Representative Betty McCollum, Senator Tina Smith, Representative Ilhan Omar, and Senator Amy Klobuchar to voice their concerns about the situation in Burma. In the meetings, they asked about 5 main goals:
Urge the U.S. to help dismantle the 2008 Burmese Constitution
Ask lawmakers to impose sanctions on military leaders in Burma
Protect activists and civilians of Burma
Provide humanitarian aid directly to the people
Urge the U.S. to reopen the resettlement program for refugees on the Thai-Burma border. Read more about each of the goals at the end of this article.
Join the March and Rally in St. Paul
A multi ethnic rally is being planned for Saturday, March 13th in Saint Paul to raise awareness about ethnic struggles and the CDM (Civil Disobedience Movement) protests in Burma. Youth spearheaded this rally and reached out to community leaders in Minnesota for support with organizing a diverse group of participants. All are welcome to join! The rally will follow a march from Harriet Island to the Capitol Building, beginning at 10:30 am.  The rally that follows will most likely start around noon.
For updated information about the event, follow The Urban Village.