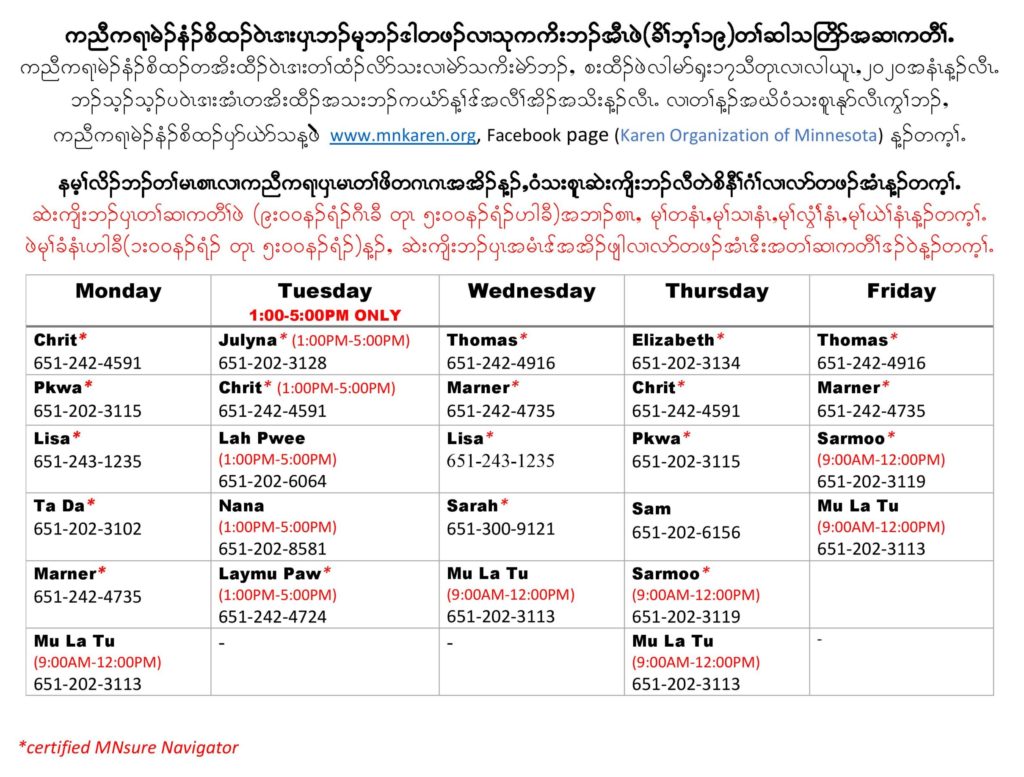 KOM's office is closed through at least June, 2020 to protect the health of our staff, volunteers, visitors, and their families. We will continue to monitor COVID-19 updates and make announcements about future plans as they arise.
KOM staff will work remotely while the office is closed. We have set up an on-call schedule for people to call in with any questions or service needs between 9:00am and 5:00pm Monday, Wednesday, Thursday and Friday, and between 1:00pm and 5:00pm Tuesday. (see the photo above for schedule and staff phone numbers in Karen; see below for schedule in English). Staff will also contact enrolled clients by phone and/or email to check in on their needs and prevent isolation.
Services available by phone include: health insurance enrollment and verification; applying for medical fee waivers; identifying primary care providers; public benefits enrollment and maintenance; unemployment insurance; housing issues; elders and caregivers case management.
We understand that our clients continue to have immediate needs, and we want to make sure we can help even though our physical office is closed.
We will also do our best to share accurate information related to COVID-19 in Karen language as able.
In the meantime, visit the CDC's website and/or the Minnesota Department of Health's webpage for updated information related to the virus. Visit the Minnesota Governor's Office webpage for information about the latest executive orders.