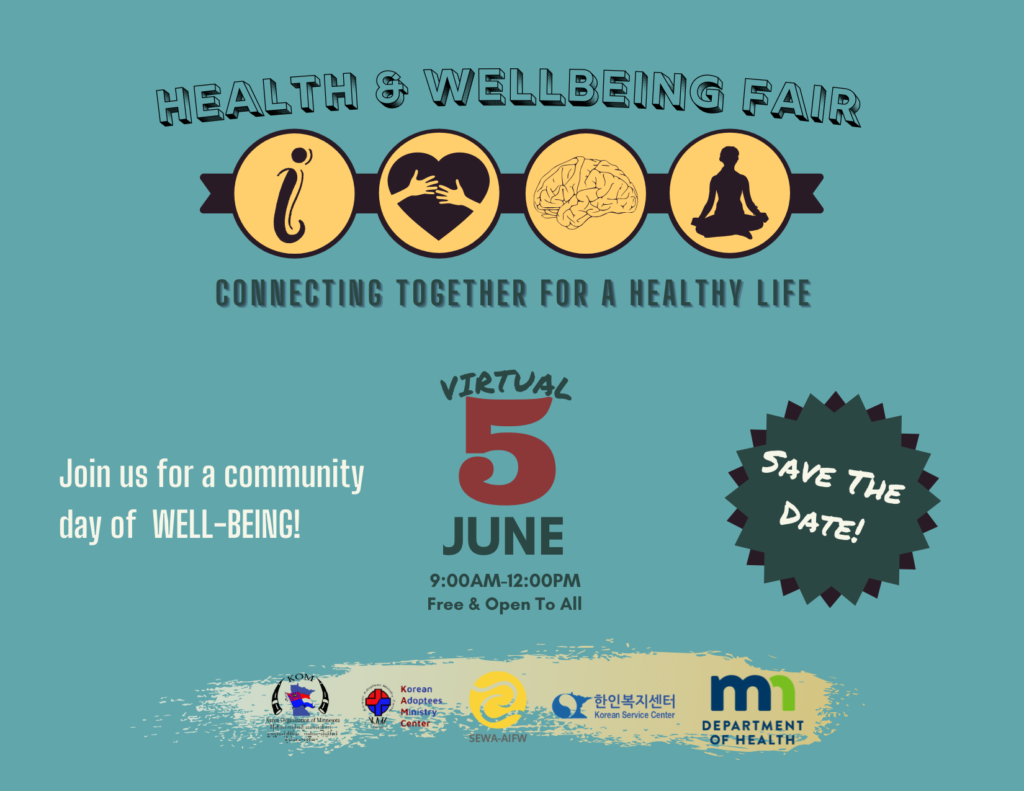 A virtual health and wellbeing event
KOM, in partnership with four organizations including the Korean Adoptees Ministry Center, Korean Service Center, and SEWA-Asian Indian Family Wellness, will be leading a virtual health event on June 5th in English, Korean, and Karen.  The event itself will be run through educational workshops and campaigns, and will focus on suicide and family violence prevention.
Promoting mental and physical health
The goal of the virtual health event is to support participants through sharing resources that can help teach people how to take care of their mental and physical health.  In that vein, the fair will begin with a welcome to all participants.  An introductory video from the Minnesota Department of Health will be shared, and leaders of the event will be introduced.  Additionally, leaders will prepare participants for the following portions of the fair, which include navigating Zoom sessions.
The following portion of the Virtual Health Fair will involve a joint session entitled Caring for Yourself and Your Family.  Concurrent Zoom meetings will deliver this content in different languages, including Karen, Korean, and English.  Afterwards, participants will take a short break before choosing what topic of Breakout Practice Session they would like to partake in.
The Breakout Practice Sessions include topics such as Meditation, COVID-19 Resources, Suicide Prevention Resources, and Mandala Art.  Each of these sessions will take place in a different Zoom meeting.  The emcee will instruct participants on how to navigate to the session of their choosing.
To conclude the fair, a poem or spoken word by a guest artist will take place.  Participants will also have the chance to win door prizes!  A survey will be also be available to participants to help evaluate the event and help us improve for next year.
Registration
KOM's Program Director of Community Health and Social Services Moses Moe is eager for people to register and access all the resources KOM with its partners have for encouraging mental and physical well-being.  "We've been home a long time," he acknowledges.  "This [fair] is a good way to relieve stress through our resources and therapy sessions."
Visit our event page to register.  We hope to see you there!
This event is made possible by the Eliminating Health Disparities Initiative (EHDI) grant.