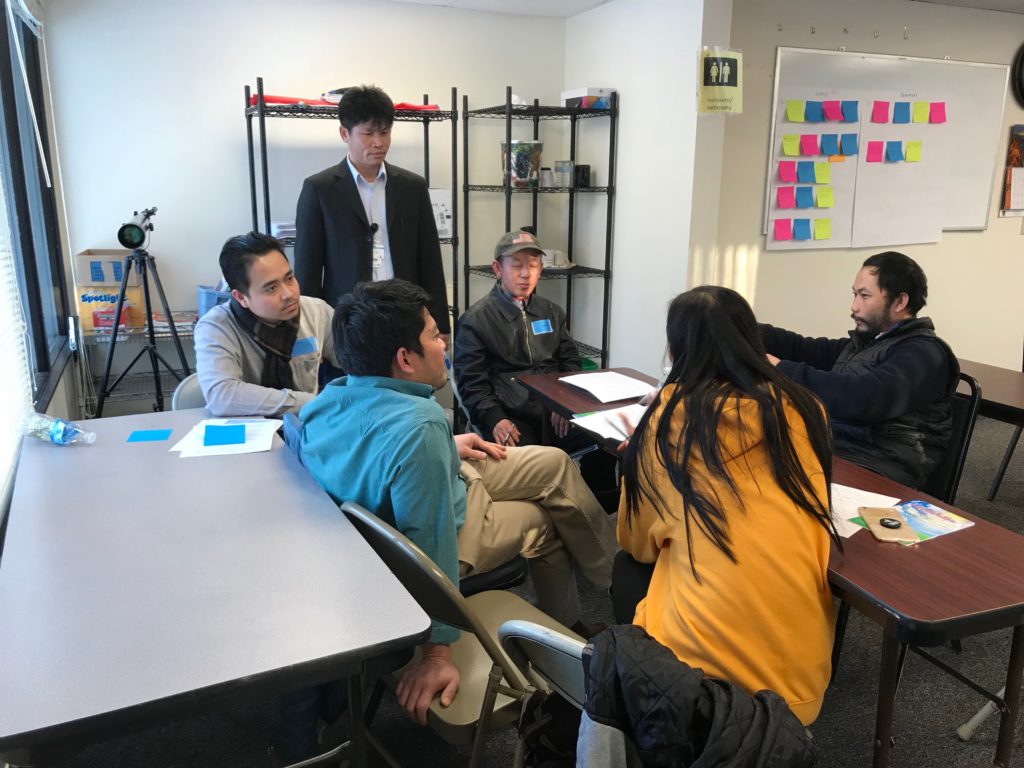 Karen community members gathered at KOM to talk about what mental health means to them, and how it is viewed in the Karen community. One participant said, "In the Karen community, generally, people are afraid to talk about mental health." From this dialogue, we are able to learn more about how to approach mental health through the community's lens.
20 people representing a variety of age ranges and roles in the community participated in the dialogue. When they were split into smaller groups to engage in discussions, each group had at least one youth, one community leader, and one community member. Two of the groups had one religious leader each.
One group member said, "It is offensive to hear "mental illness." People deny that they have mental illness because they don't want to be labelled as "crazy person" If they are labelled as "crazy person," they are ignored by friends or community members."
In the detailed report that our KOM Community Health Intern put together, she summarized some of the main trends that came up in the participants' responses. One is the stigma of mental health within the Karen community and the lack of previous knowledge of mental health concepts.
One of the youth members said, "People are not seeing mental health as an important issue or topic to talk about in the community because they think that physical illness is more important. The community view is that if we are physically healthy, we are emotionally and mentally healthy."
According to the dialogue responses, the view of the community in general is that mental health issues can be caused by physical injuries, like brain damage from a traumatic event or illness. However, it is important to keep in mind that without many mental health terms and concepts in the Karen languages, it is more difficult to address mental health issues directly. Focusing on physical pain, injury or illness is then more tangible.
Moses Moe, KOM's Program Manager for Community Health and Youth explained, "There is not really one word to describe mental health in Karen. Many people will have different ways of explaining it. For example, some people might say "Tha ta cha", which literally translated means "heart problem", but what they mean is that they are thinking too much or having bad thoughts. We also might call it "brain disease" or "thinking disease" (direct translations), which can have a different meaning for different people."
The participants themselves identified a wide range of other causes for mental health issues and stress that relate much more to individual, family and community situations. Before coming to the U.S., many people had traumatic experiences that led to Post-Traumatic Stress Disorder (PTSD). After resettling, additional stressors can cause an extra burden on mental health. Some of the stressors they pointed out include: language barriers; family conflicts; role changes; life style changes; isolation; culture shock; financial burdens; lack of access to health care, steady employment, adequate housing, and transportation. These new obstacles combined with past experiences can make coping with stress much more challenging.
They also talked about the many strengths that the community has to support its members. One of these strengths is having a close-knit community that provides support, a sense of belonging and connection, and shared resources. Many of the religious organizations, cultural organizations and social service agencies (like KOM), provide activities, resources and spaces for the community to come together and encourage each other.
"In the community, we want to know how to identify the causes and signs of mental illness so that we can find ways to cope, or have programs that help people who may be experiencing those signs. We want to be able to help before someone shows signs of harming themselves or others," said Eh Tah Khu, Co-Executive Director of KOM.
These findings are not necessarily conclusions, but beginnings. This dialogue opened up the conversation about mental health in the community, and will hopefully lead to more discussions in the near future.
KOM hosted this community dialogue with the support of the East Side Mental Health and Stress Resilience Partnership, which is funded through the HealthEast Foundation. According to a HealthEast press release, "the goal is to connect East Side residents with holistic and culturally responsive mental health and stress resilience resources." The partnership consists of many nonprofit organizations, including KOM, that serve communities living on the East Side. KOM's community dialogue is the first of five similar dialogues that will be held within the Hmong, Latino, African American and Native American communities.
Contact Moses Moe or Julyna Loo for information on getting copies of the Karen-English Mental Illness and Suicide Prevention booklet, which was made possible by a grant from the Eliminating Health Disparities Initiative (EHDI) of the Minnesota Department of Health's Center for Health Equity.